Pakistan is amongst the topmost adventure travel destinations in the world, especially for travelers in search of mountainscapes combined with local hospitality. Tourists fly in from all over the world all year long to experience the country's unique offerings – some seek its exotic cuisines, some travel to experience the desi culture and the abundance of nature it is blessed with, while others fly in to see or summit some of the famous Himalayan or Karakoram mountain peaks. There is no doubt that Pakistan is often on the bucket list for most adventure-seeking travel enthusiasts from across the globe.
However, every time tourism in Pakistan gains attention, safety concern is often raised. There is no doubt that while the country is popular in the world of tourism, it is also frequently in the media spotlight, either for its political instability, its somewhat conservative culture in peri-urban and rural regions, or for its fluctuating relationships with its neighboring countries – India, Afghanistan, Iran, or China – bringing up a concern of security for most travelers.
So, is Pakistan safe for female travelers?
In reality, Pakistan is not as unsafe as the Western media shows it to be. Yes, there are risks, and we wouldn't sugarcoat any of them, but they are limited to certain regions while the rest of the country is quite welcoming and warm, especially to foreigners. Due to the country's culture, women travelers would find people willing to help them and guide them through places.
Nevertheless, what is necessary before traveling to Pakistan is to do your research thoroughly and come up with appropriate expectations. Urban cities like Karachi, Lahore, and Islamabad are mostly easy to travel to and within, in a group or solo. These are commercial hubs of Pakistan and see frequent visitors. Once you venture out of the larger cities, especially in the provinces of Balochistan or Khyber Pakhtunkhwa that have closer proximity to Afghanistan, you will need to know where you want to go, have a guide with you or have a thorough research of the routes to follow, know enough of the local language to get your way through, and always be on your guard.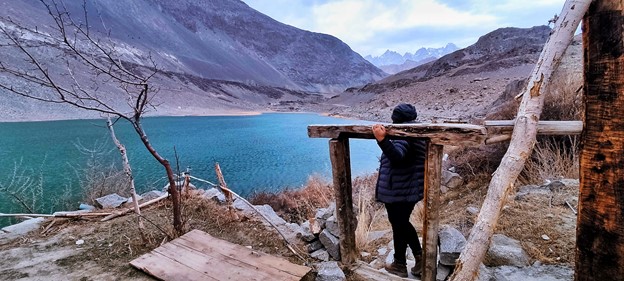 Having traveled to multiple regions across all the provinces in Pakistan here's my honest advice:
If you're a first-time traveler, don't travel solo.
Don't get me wrong – it's not like you just cannot travel solo here as a female. It's just that it is a lot more difficult and riskier if you're traveling for the first time. Travel teaches you how and when to be vigilant, whom to trust and where to keep your guard up. Solo travel in this country should be considered once you've had the know-how of the area and have befriended enough locals to guide you.
Choose to travel with a tour group instead.
Yes, traveling with a tour group and following their standard itinerary might not seem too attractive to the adventure seeker in you. However, there is much more benefit in group travel in Pakistan than harm.
Tour agencies have experiences that your friends won't. They know of all the best routes, the best spots, the best accommodation options, the best eateries, and have contacts everywhere to obtain necessary information in real-time. Since most of the remote areas in Pakistan are secluded and rarely have phone connectivity, you may find yourself lost without GPS or 4G services to help you. You can also get your tour agency to customize a trip for you if you don't wish to follow their proposed itinerary.
Once you have traveled with groups a few times, you would be experienced enough to easily travel on your own the next time. But remember, as a woman, it will always be more difficult to travel solo.
Do your research!
I cannot stress this enough. Read up on Pakistan, its popular destinations, and the roads less traveled. Know beforehand where you want to go, what's your preference and what you'd like to see. The country has diverse landscapes, from the hustling and bustling crowded cities to remote deserts and plains, coastal villages, dense forests, spectacular valleys, lakes, and so much more. The more you know, the more structured your trip will be.
Be mindful of your surroundings and the culture
Pakistani culture is not only diverse, but it is also conservative and patriarchal in most regions. This does not mean it's entirely unsafe – the fact of the matter is, foreign tourists, especially women, are deeply respected in the country. You'll always get privileges like getting better seats in crowded buses, being invited into people's homes for teas and dinners, and even receiving gifts from locals. It is then equally expected from foreigners to respect local culture and behave and dress modestly for their safety.
Avoid too crowded or too secluded areas when alone
This is self-explanatory. We like seeing the bustling cities and secluded forests, but not at the expense of our safety.
Don't be too friendly with the opposite gender
Once again, the necessity of prior research comes in handy here. You might come from a culture where smiling at strangers or striking up conversations with them is considered normal. But in some regions of Pakistan, it might not be taken too nicely. It's great to be friendly here as a woman, but not too friendly. And always keep your guard up.
Befriend the locals
No one can give you better advice or support than the locals. They might seem intimidating in the beginning, but once you get to know them, you will find some of the most hospitable families here.
Look for female-run travel companies
Not all destinations in Pakistan are easily accessible to females, nor would all regions have the necessary supplies for females. What do you do if you run out of tampons in a remote valley where the local store would probably not have them in stock? A female-run travel agency keeps in mind the needs of women and prioritizes their safety and experience when planning out their tours.
In conclusion
One simple conclusion – if you come clueless and expect a world similar to your own, you will be lost in this country. If you come prepared and with reasonable expectations and background research, the country will most likely welcome you with open arms and you will fall in love with it!
Your friends and family might think you're crazy if you want to travel to Pakistan as a woman. It's a task and it's not rainbows and unicorns – but every second of discomfort you might find here is 1000% worth it. The country is beautiful beyond words and it will be an adventure of a lifetime.
So wait no further and think no more – check out our upcoming tours of Pakistan here or customize your own, and come along with us to explore this uniquely wonderful country.
Written by: Tooba Latif