So you've decided to visit Pakistan and with that decision comes the painstaking process of qualifying and applying for a visa. Questions and concerns flood your mind – "am I exempt from needing a visa?", "how long will it take?", "where's the nearest embassy?", "do they even speak English??". TLDR; It's a simpler process than many presume, and we will take this time to guide you through the ins and outs of the process. After all, The Mad Hatters are here to offer you a comprehensive Pakistani tourism experience!
Starting the Process
After doing your research, decide on the best time to visit Pakistan for you. The climate during different seasons changes the geography and accessibility considerably, which affects the type of activities you can engage in. It all depends on what you want to get out of your travel experience. Once you've decided, it is best to set aside 3 months for the application process, just so there are no hiccups along the way and no last-minute panic setting in. The average time expected for visa processing is 1-2 weeks but better safe than sorry! The complete process is now fully digitized so just hop on the E-Visa portal and keep a keen eye on your inbox.
Most tourists apply for a 30-day, single-entry tourist e-visa. Certain nationalities are eligible to apply for a Visa on Arrival, but we do not recommend it as this is a relatively unreliable process and securing your visa beforehand is a much safer option for a hassle-free travel experience.
Once all your requirements are sorted, it's as simple as:
Step 1 – Create a login and register yourself
Step 2 – Fill out the online application
Step 3 – Pay online
Step 4 – Receive your visa!
Required Documents
For a hitch-free experience, it is best to gather all your documents and supplemental information before you begin the online application. You will need, at a minimum:
Photograph
Passport
LOI or hotel bookings
You will also need to provide details of the intended stay and port of entry/exit etc., so you also need to have you detailed itinerary of the Pakistan tour beforehand.
Eligibility
Your main point of reference is going to be NADRA – the National Database & Registration Authority. Follow this link to find a list of countries eligible for E-Visa services. Citizens from over 179 countries are eligible to apply online. For those who cannot use the online services, here is a list of Pakistani embassies around the world.
Everyone except Pakistani nationals and overseas Pakistanis (those with non-resident NICOP or POC cards) need a Letter of Invitation (LOI) for their Pakistani visa. In some cases, hotel booking confirmations can suffice for getting a visa. You can get an invitation letter to apply for the visa from a tourism company or an individual of Pakistani origin. Getting a Letter of Invitation through a tourism company will be the safest option to get the visa smoothly.
If you are planning to tour Pakistan with the Mad Hatters, we can help you get started with the visa application by providing you a LOI. All you need to do is give us a scan of your passport.
Religious Tourism
If you are visiting Pakistan for religious tourism then dedicated categories for religious tourism can be found here. You may apply for:
Tabligh Visa – to attend religious gatherings
Missionary Visa – to partake in missionary work in Pakistan
Pilgrim Visa – a general category for those who wish to visit Pakistan to visit sacred sites
Religious tourism visas will be more restrictive in terms of the areas that you will be able to visit, but can be helpful for nationalities that might find it difficult to secure a regular tourist visa. If that is not the case, and your main objective is not to be here for religious tourism specifically, then we advise you to apply for a regular tourist visa.
Pilgrim Visa for Sikh Tourists
Visa applicants wishing to travel to Pakistan for religious purposes can apply through the Online Visa system for religious tourism. This allows visitors to see places in Pakistan that hold religious significance to them. Travel to Pakistan for Indian-origin travelers has been eased with the introduction of this category. Nationals of over 191 countries are eligible to apply through this category. The pilgrim visa grants you a single-entry visa for 45 days.
The requirements for Sikh travelers are:
Must be a foreign national of Indian origin
Must have a valid proof of permanent residence in a country other than India
After the online application is complete, applicants must visit an embassy for verification of their documents within 2 days.
The following documents must be provided to support your application:
Passport
Photograph
LOI or Hotel reservation
Proof of legal residence in a country other than India
The average processing time to receive your visa is 10 days.
The Online Application

The application process is divided into 8 steps:
Visa Selection
Here you select the visa category and subcategory you are applying for, including the nature of the visa required; single/multiple entry, duration, etc. You will also be asked to provide basic information regarding your travel documents. In this section, you can also apply for visa extensions if you are already in Pakistan and wish to extend your stay!
Applicant Information
In this section, you'll be required to fill out all your relevant biodata, contact details, residence, and nationality details.
Family Information
Basic information regarding your parents and any accompanying members is required.
Finances & Employment
Details regarding personal circumstances and ownership of bank account in Pakistan. Bank account details must only be provided if you own a bank account in Pakistan. If this does not apply to you, simply move on to the next step as it is not a required field.
Travel History
Here you will be required to provide information regarding previous travel history (within a 3-year timeframe), visa refusals, and any criminal history.
Details Regarding Intended Stay
In this part of the application, details of stay (duration, location, etc.) will be required. You will need to provide detailed itinerary of your stay in Pakistan mentioning hotels or any other address where you will be staying. If you have a sponsor or any friends/family in Pakistan, you may also provide their references at this point. If you mention that you have friends/relatives in Pakistan or a sponsor for your stay, you will be required to provide their contact information. If you have a sponsor for your trip, you will be required to provide a LOI furnished by sponsor, hotel or certified travel agency (recognised by the Department of Tourist Services).
Document Upload
Detailed guidelines regarding the specifications of the files that must be provided can be found here. Required documents that must be provided are:
Recent passport-sized photographs
Valid passport scans
Proof of legal residence – this is a mandatory requirement in case you are not present in your home country and are applying for a visa from a third country.
Parent Consent Form for the applications of children under 18 years of age bearing a passport of the United States of America, United Kingdom, or Australia – Both Parents have to provide consent, unless one parent is the sole custodian of the child. The form can be found here.
Photograph Guidelines
Document Guidelines

Photographs should be recent (not older than 6 months)
Light coloured background
No glasses
Dimensions should not be greater than 350×467
.jpeg/.jpg format is preferred
Max size 350 KB

Data acquisition form is only acceptable in .jpeg/.jpg/.png format
Supporting documents can be uploaded as a PDF no larger than 500 MB or as an image in .jpeg/.jpg/.png formats.

Protip! Use the verification tool in the "Help" tab to ensure your supporting files and documents are in the correct format and file size before you upload.
Payment
Once you've completed and reviewed the application, you can proceed to online payment to begin processing your visa. Use this handy tool to calculate the costs of your visa application as they vary according to visa type and country of origin.
Monitoring Your Application
Once the application is complete, you can view the status in the "Existing Applications" tab (pictured below). Check your inbox or the visa portal frequently for the status of your application. If there are any objections to the application or additional information required, a message will be posted in the portal.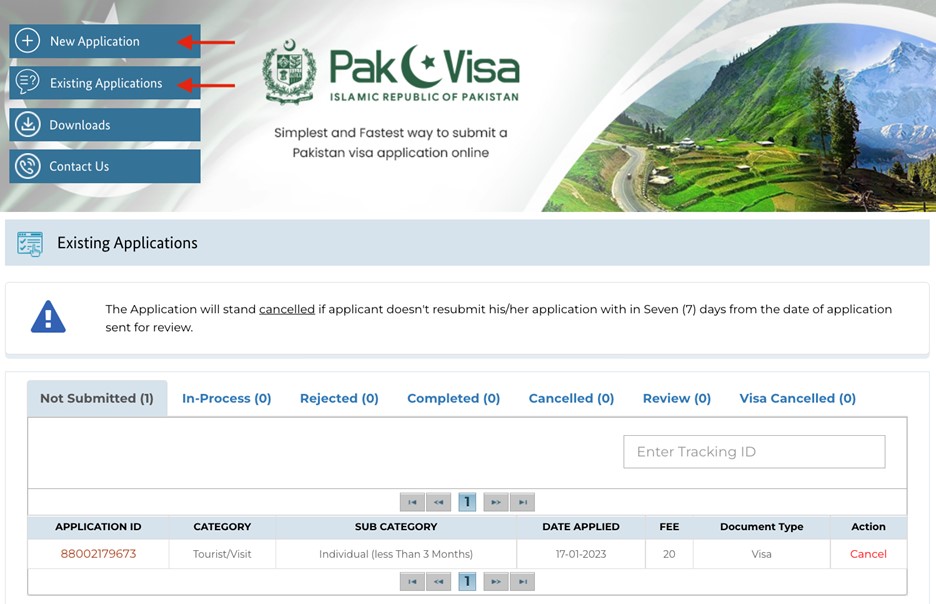 If the application is returned for review, the application processing time will reset, which is why it is strongly advised that you have all the necessary documents at hand before beginning the application. Also, if you do not resubmit your application within 7 days of the objection, your application will be cancelled, so keep an eye on that inbox!
Visa Extensions
Visa extensions can be obtained if you already possess a valid visa and are residing in Pakistan. Visa extension fees are USD 20 irrespective of nationality and duration of the requested extension. Travelers can apply for up to 6-month extension, however, these are not guaranteed and are subject to approval by the Government of Pakistan.
For the application, you will require:
Scans of your current visa
Scans of the entry stamps upon arrival in Pakistan
Proof of hotel reservations or LOI supporting the extension request
Visa Processing Times
First-Time Entry Applicant
7-10 working days
Extension up to 6 months
7-10 working days
Extension > 6 months
4 weeks
*for Afghanistan Passport holders average processing time is 37 days.
In case you still have more questions about the visa application process, this post might help. Additionally, NADRA has published a detailed step-by-step guide online among other resources to help you navigate the visa application process. If you're planning your trip to Pakistan with The Mad Hatters, don't hesitate to reach out with any queries or concerns, and let us take the hassle out of your travel experience!
Written by: Hira Sami