Ever had to answer the call of nature….in nature?
Or thought about canceling your fun adventure tour plans due to the fear of having to deal with a dirty loo?
Or had to use a toilet in the middle of nowhere with no source of water in sight?
We asked a bunch of people the top 3 thoughts that make them apprehensive about traveling extensively in Pakistan. The most obvious answers included a worry for safety, and bad roads & weather. But the topmost answer that received a general consensus from all the respondents was one: the thought of an uncomfortable bathroom experience!
We wouldn't deny it – the concern is quite valid, and we all have probably stressed out about it at least once before planning a road trip. The fact is, you cannot always pick and choose what loo facilities you can get during a road trip in Pakistan, and when you've got to go, you've got to go. There are no two ways about it.
Having said that, we stand by a staunch belief for all those adventure lovers out there – it gets better as you get used to it! Yes, adventure often comes at a cost of comfort, and we are all in for it. As we often say, fears should not stop you from experiencing life, even if it is a fear of a dirty bathroom!
The fear has not prevented us from experiencing some of the most majestic tourist spots in Pakistan. Read on to know about few of our most interesting bathroom experiences in the country during our road travels.
1.    The bathroom with a view
If you have travelled by road in Pakistan before, you would know that a majority of the public toilets that you find in Pakistan while travelling have a floor toilet instead of the usual seated commode. The latter are a luxury often limited to hotels. The floor ones are just something you need to get comfortable with – and truth be told, it really is much more hygienic in a public setting!
But, have you ever had to use one with a large round window in a corner overlooking a brilliant view of one of the world's highest plateaus at 13,000+ ft.? We have, of course.
The Deosai plains, near Skardu in Gilgit-Baltistan region of Pakistan, include a large area of flat grounds with the occasional rolling hills and rising mountains on all sides. The plateau has no civilization and boasts of raw nature, fields of flowers, and brown bears and golden marmots.
Deosai is by far one of the most beautiful destinations in Pakistan. You can camp here to stargaze at night, but be forewarned, the bathroom facilities here are limited to portable loos, bottles to be used for water, and quite often, a window on the side with a mountain view. Beautiful!
2.    The fabric walls and a meadow
A bathroom that basically is a hole in the ground surrounded by walls made of hanging cloth – is what's awaiting campers at the Paye meadows.
Shogran is a hill station located at an elevation of 7,000+ ft. above sea level in the Kaghan Valley in the Khyber Pakhtunkhwa province of Pakistan. The hill station leads to two sloping meadows, the Siri and the Paye meadow, both of which are devoid of hotels or properly constructed structures. You can find chai and pakora stalls here and small temporary huts offering food for tourists, along with a couple of camps.
Most travelers find accommodation in Shogran since it has proper hotels, and only take day trips from Shogran to the meadows above it.
We, however, being adventure seekers, chose to spend the night at one of the camps in Paye meadows to truly be in nature. The downside of it, was the only available bathroom facility in all of the Paye meadow – a hollow wooden frame with pieces of cloth nailed onto it to create walls, and a hole in the ground for the business.
What was even more interesting was that there is no water stream nearby and you have to purchase bottles of water from one of the tea stalls to make do.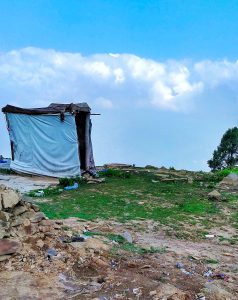 3.    Roadside luxuries
If the experience above has traumatized you, here's a nicer option to balance it out.
We all have heard of the newly available executive bathrooms from Hascol and other fuel stations along the motorway. These can be found along the Lahore Sukkur Motorway, as well as the Peshawar motorway and many others.
These bathrooms are no less than a luxury hotel facility, and come equipped with a shower, warm water, and cleaning service. Sparkling clean and complete with tissues, soap, and dryers, these come as a pleasant surprise for those who have been traveling for long in Pakistan.
The only catch is – entry into these costs PKR 50 per person, per visit. It costs more for a shower. But they are definitely worth it!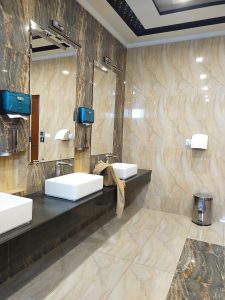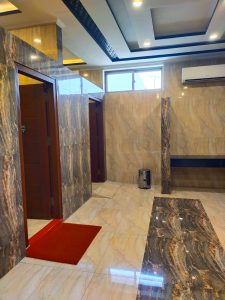 4.    The inadequate sizes
Tiny camping pods and camping grounds, like those in the Sharan Forest, do sound like a cute place to stay at for a weekend getaway.
But keep in mind, the smaller the camping pod, the tinier the bathroom's size!
The Sharan Forest, located at a height of 2,425 meters in Khyber Pakhtunkhwa is a dense forest that arrives following a rough jeep track near Paras, en route Naran. The government of Pakistan has in the past few years established small camping grounds here to promote tourism. And while the locations are extraordinary and surrounded by nature, the tiny portable containers that are available as a toilet are miserably small and dark. Don't be surprised if you have to use all the flexibility you have to contort yourself get into a position to use the floor toilet in it.
But oh well, at least the views are worth it!
5.    The surprise in the middle of nowhere
On a trip to the Ranikot Fort in Sindh is where we were truly surprised by the loo facilities available.
Ranikot Fort, also known as the Great Wall of Sindh, is believed to be the world's largest fort owing to the ground its boundaries cover. It is located almost 5 hours outside of Karachi. Believed to have been reconstructed in the 1800s, the Ranikot Fort was at its prime during the Talpur Dynasty in Sindh and now is one of the vastest historical sites in the country.
The site is in the middle of nowhere, is far from the cities, and only has a few scattered villages close to it. However, it receives high tourist footfall, especially in the winter months, where some of the adventure seekers choose to camp here within the grounds for an enhanced historical experience.
What is the most surprising are the modern bathrooms available here for public use. With additional stalls installed, separate stations for washing and wudhu, these are complete with seated commodes and running water. They are not luxurious like a hotel's, but much more than what one would expect to find in the middle of nowhere.
Our take
Yes, the idea of an uncomfortable/dirty bathroom terrifies everyone. But it shouldn't be a fear powerful enough to stop you from exploring the world or experiencing life. At the end of the day, it's not always as bad as our minds would imagine.
If you intend to travel in Pakistan like a true adventurer, be prepared for discomfort. Be physically prepared with a stock of wet wipes, extra water, and soap, but also mentally prepared to go beyond the luxuries of comfort, for that is only when you get to truly experience and explore a new destination.
Write-up and pictures by: Tooba Latif