The months of April through to October are ruled by the summer season. May and June tend to be the hottest months in Punjab in general and can reach averages of 42oC (107oF). Winter begins in November and extends to March.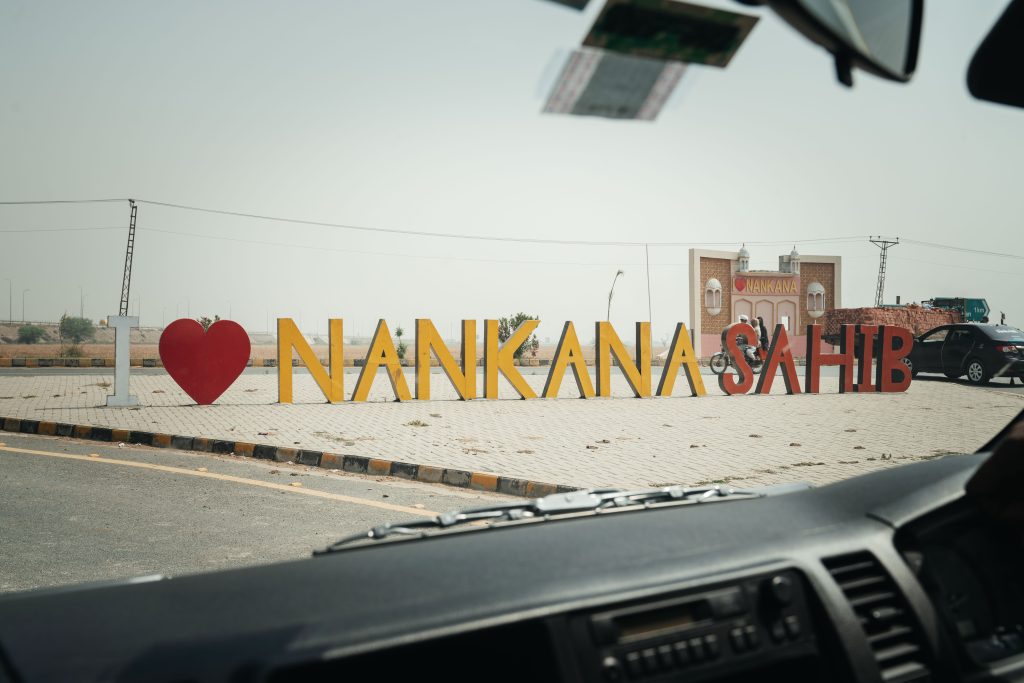 Overview - Nankana Sahib Travel Guide
Pakistan is perhaps one of the most underrated destinations for cultural and religious tourism and misrepresented as a promoter of religious extremism. In the attention-grabbing headlines published globally, what becomes clouded in a thick smoke of fear and skepticism is Pakistan's rich cultural heritage. Very few travellers know about the long list of religiously significant sites that are scattered throughout Pakistan and protected by the government as national heritage sites. Among these is Gurdwara Janam Asthan Sahib, in the Nankana Sahib district of Punjab. Thousands of Sikhs visit these sacred sites during Besakhi (April), the death anniversary of Maharaja Ranjit Singh (June), and the birthday of Guru Nanak Dev (November).
Sikhism's roots can be traced to the heart of Pakistan, in the Punjab region which was split in two by the carelessly drawn boundaries drafted by the British upon their post-colonial departure from the Indian Subcontinent. This has led to generations of trauma for the families affected by such divisions, and a loss for Indian Sikhs who lost access to a bounty of religiously significant sites that are now a part of Pakistan.
The founder of Sikhism, Guru Nanak Dev, was born in 1469 at a site now memorialised by Gurdwara Janam Asthan. A devout monotheist, Nanak Ji believed that there is only one God. He had a soft spot for Muslims, eschewed Hinduism's caste system, and advocated for human equality and unity. To this day, ties between Muslims and Sikhs of Punjab are fraternal, bonded by a love for their land. The place of Guru Nanak's demise is marked by Gurdwara Darbar Sahib Katar Pur in Narowal, Punjab. By these two landmarks alone, we can estimate the importance of Pakistan in Sikhism's religious history. With the ever-growing opportunities for religious tourism in Pakistan, let's take a deep dive into the Nankana Sahib district.
Plan your next Sikh religious tour to Pakistan with The Mad Hatters, a premier Sikh religious tours organizer in Pakistan.

Nankana Sahib Tours - Sikh Religious Tourism
Check out our Upcoming and Signature Tours!
Popular Nankana Sahib Tour Plans
Day Tour of Nankana Sahib
2-Day Tour of Nankana Sahib and Lahore
3-Day Tour of Nankana Sahib and Lahore
Plan your own tour according to your preferences!
The city of Nankana Sahib was founded by Rai Bhoi Bhatti in the Delhi Sultanate, long before the birth of Pakistan. It was called Rai-Bhoi-Di-Talwandi and was later renamed to Nankana Sahib in honour of Guru Nanak, the founder of Sikhism. Guru Nanak was born in Rai-Bhol-Di-Talwandi and began preaching the ideology of Sikhism in the area. Its elevated historical and religious status makes it a popular site for pilgrimage by practicing Sikhs.
A Gurdwara was reportedly constructed in 1600 CE by Guru Nanak's grandson Baba Dharam Chand. Gurdwara Janam Asthan was constructed in its final form in the 19th century by the first Maharaja of the Sikh Empire, Ranjit Singh, the "Lion of Punjab". It has undergone multiple restorations and renovations since its conception, with extensions made in the 1930s and 1940s.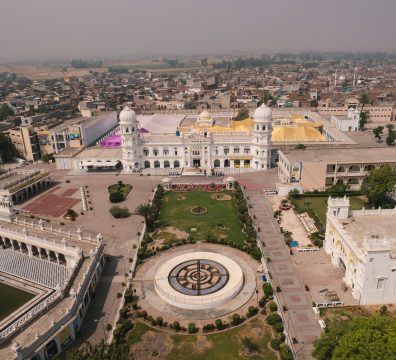 Gurdwara Janam Asthan became the subject of controversy on February 20, 1921, when Mahant Narain Das (one of the custodians of the gurdwara) ordered his men to fire on reformist Akali protestors. The protestors opposed the miscreant custodian's corruption, but instead of respecting his community's criticism, he turned on them instead. With the support of the then commissioner of Lahore, he recruited mercenaries to gather firearms and open fire from atop the Gurdwara. Between 150-250 members of the Panth (Sikh community) were martyred and the day memorialised darkly as the Nankana massacre.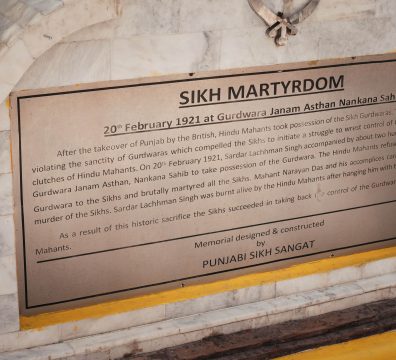 Nankana Sahib was heavily populated by Sikhs prior to Pakistan's independence in 1947. During partition of India and Pakistan, the exodus of Sikhs and Hindus from Pakistan-administered Punjab contributed to one of the largest migrations in history.
In May 2005, the Punjab government raised the status of Nankana Sahib to a district, as a way of promoting development in the area. In 2019, the provincial government initiated religious tours for international Sikh pilgrims to "promote religious harmony and companionship among people of different faith groups." Additionally, monthly programs were set up to grant access to the holy sites to enhance the majority-Muslim public's awareness of religious minorities in Pakistan. Special trains have also been arranged by the Pakistan Tourism Board to convey Pakistani Sikhs to Nankana Sahib and other religiously significant sites on the birth of Guru Nanak, which is a major Sikh celebration.
Important Landmarks
Gurdwara Janam Asthan (Gurdwara Nankana Sahib)
Gurdwara Patti Sahib
Gurdwara Bal Lila Sahib
Gurdwara Tambu Sahib
Panjvi (5th) Pathshahi
Chatti (6th) Pathshahi
Gurdwara Mal Ji Sahib
Gurdwara Kiara Sahib
Gurdwara Nihang Singhan
The months of April through to October are ruled by the summer season. May and June tend to be the hottest months in Punjab in general and can reach averages of 42oC (107oF). Winter begins in November and extends to March. January tends to be the coldest month of the year where temperatures drop to 5oC (41oF). The rainy monsoon seasons begins towards the end of June ushering in the period of highest precipitation for the year. The monsoon rain cycles carry on for 2-2.5 months with intervals of warm and humid weather.
Owing to the multicultural and religious heritage of Nankana Sahib, food catering to multiple dietary practices can be found in the region. Vegetarian food in the form of daal (lentil curry) or sabzi (vegetable stews) is easily available with an accompaniment of rice or roti (round wheat flatbreads toasted on an open fire).
Langars are also common here, and are established alongside the many Gurdwaras. A langar is a Sikh community kitchen that provides free food to anyone who visits, regardless of caste or creed. The aim of langars is to promote community care and harmony while providing a service to all mankind. (Note that locally, kitchen and the food served at a kitchen are both commonly referred to as langar). Eating amongst the locals in a diverse environment is a beautiful and enlightening experience in itself.
Nankana Sahib is located 91km (57 miles) west of Lahore and about 75km (47 miles) east of Faisalabad in the district of Nankana Sahib, Punjab. From the central city of Lahore, the most direct route is by road. Journey time is approximately 1.5 hours along the M3 Motorway. Travel by train is also possible from Lahore to Qila Sheikhupura and onwards to Nankana Sahib by taxi.
Gurdwara Janam Asthan, also referred to as Gurdwara Nankana Sahib is part of an ensemble of 9 significant gurdwaras in Nankana Sahib. It is one of the major landmarks in the city of Nankana Sahib and is considered to be the second-most important darshan yatra (holy pilgrimage) in Sikhism (after the Golden Temple in Amritsar, India). The gurdwara is frequented by Sikh yatris (pilgrims) as part of a pilgrimage route in Pakistan. The gurdwara complex is listed on the Protected Heritage Monuments of the Archaeology Department, Government of the Punjab.
Visits to Gurdwara Nankana Sahib can easily be managed with a stay in Lahore, the culture and food capital of Pakistan. This way visitors can reap the benefits of the multitude of entertainment opportunities available in Lahore while allotting substantial time to be spent during religious visitation. The Mad Hatters, a premier Sikh religious tour organizer can make it happen for you.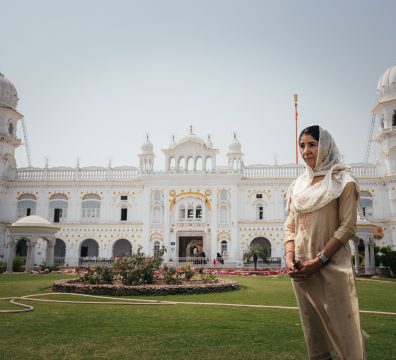 Gurdwara Patti Sahib is named as such as a tribute to the young Guru Nanak's study of the Persian and Arabic languages under the tutelage of Maulvi Kutub-ud-Din. Patti refers to a small clipboard-sized wooden board that is used by children in rural areas to study. They can write on them with bamboo-carved pens that are dipped in inkwells. The boards can be washed and reused after a light coating with clay.
The gurdwara is located halfway between Gurdwara Janam Asthan and Gurdwara Bal Lila Sahib, along the road leading to the railway station.
Gurdwara Bal Lila Sahib has marvellous architecture and a stunning pale-yellow façade. The site was the young Guru Nanak's playground where he played with other children and meditated. He also used his playtime to impart divine knowledge to his peers. It Is said that the gurdwara was built by Nawab Rai Bular, the ruler of Talwandi village, who also constructed a holy pond (Nanaksar) at the site. Over its long history, the gurdwara changed hands many times but in present day is served by the Pakistan Waqf Board. The sarovar is now dry and the gurdwara remains closed except during Sikh pilgrimages.
This gurdwara is situated on Captain Husnain Nawaz Shaheed Road, 600m from Janam Asthan. It is the place where a ruse was created to deceive the Mughal forces pursuing Guru Gobind Singh Ji. "The Forty Muktas" (also known as the "the Liberated Ones" spread their belongings to create the appearance of a cluster of tents. From afar, this appeared as a large army encampment which deterred the Mughal forces from encroaching any further. Gurdwara Tambu Sahib was built at this location ("Tambu" means tent).
Panjvi and Chatti Pathshahi
These two gurdwaras are located near Tambu Sahib, on the same road to Gurdwara Janam Asthan. Panjvi and Chatti Pathshahi are the mansions of the fifth and sixth kings. The sixth Pathshah came to Talvandi in 1613 AD on his return from Kashmir. His disciples built the gurdwaras at the location where he had stayed. A part of the tree that the Guru Dev Ji rested beneath has been preserved in a glass case inside the dome of the 6th Pathshahi.
The history of Gurdwara Mal Ji Sahib was the inspiration behind the ruler of Talvandi, Nawab Rai Bular, becoming a devotee of Guru Nanak Ji. It is said that once while out on horseback, he saw the young Guru sleeping under a tree whose shadow seemed to shift to provide shade to the resting youngster at every angle. Another narration of this story claims he saw a king cobra using the span of its head to shield Guru Nanak from the sun. Upon seeing such miraculous sights, Rai Bular became convinced of Nanak Ji's spiritual eminence. Rai Bular became a friend, admirer and devout supporter of Baba Nanak, and their camaraderie is yet another signifier of the friendship between the Sikhs and Muslims of Punjab.
A gurdwara was built at this location by Diwan Kaura Mal and renovated during Ranjit Singh's reign. The interior of the gurdwara is decorated with ancient ceramic tiles depicting a cobra.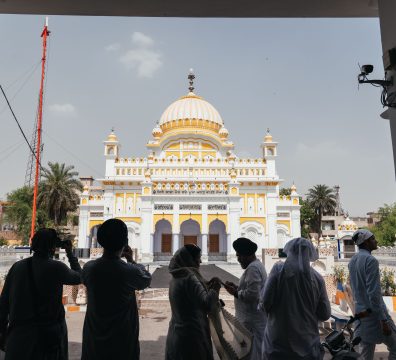 Kiara in Punjabi means "crop plot/field" befittingly, as the location of this gurdwara was once such a spot. Guru Nanak in his boyhood was asked by one of the villagers to watch his cattle graze in the area and he agreed. Unfortunately, resting under the shade of a tree while at task, the young Guru became immersed in meditation, leaving the cattle to roam free and graze. To the field owner's dismay, they destroyed all his crops and enraged, he complained to Nawab Rai Bular about the young boy's costly mistake. However, when a party arrived to assess the damage, they found that Guru Ji had moved the cattle on, and the field had returned to its fruitful state. This miracle was a source of awesome inspiration for the Hindus and Muslims who saw the crop field return to its original, untouched state.
Now on that field stands Gurdwara Kiara Sahib, an unmissable yellow domed construct raised on a plinth within a surrounding square boundary wall. The adjoint sarovar is now dry and there are no religious celebrations that take place at the site. However, it stands as an important historical religious landmark that is open for visitation. The gurdwara was reconstructed by Sant Gurmukh Singh Sevavale during the 1930s and is now under the protection of the Pakistan Waqf Board.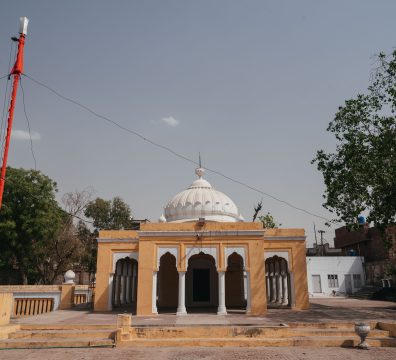 Located on Railway Road, District Nankana Sahib, in between Gurdwara Tambu Sahib and Gurdwara Sri Hargobind Singh. It was owned by Nihang Sikhs. Present day, the building still stands erect, but no activity occurs at the gurdwara.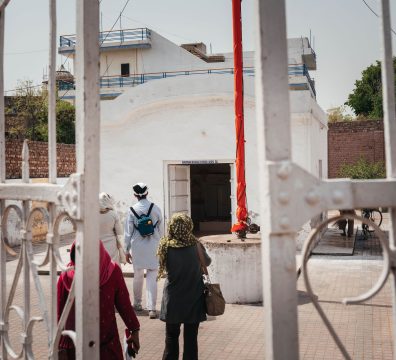 Gurdwara Sri Hargobind Singh & Gurdwara Sri Guru Arjan
Both these gurdwaras stand side by side within the same boundary wall, near Tambu Sahib. Gurdwara Hargobind Singh is a domed building while Gurdwara Sri Guru Arjan is domeless.
Gurdwara Hargobind Singh was built at the site marking the return of Guru Hargobind, the sixth revered Nanak, from Kashmir. It is said that 13 "ghumaon" (acres) of land were endowed to the gurdwara. A piece of a tree under which the Guru once rested has been preserved in a glass case inside the gurdwara. Once again, no Prakash or ceremonies take place at these gurdwaras, but they are open for visitation by Sangats.
While not strictly in the Nankana Sahib district, Gurdwara Sacha Sauda's proximity to other prominent gurdwaras and significance to Sikh pilgrims warrants a mention. It is situated about 60km from Lahore on the Lahore-Lyalpur railway line.
Sacha Sauda translates to "ultimate/true bargain". For Sikh Yatris, the gurdwara has been a wellspring of inspiration as it signifies another example of the young Guru Nanak's enlightenment and generosity. It is said that Guru Nanak's father, Mehta Kalu, gave him some money to conduct some business in the market town near Talvandi. Upon arriving at the market, he stumbled across some villagers in need of food and used all his provisions to feed the ones in need (and thus began the tradition of langars). On his way back from the town, the child doubted his good actions at the thought of his father's reaction, hence hid under a large sweeping tree until he was eventually found. Sacha Sauda gurdwara was later built at the location.
It is said that before the father could chide his son, Nawab Rai Bular (who was a Muslim Rajput) intervened and told Mehta Kalu that the entire city was blessed by the young Guru's actions and presence. Rai Bular was Mehta Kalu's employer and was among the first to recognise that the young Guru Ji was spiritually gifted. Under his inspiration, he went on to donate half his land for charitable causes. A portrait of Rai Bular is on display at the Central Sikh Museum of the Golden Temple complex to commemorate his importance in Sikhism and Guru Dev Ji's life.
Nankana Resort is a family resort located near Nankana Sahib City. Situated on the Rai Bular estates, it offers an array of family and child-friendly activities for all to enjoy – BBQ and Karaoke nights, fishing, boating, bonfires, and camping.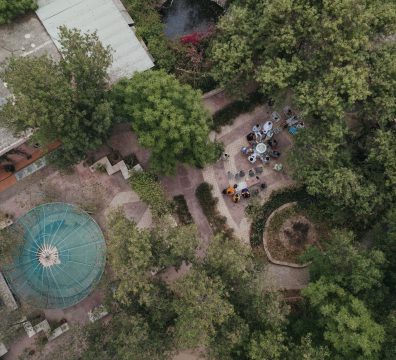 Rana Resort and Safari Park
Rana resort is another traditional family resort with village aesthetics located 30km from Nankana Sahib City. The resort also has an adjoint wildlife sanctuary housing deer and various birds. It sprawls over 14 acres of flower gardens and 200 acres of bamboo forest. Rana resort is a popular family vacation spot providing wholesome activities for everyone to partake in. Many sports facilities are present on site and hunting can also be arranged.
To plan a custom historic or religious tour of Nankana Sahib district, head over to our custom tours page at The Mad Hatters. We specialize in organizing Sikh religious tours to Pakistan.
We offer the most comprehensive Sikh religious tours to Pakistan. So plan your next tour with us!
Written by: Hira Sami