"And above all, watch with glittering eyes the whole world around you because the greatest secrets are always hidden in the most unlikely places. Those who don't believe in magic will never find it." (Roald Dahl)
January is the coldest month in Hunza with average temperature falling below -8°C July is the hottest month in Hunza with average temperature rising above 30°C Weather in the northern areas usually remains pleasant and can get cold during night even in summers.
Overview - Hunza Travel Guide
Hunza is one of the most culturally rich and diverse places in Pakistan, as it shares one of its borders with Afghanistan and another with China. Hunza has a distinctive culture unique to the region that is an amalgamation of many influences, both internal and external. The culture of Hunza can be explored through its music, songs, dance, its wide variety of handicrafts, the deliciousness of its food, and many other cultural activities. Hunza has had a very interesting history as it once used to be a princely state over which many people vied for power. Hunza is, thus, historically significant and has many landmarks to prove its important role in history, such as the Altit and Baltit forts.
Check out our Upcoming and Signature Tours!
Hunza - Misgar - Shimshal
Hunza

- Skardu - Shimshal
Plan your own tour according to your preferences!
Hunza - Home to a Diverse Culture, Geography & History
Located at the extreme north of Pakistan's geographical boundary at an elevation of 2,500 metres above sea level, Hunza Valley is the jewel in the crown of Pakistan's beautiful tourist spots. The valley is a part of the Gilgit-Baltistan region and is bordered by Afghanistan to the west and China to the north-east. Hunza is divided into three distinct zones: Upper Hunza known as Gojal Valley, Central Hunza called the Hunza Valley and Lower Hunza which is called Shinkai. Home to tall, beautifully sculpted glaciers, lush green meadows endowed with delicious fruits and an indigenous and unadulterated culture, Hunza Valley is a major attraction for explorers, nature-lovers and adventurers from all around the globe.

Hunza is surrounded by beautiful Himalaya and Karakoram mountain ranges. Beautiful rivers, snowy peaks and breath taking landscapes have been attracting a range number of tourists to this region. This valley has a lot to offer to all the visitors. You can reach Hunza Valley by driving on the famous Karakoram Highway, which is also known as the China-Pakistan Friendship Highway as it connects the two countries. On this beautiful drive there are several opportunities to stop and take in views of Nanga Parbat and Rakaposhi, as well as the point where the Karakoram, Hindu Kush and Himalaya mountain ranges all meet. At this unique point waters from the Gilgit River and Indus River join together 

Hunza is also home to some historic passes in the Karakoram mountains (Killik, Mintaka, Khunjerab and Shimshal passes) through which trade and religion passed between India and Central Asia/China for centuries. The present day Karakoram Highway passes through the Khunjerab Pass to enter Xinjiang. Several high peaks rise above 6,000 metres in the surroundings of Hunza valley. The valley provides spectacular views of some of the most beautiful and magnificent mountains of the world which include Rakaposhi 7,788 m (25,551 ft), Ultar Sar 7,388 m (24,239 ft), Bojahagur Duanasir II 7,329 m (24,045 ft), Ghenta Peak 7,090 m (15,631 ft), Hunza Peak 6,270 m (20,571 ft), Darmyani Peak 6,090 m (19,980 ft), and Bublimating or Ladyfinger Peak 6,000 m (19,685 ft).
Inside the Hearts and Homes of the People of Hunza
The literacy rate of the area is almost 95%. Their society is more open towards women, compared to other parts of Pakistan. Many women can be seen running their own business such as cafes, woodcraft workshops, and carpet centres. They also participate actively in sports like football and volleyball.
The architecture in Hunza is also like its people, it is simple, sturdy, functional, and ingenious. The houses in Hunza are low-roofed which are designed in this way to better preserve the heat and energy during the months of biting cold and harsh winds. There is, normally, little or no furniture found in a traditional home in Hunza as the people sit, eat, and sleep on the floor. Although this tradition might seem outdated it also shows how strongly rooted the people of Hunza are even in the age of technology when things seem almost unrecognizable from what they used to be. As a result, this makes visiting Hunza a rejuvenating experience as it takes one back to the basic and more important things in life while leaving the complications of modernity behind.
Hunza Through The Four Seasons
Like rest of Pakistan, Hunza too experiences all four seasons year round. However, their duration and intensities are different from the rest of Pakistan.
The continuously changing seasonal cycles add greatly to the beauty of Hunza. The birth of spring offers the views of luscious cherry blossoms that make the whole valley alive and effervescent. In summers, the smell of the many local fruits and flowers waft through the whole region, intoxicating the people into a calm trance. Come fall, Hunza transforms into a land of memory and nostalgia, the vibrant orange and reds of the countless leaves make the place look and feel especially welcoming. With winter, the white snow encapsulates the valley into a warm embrace and everything appears to be soft and pure which makes a winter trip to Hunza an endearing experience.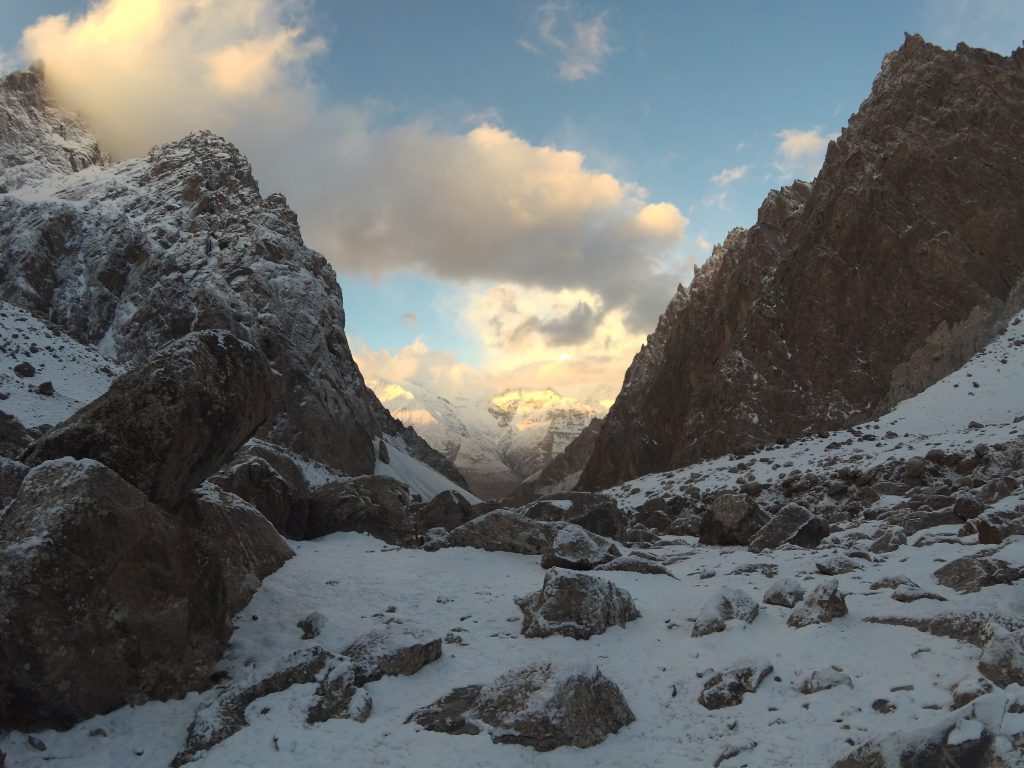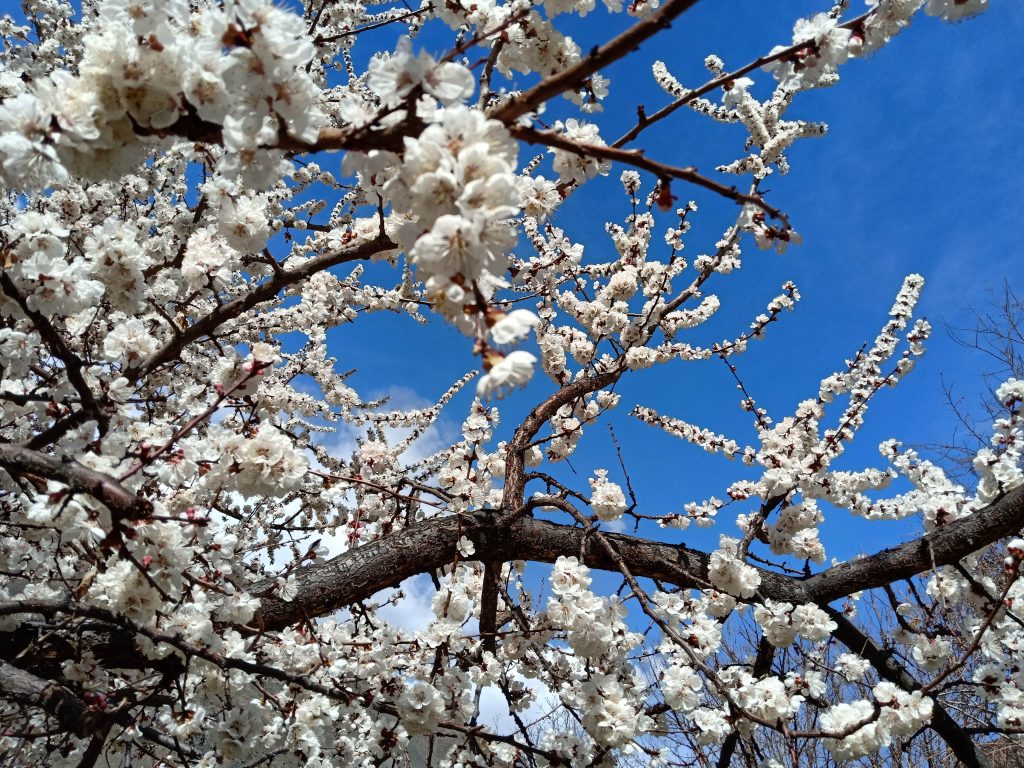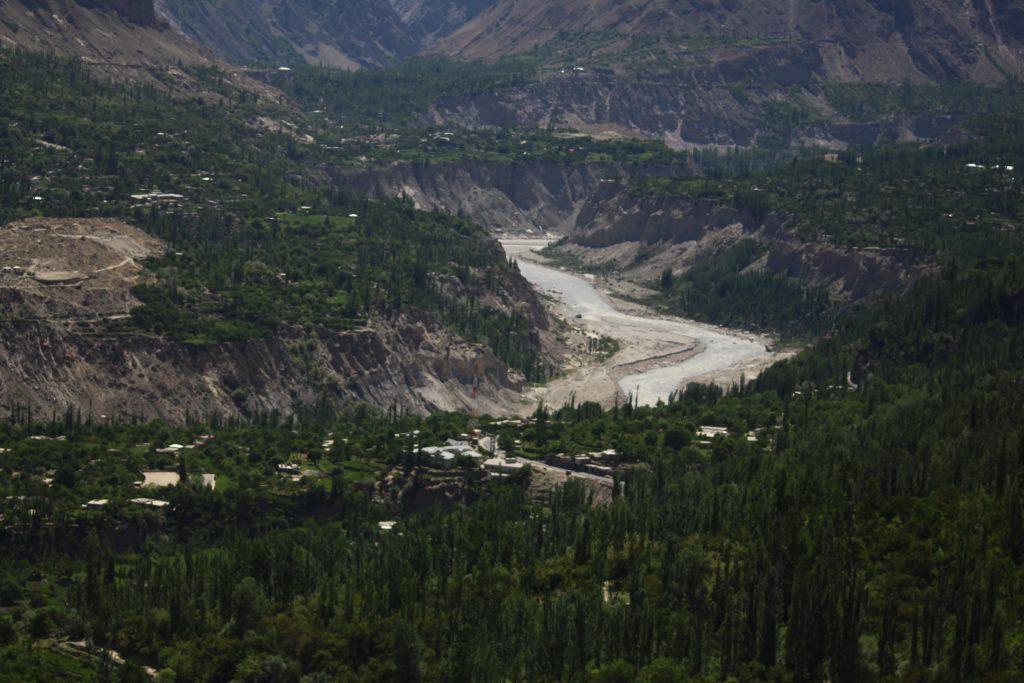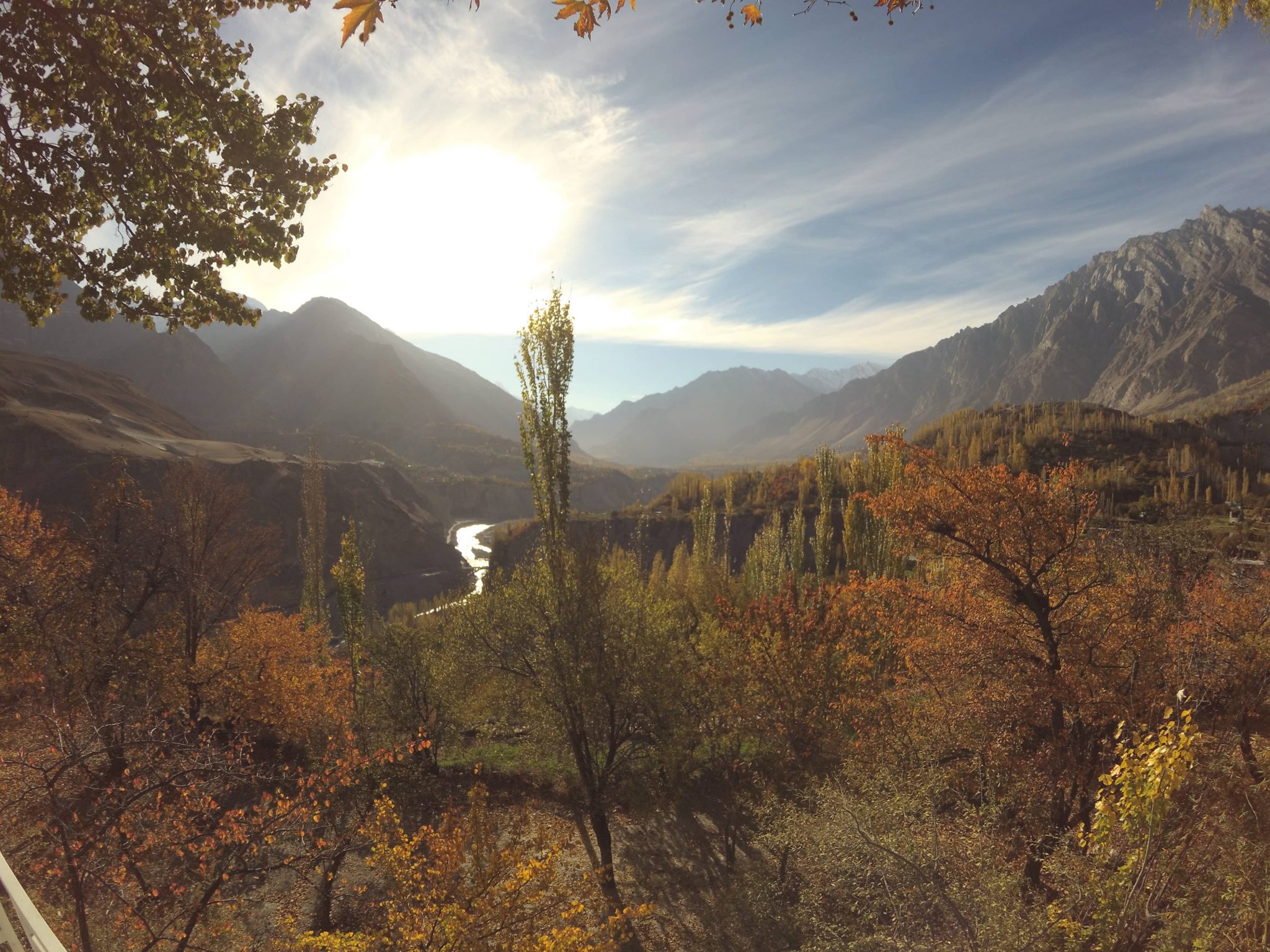 The valley offers some exotic food to the tourists as well. Hunza is full of fruit trees like cherries, walnuts, apples, apricots, plums and grapes. The famous Hunza soup is also loved by many visitors. Tourists usually bring the special walnut and apricot cakes back from Hunza for their friends and family.
The land of Hunza is not only ripe with delicious fruits and berries, but Hunzakuts are also well-versed in creating unique and tasty dishes from the natural produce their land is blessed with. The following cuisines are a must try when in Hunza.
Harissa, a specialty of Hunza, is a treat for the taste buds and also a wholesome nutrition package. It is prepared by combining meat, rice, wheat and lentil and cooking them together in set proportions. This tasty dish, full of protein, can be enjoyed with naan or roti.
Chapshuro is a tasty dish which is similar to pizza. This dish is made by first preparing bread as the base and then topping it with meat, seasonal vegetables, olives and flavorings.  This dish is baked in an oven or tandoor.
Shopan is a tasy dish, distinct to the mountainous region of Hunza.  It is made from the stomach of goat or lamb. The stomach is marinated in vinegar to remove the stench of uncooked meat. Seasonal flavorings, flour, red chili, onion, mint, salt and oil are then added into the marinated stomach and cooked. This delicious food is served with boiled rice or bread.
Buttering Daudo is a one-of-a-kind soup prepared from dried apricots. This dish is a specialty of the harsh winter season in Hunza. Buttering Daudo is prepared by boiling dried apricots in water and adding lemon and sugar to it. The soup provides remedy for the common diseases associated with winter season and is also good for relieving constipation. Buttering Daudo is prepared and consumed by a large percentage of Hunzakunts in winters.
This tea is made from an indigenous herb called Tumoro which is found in Nagar valley. The leaves of Tumoro are boiled in water at medium heat for 15-20 minutes. This is done to extract the essence of leaves. The water is then strained to remove the leaves. This tea is usually served without milk. It provides cure for body aches, soothes the nerves and cures sore throats.
Drink water right off the springs which originate from the Himalayan Mountains (not recommended anymore due to rising water pollution). The Hunza Water is said to be very beneficial for the purification and rejuvenation of body because of its pureness. Also, enrich your palettes with home-grown apples, apricots, grapes, walnuts and almonds, which are indigenous to Hunza. Red, juicy and soft apples are the specialty of Hunza Valley which must not be missed, when in Hunza.
The natural beauty of Hunza is reflected in the arts and crafts made by Hunzakuts. They excel in making beautiful and distinct jewelry, pottery, architecture, and woodwork. Sale and export of handicrafts generates revenue for the region. Handicrafts are an important local industry of Hunza District.
The mountainous valley of Hunza is blessed with natural gemstones such as Aquamarine, topaz, emerald, ruby, pollucite, rutile quartz, morganite, apatite, spinel, and pargasite. These gems are sewn together to form delicate handmade jewelry. Hunza-made jewelry is distinguishable due to its elegance, distinct patterns and use of different pearls. Rings made from different gemstones are particularly popular all across the country. Hunza ornaments are sought after by tourists and are admired all across Pakistan.
Another specialty of Hunza's artifacts industry is the intricate and elegant woodwork produced by Hunzakuts. Carpentry was traditionally a male-dominated occupation, but recently it has also been taken up by female artisans. Hunza is blessed with high class wood which is used to make furniture, doors, utensils and decoration items. What sets Hunza's woodwork apart is the formation of intricate and unique designs and geometric shapes on the furniture and doors. Hunza's woodworks are major exports of its local industry.
Hunzakuts are well-versed in the art of weaving rugs and carpets. This occupation has been taken up by both men and women. The raw material for the carpets is hides and wool of lambs, yaks and goats. Hunza's carpets are distinct as they are not mass-produced and are mostly handmade with colorful patterns and designs.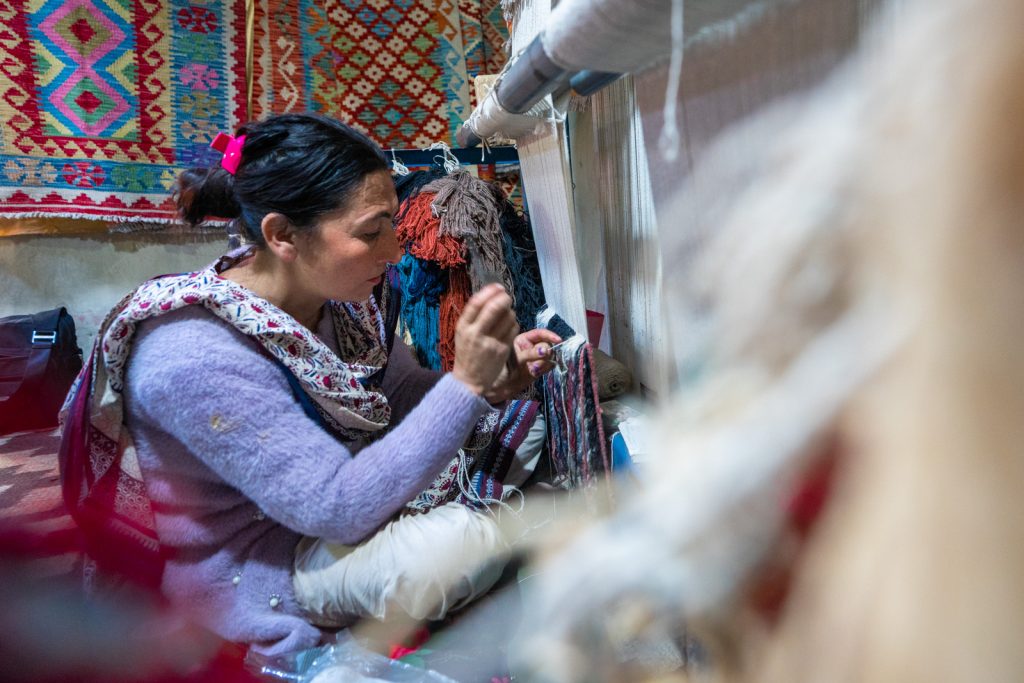 Culture - Language, Ethnicity & Religion
The locals of Hunza are called Hunzakuts, Burushos and Burushakis. Hunzakuts have distinct features marked with slender figures, fair complexions, mild noses and rosy cheeks. Their features make them distinguishable from rest of Pakistanis. Hunzakuts are famous for their exceptionally high life expectancies which have been attributed to the availability and consumption of pure organic food and pollution-free natural environment. The District of Hunza has a population of around 250,000. Hunza Valley boasts a high literacy rate of around 95%, which when compared to other remote areas of Pakistan is exceptionally high and commendable. There exists parity between both genders in the pursuit of education and jobs, which is not usual for the rest of Pakistan.

Burushos are the original natives of Hunza Valley. According to estimates, the number of Burushos altogether is 60,000, who are settled in Hunza and Nagar regions in Pakistan. The natives of Hunza speak the Burushaki language which has two distinct dialects: Wakhi and Shinkai. Wakhi-speakers reside in northern part of the valley called Gojal, Chitral as well as bordering areas of China and Afghanistan and Shinkai-speakers reside in the southern part of the valley. Burushaki language is spoken by people residing in Central Hunza also called The Hunza Valley.

Legend has it that the current day Burushos are descendants of the army of Alexandar the Great. His mission to conquest the world brought him to the remote regions of Himalayas and three of his soldiers have been credited for founding and populating the villages of Baltit, Ganish and Altit – all of which are a part of the Hunza Valley. 
Like rest of Pakistan, the Hunzakuts practice Islam. Most of them practice Shi'asm and are followers of Prince Karim Aga Khan IV whom they declare their spiritual leader. Hunzakuts belong to Ismaili faction of Islam, which is an extension of Shiite Islam.
The mountainous geography and harsh winter weather had rendered Hunza relatively inaccessible to rest of Pakistan. However, greater connectivity with the region and the people was established after the construction of Karakoram Highway – a 1,300 km national highway – which connected multiple cities of Pakistan from central Punjab to the northernmost regions of Hunza.
Hunza - a Magical Realm of Healing & Transformation
Hunza is a land of healing and transformation, from its soothing music, ancient practice of traditional medicine, highly rich and healthy food, to its scenic views, Hunza is a salve for a busy mind and an aching body. Perhaps, this side of Hunza is better suited to a myth, a fairytale, or a fantasy novel, however, Hunza remains an enchanted land, with the power to heal and cleanse the mind, body, and spirit for those who believe in its magic. From its obvious joys and many visible offerings to its hidden secret treasures, Hunza has something to offer to everyone. Visiting Hunza must be a priority for everyone whether it is for the purpose of exploring its rich history and culture, benefitting from its traditional medicine, or simply to dwell in the beauty of the place.
To make the best of your Hunza Valley trip, we have compiled a list of must-do activities in Hunza.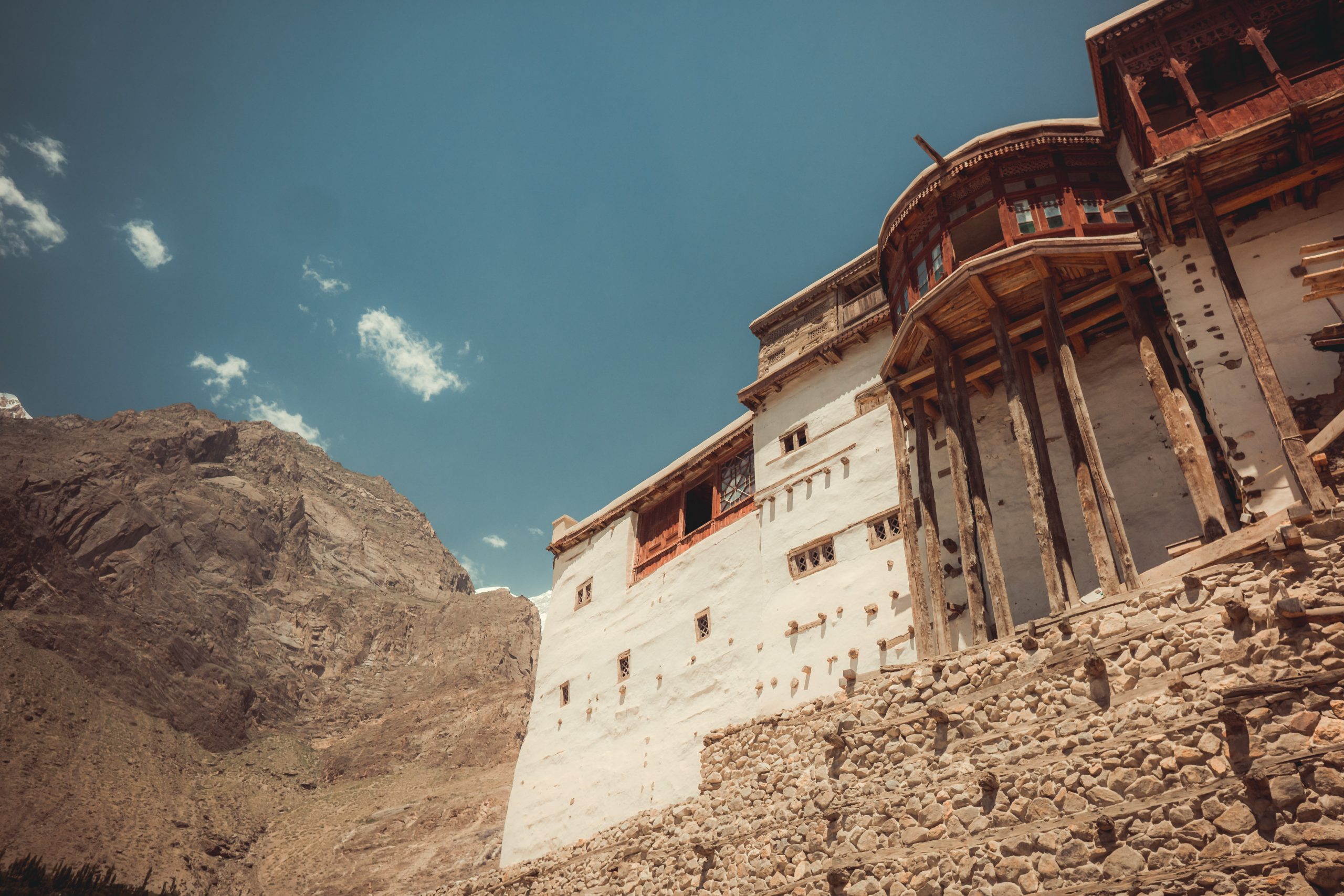 Baltit Fort
Baltit Fort is a landmark of great historical importance and is located in the largest town of Hunza Valley i.e. Karimabad. The rich beauty of Baltit Fort can be traced 700 years back. It was home to the Royal family of Hunza for centuries. The structure of Baltit Fort was influenced by the Ladakhi/Tibetan architecture. It also contains some antique local artifacts. This fort is restored (1990-96) by the Aga Khan Trust for Culture. The Fort's beautiful wood carvings are eye-catching, and were adopted in many later buildings in Hunza valley. The real treat lies in the view observed by getting on top of the fort.  You can get to the top of Baltit Fort by climbing up a steep road which leads to it and passes through a local village. On a clear day, the top of the fort presents a clear and unobstructed view of Karimabad, Hunza Valley and the mighty Rakaposhi Mountain. For early birds, sunrise viewed through Baltit Fort is a special treat.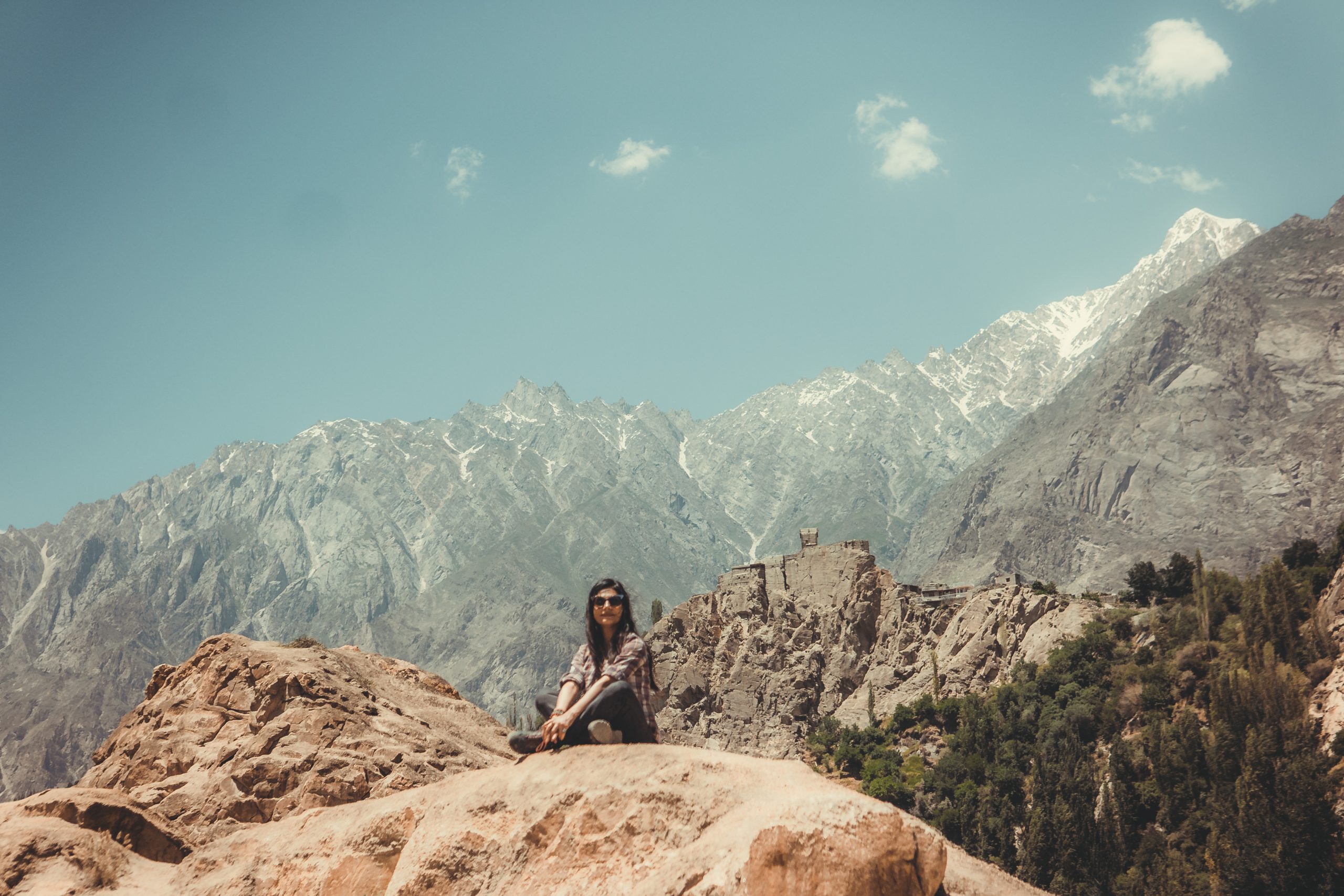 Altit Fort
The 1,100 years old Altit fort is built on a sheer rock-cliff that falls 300 meters (1,000 feet) into the Hunza River. Its only tower known as the shikari Tower was built strategically to monitor the entire land, especially during war time. Standing on top of the tower gives an idea of how critically important its positioning was. With such high elevation, all of the surrounding mountains, woods and the river stream could be easily monitored, giving the army of Altit city a fair margin to prepare for their defense.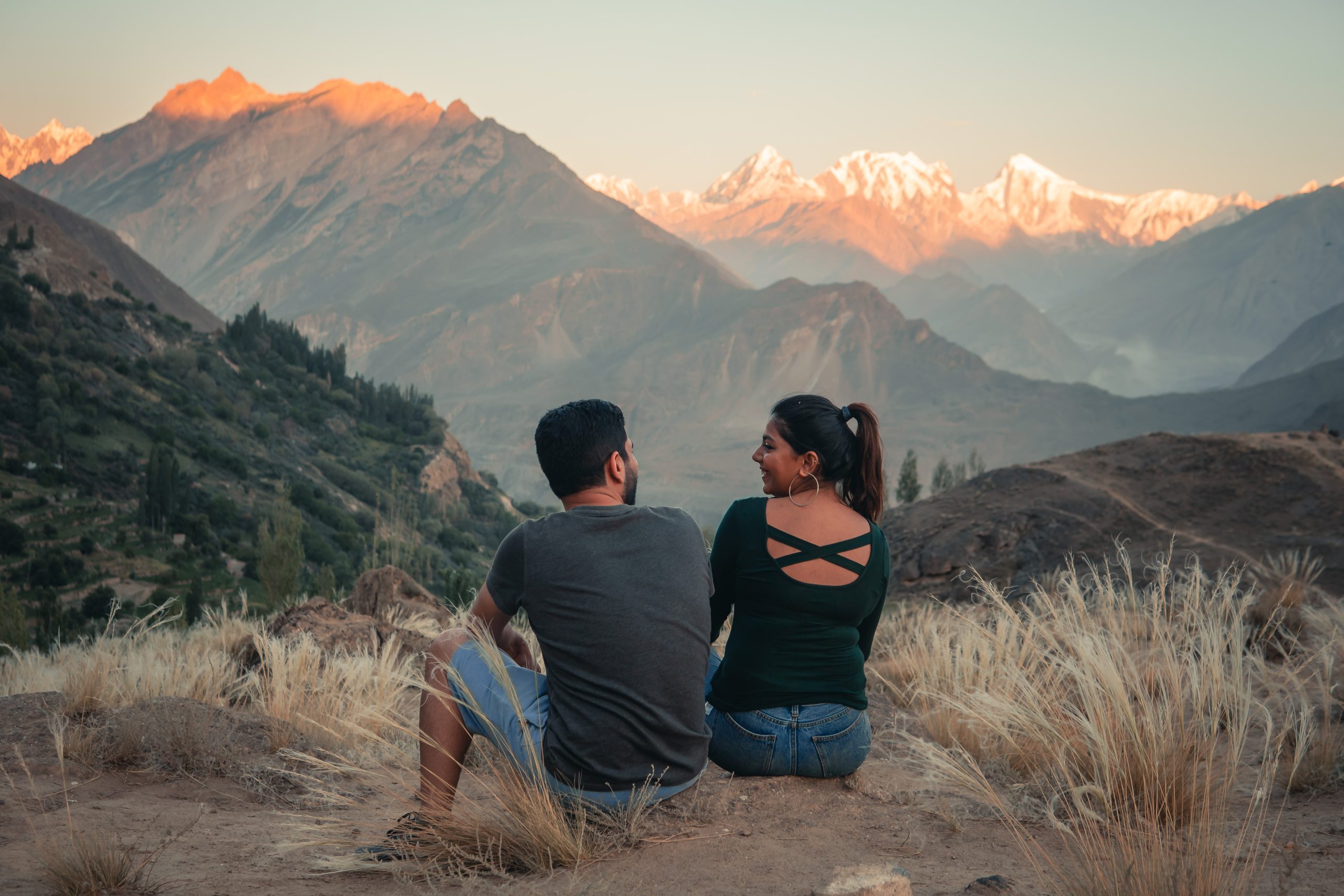 Duiker
Duiker is highest village in Hunza valley. It is located at a distance of nearly 11 kilometres from Karimabad (25-minute drive). Duiker offers spectacular views of the valley and its surrounding peaks at sunrise and sunset.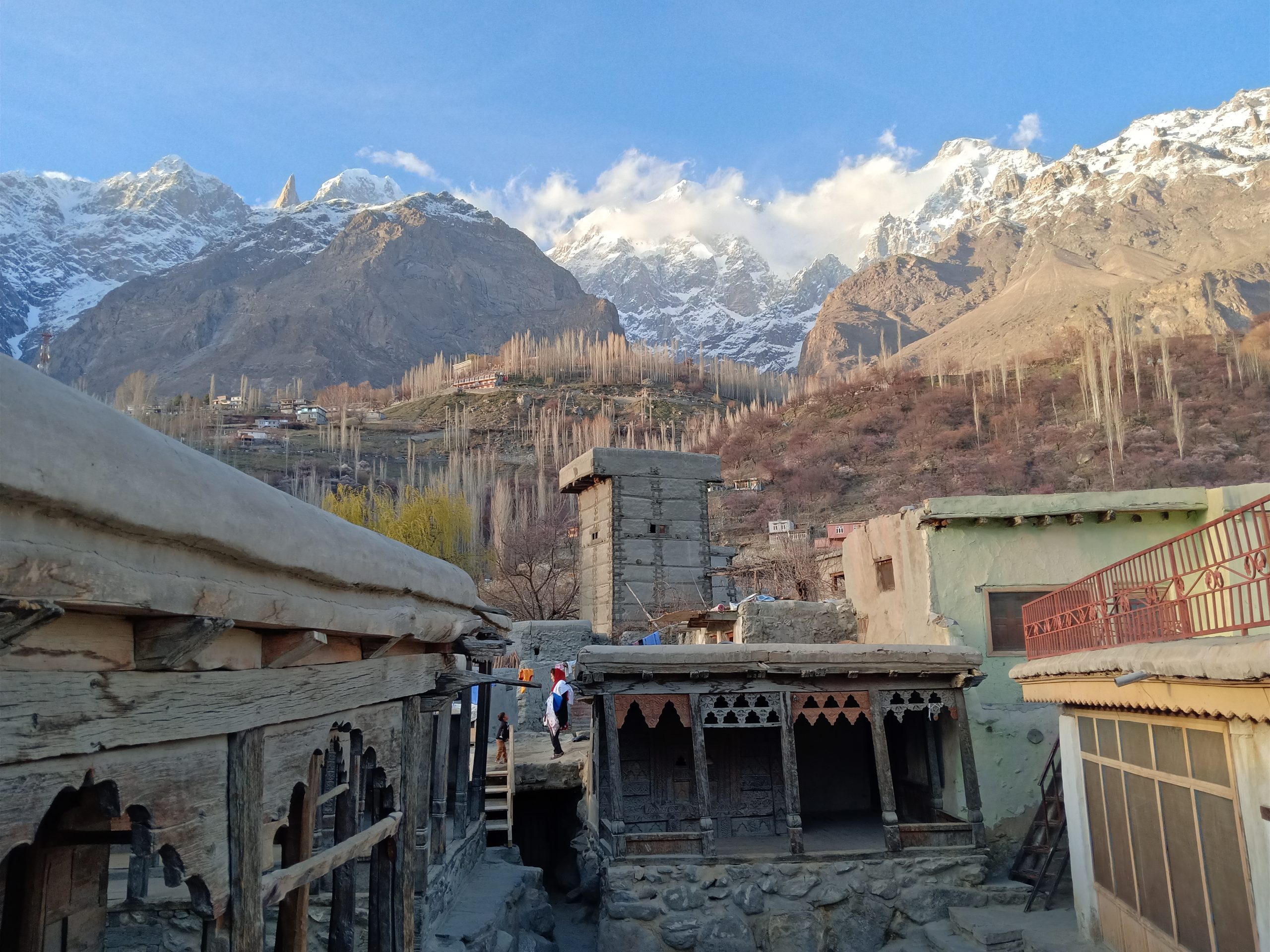 Ganish Village
To see the patterns of human settlement through the lens of history, visit to Ganish village is a must. This village is home to first human settlements in Hunza Valley which date back to several millenniums. Signs of the bygone era can be seen in the mosques which were constructed about 400 years ago.  Other remnants of the bygone era are the watchtowers which are tall structures made of concrete and were used for hunting animals.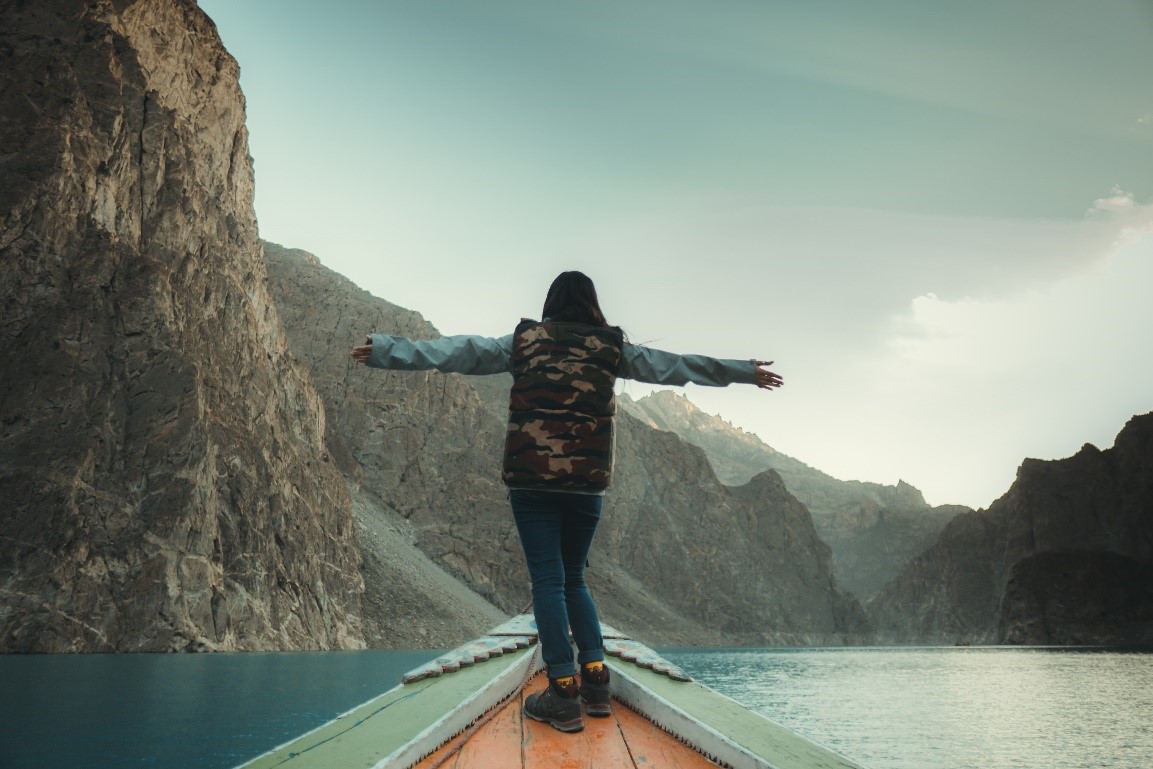 Attabad Lake
There's a sad story crouching below Lake Attabad's shimmering surface. Attabad Lake is a recently formed geographical feature which resulted due to a landslide in 2010 in Gojal Valley of Hunza. The landslide restricted the flow of Hunza River and accumulation of water lead to the formation of this stunning lake. Spread across an area of 2.29 sq. km, the lake is enveloped by gigantic mountains and the blue-green water of the lake is spectacular. A number of recreational activities such as jet skiing, boating and fishing can be enjoyed on the lake. Visit to Attabad Lake is a must do when in Hunza.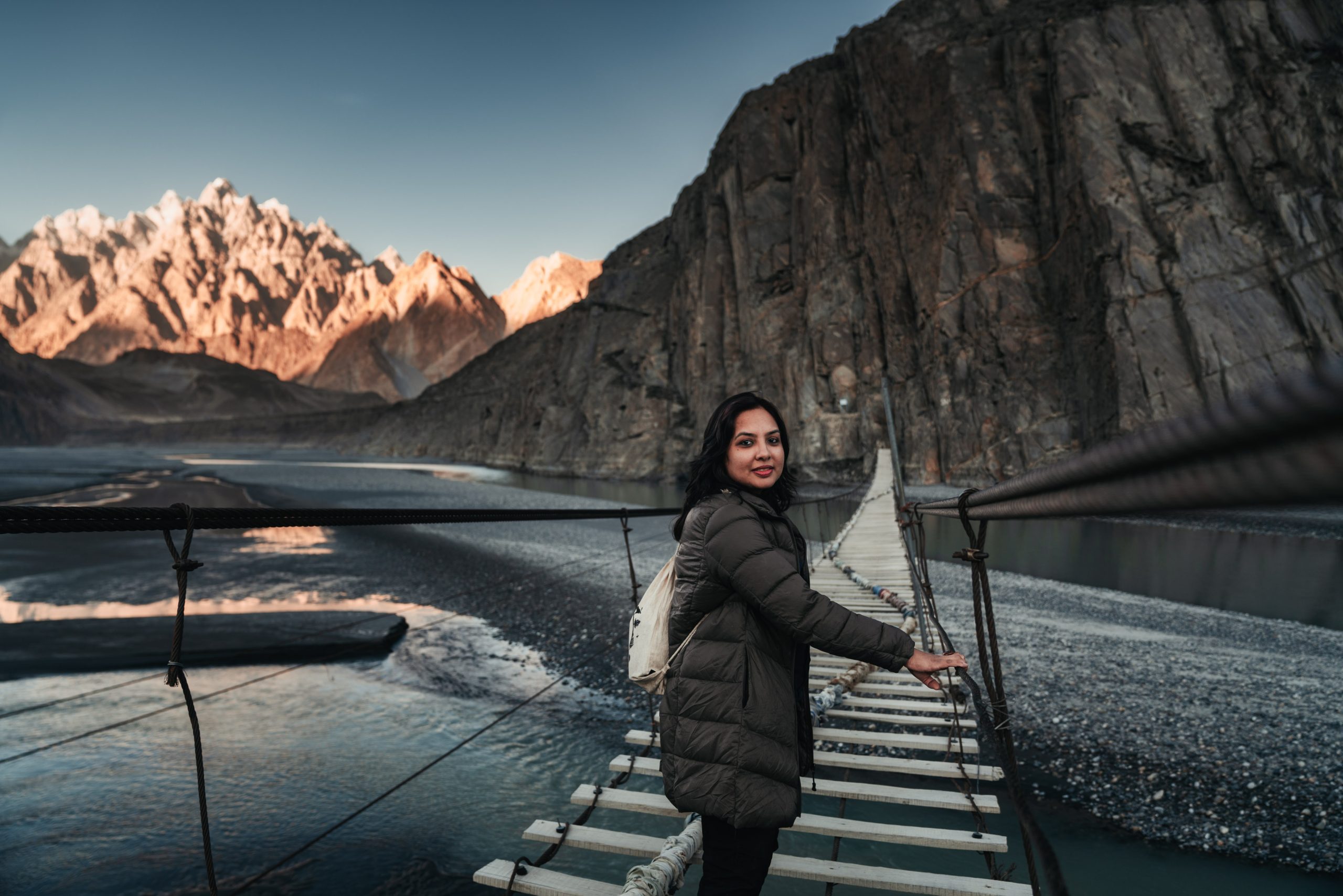 Hussaini Suspension Bridge
Known as the most dangerous bridge in the world, the Hussaini Hanging Bridge is one of many precarious rope bridges in Northern Pakistan. It is located at a 15-minute downhill walk from the Karakoram Highway.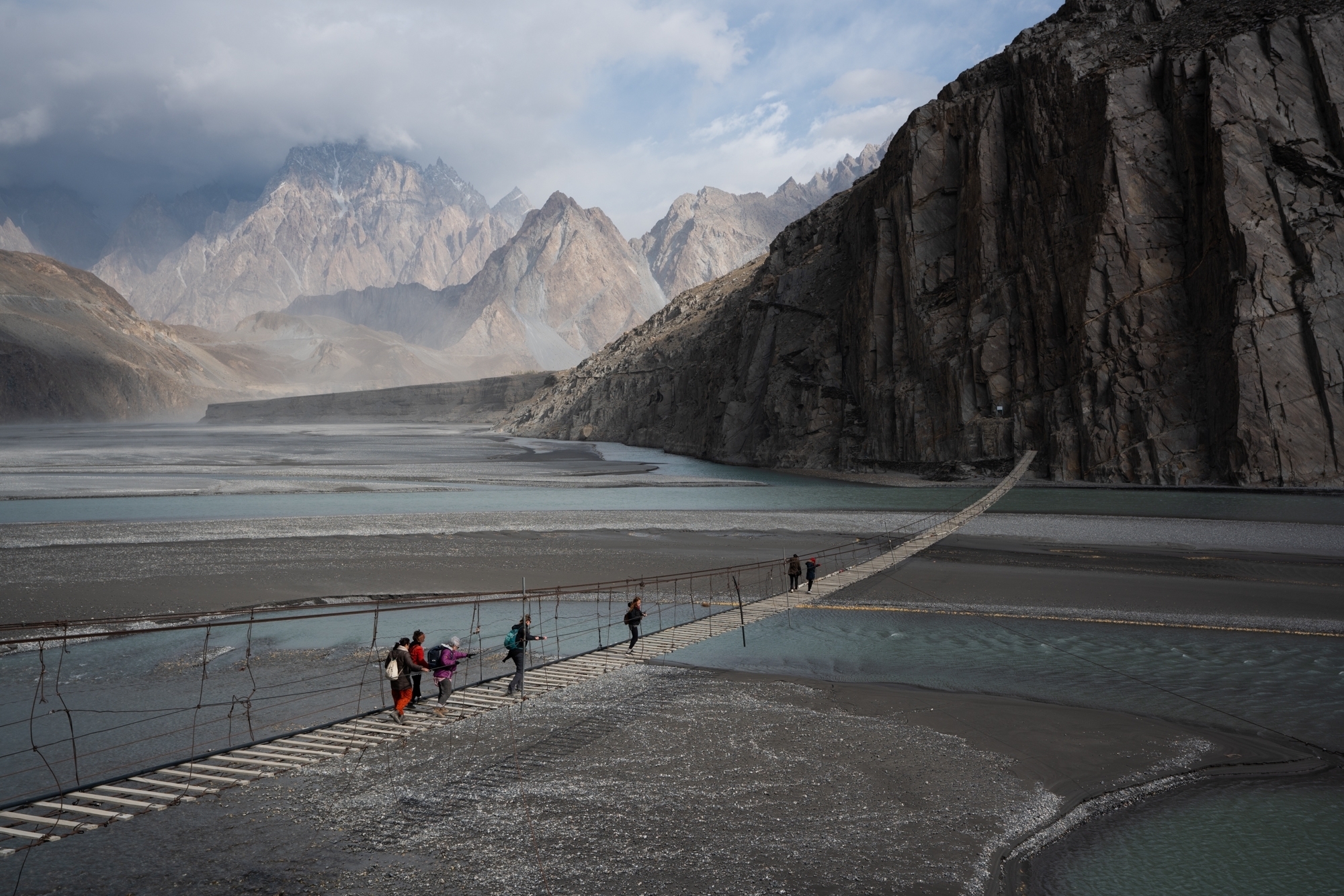 Passu Suspension Bridge
Many tourists visit Hussaini suspension bridge now, but very few know about the even more perilous Passu Suspension Bridge.  There is a breatiful 3-5 hour trek between the two suspension bridges that offers spectacular views of Passu catherdrals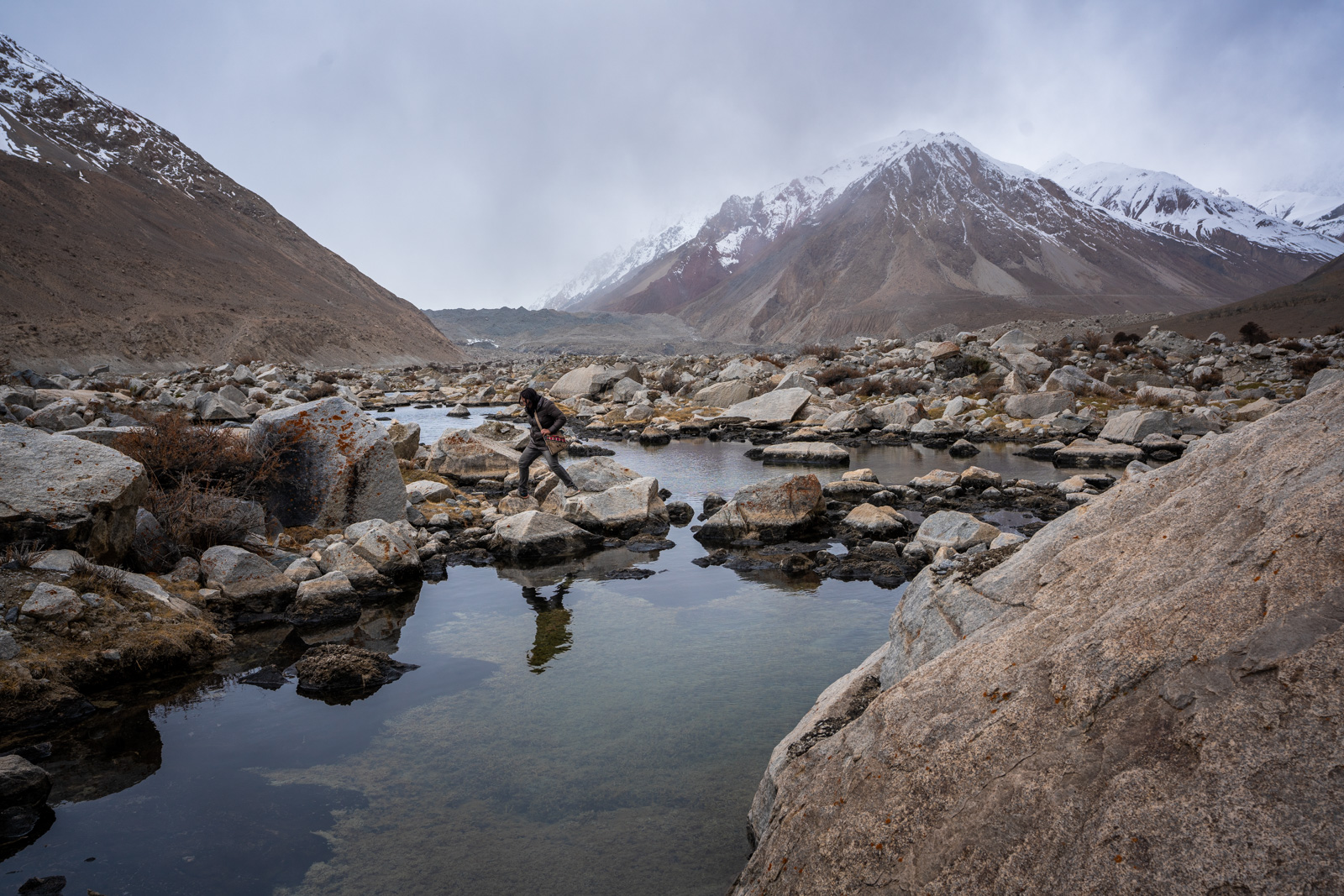 Borith Lake
Borith lake is a saline water lake that lies in upper Hunza approximately 2 km north of the Ghulkin village.  It is accessible by a 2-3 hour trekking route directly from Ghulkin, across the end of the Ghulkin glacier. The site is an important sanctuary for migrating wildfowl and is a must to be included in the itinerary of bird-watchers and nature lovers.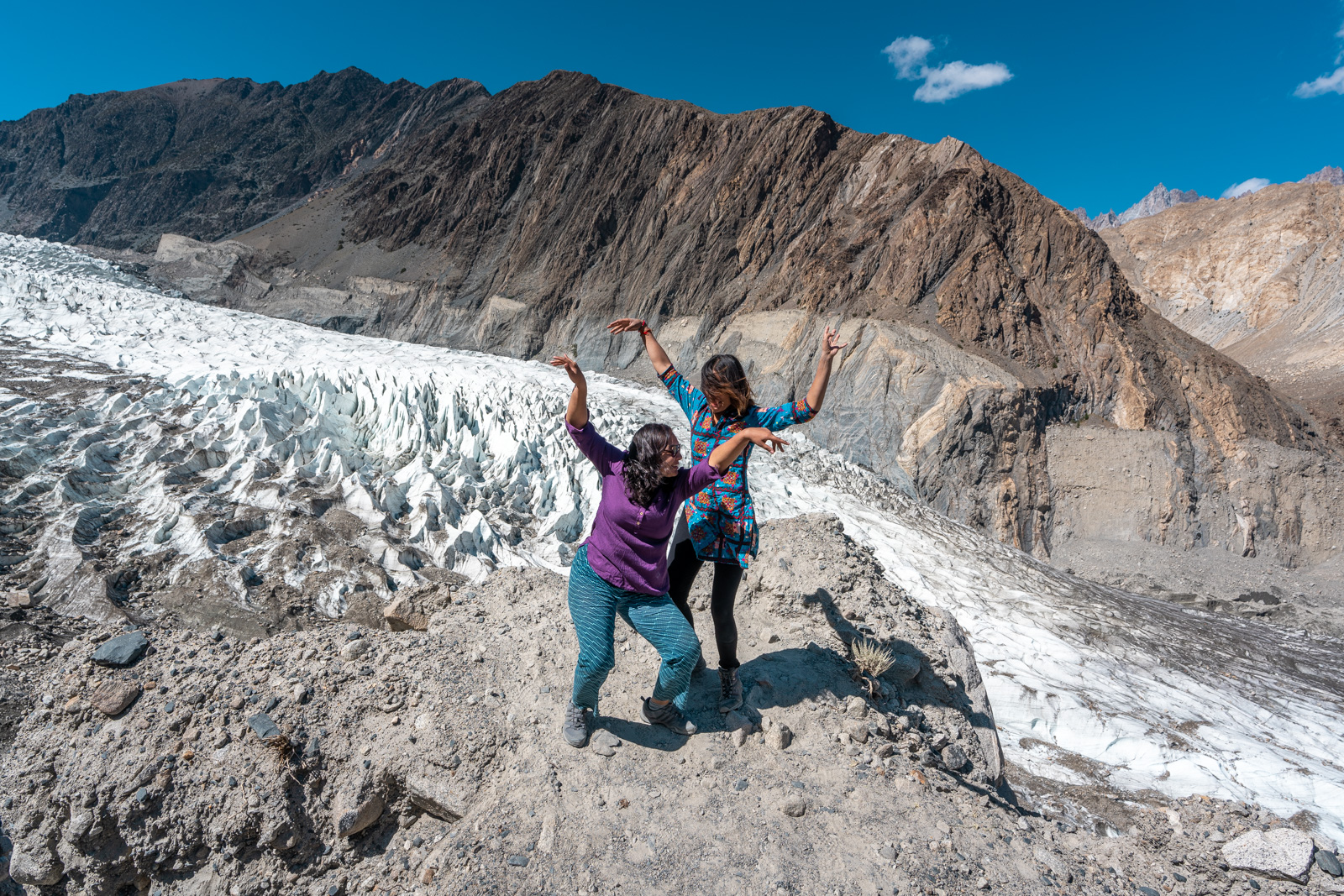 Passu Glacier
For those who are more adventurous can walk for a couple of hours from Borith lake to Passu Glacier or White Glacier. On reaching the glacier, one finds a spectacular view of all the icy formations along its length.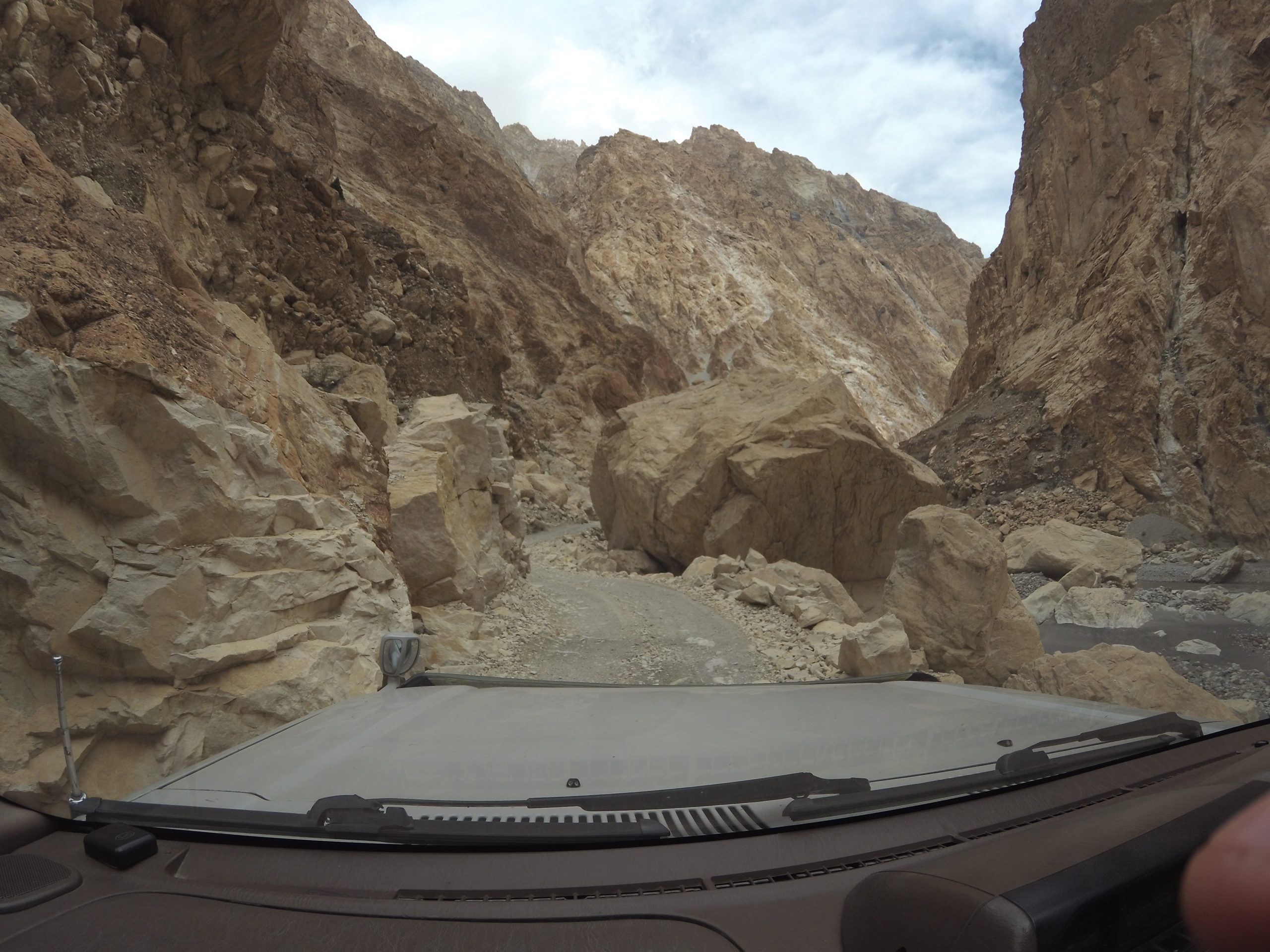 Aliabad
Aliabad is the commercial hub of Hunza. All the banks, big shops, and offices are located here.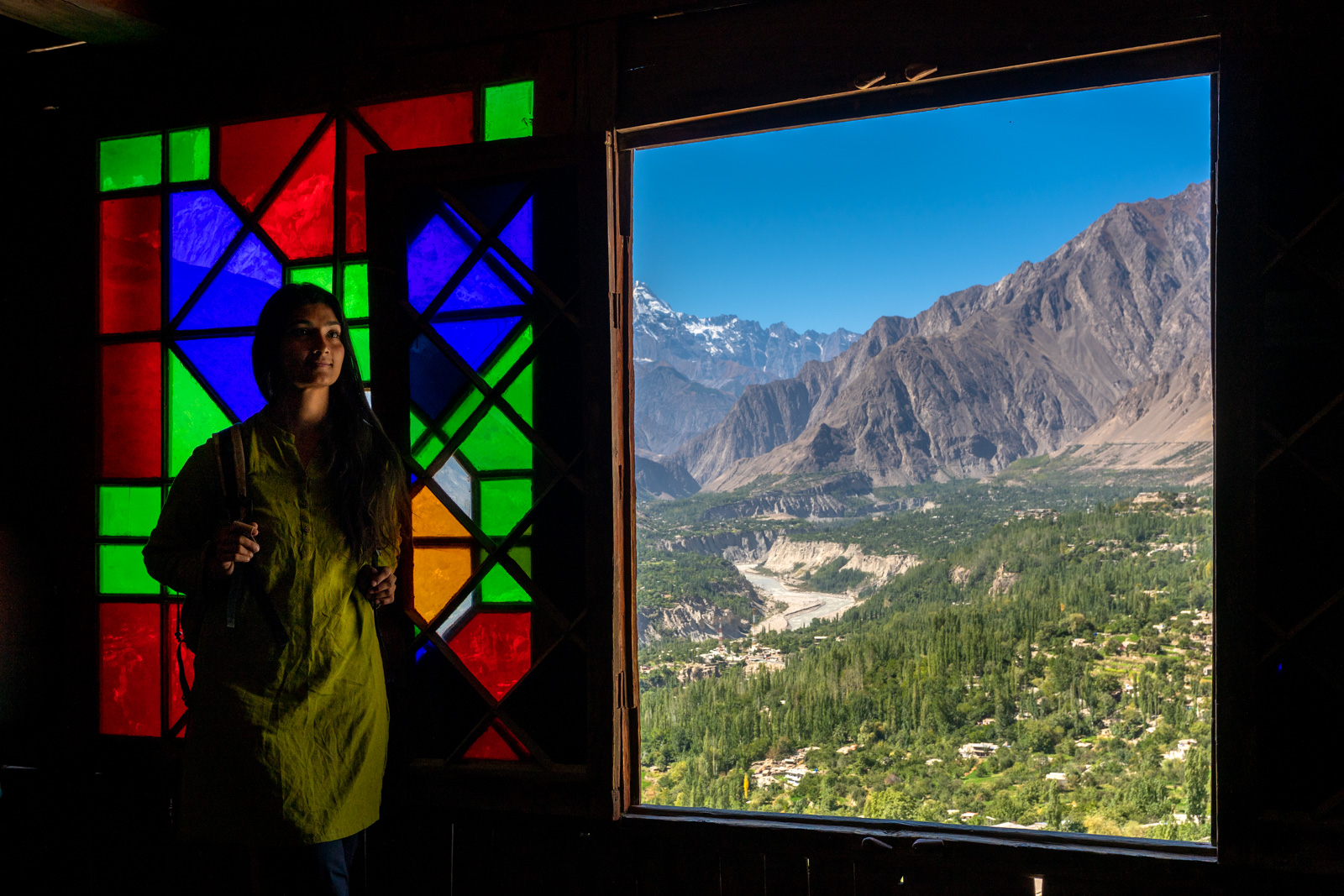 Karimabad
Karimabad is the capital of the Hunza District, a town known for its rich culture, locally made handicrafts, carpets and, of course, its next-level views of the surrounding mountains. Centuries old forts and a settlement surrounded by mountains peaking above 7,000 meters will be waiting for you here. Tourists can buy traditional Hunzai clothes and artifacts from Karimabad market.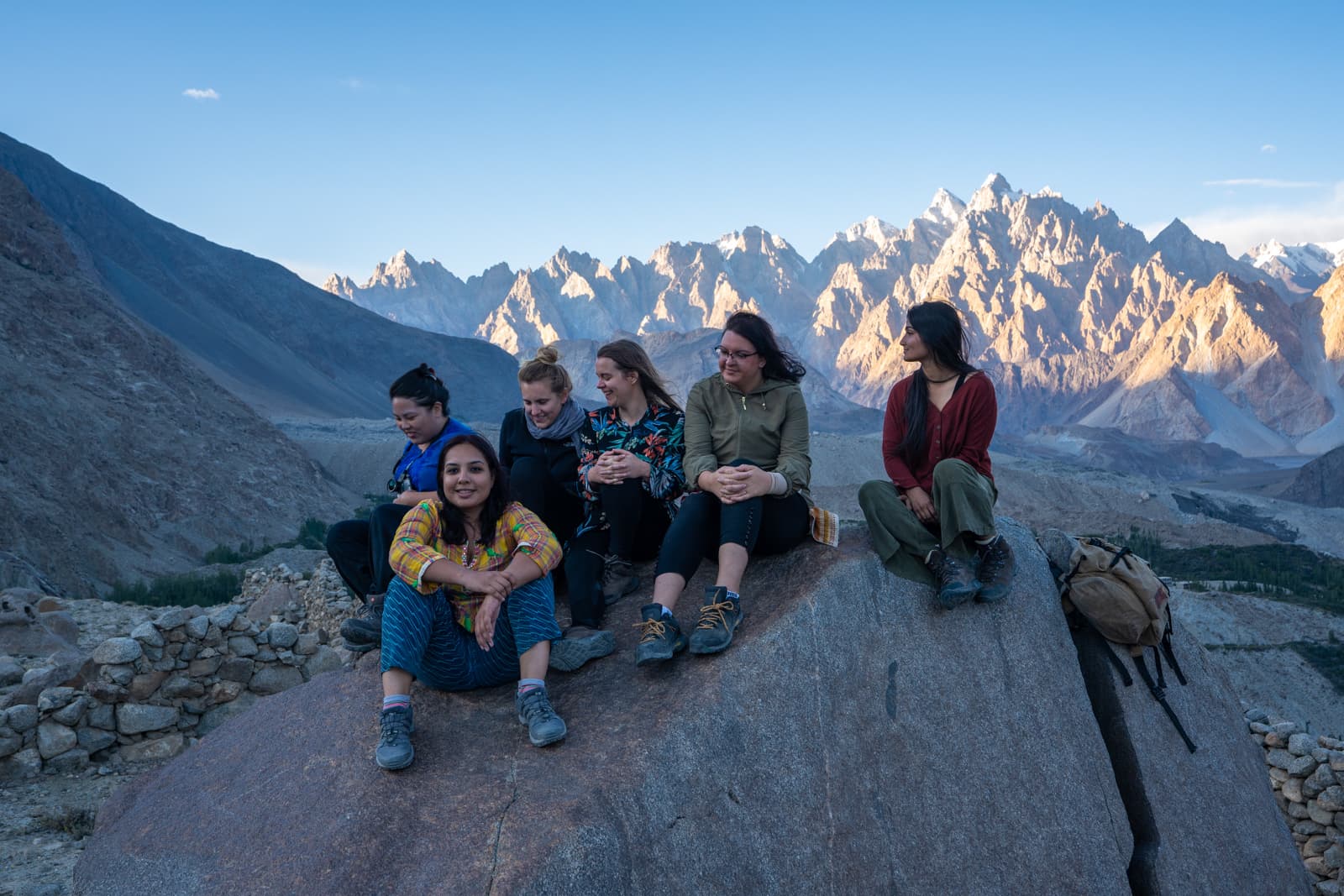 Gulmit
Gulmit is a small village at a scenic point in Hunza valley with irrigated fields and the orchids of Apricots, Apples Walnuts and peaches. Houses are simple, made of stones and mud. It is a trouble-free area where visitors feel comfortable to freely roam about.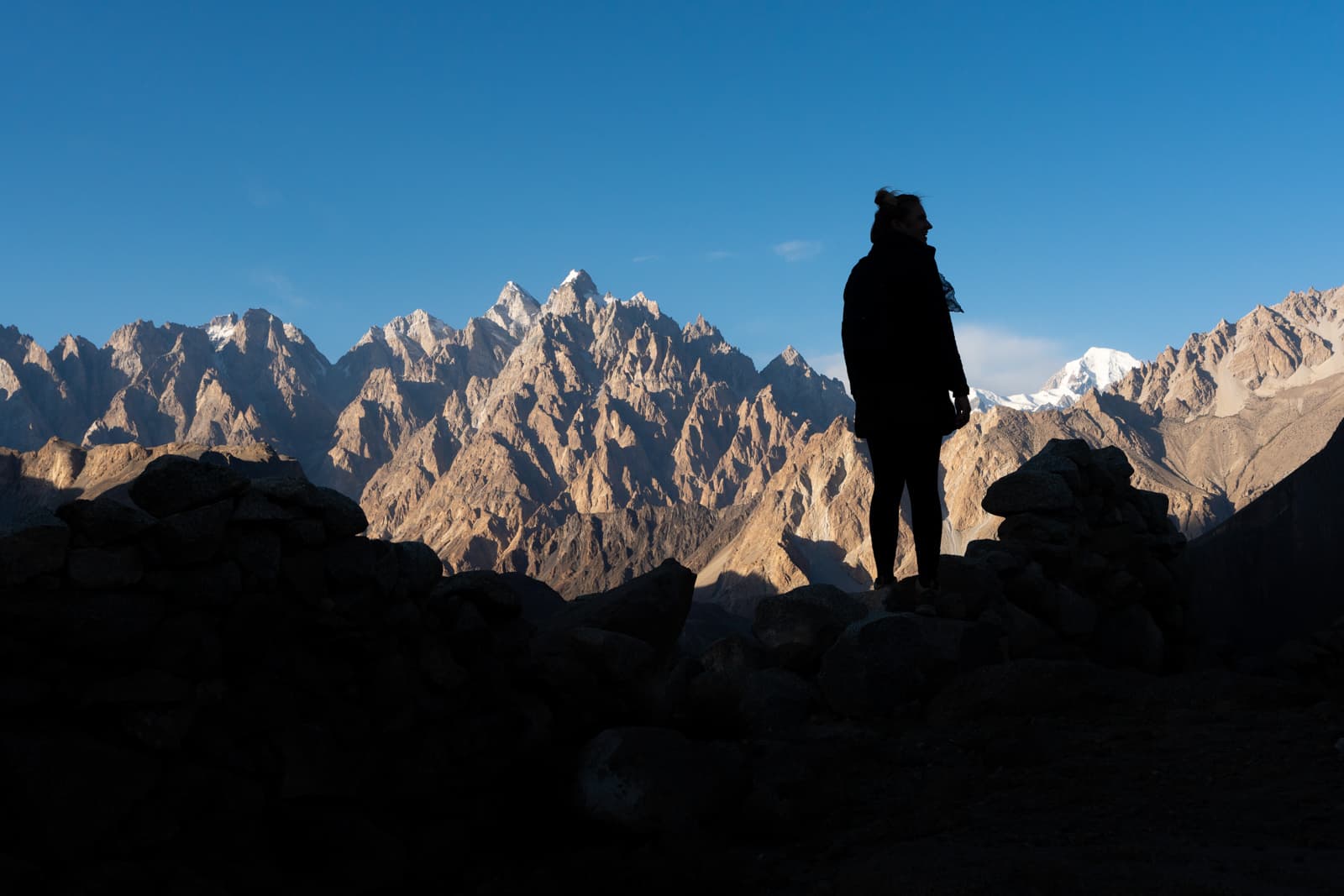 Ondra Fort
The ruins of Ondra Fort are located on rocky outcrop above Gulmit which offers commanded views of several strategically important passes in the area. It's believed to have been built in the 16th century. There are phenomenal views of both the valley and the surrounding peaks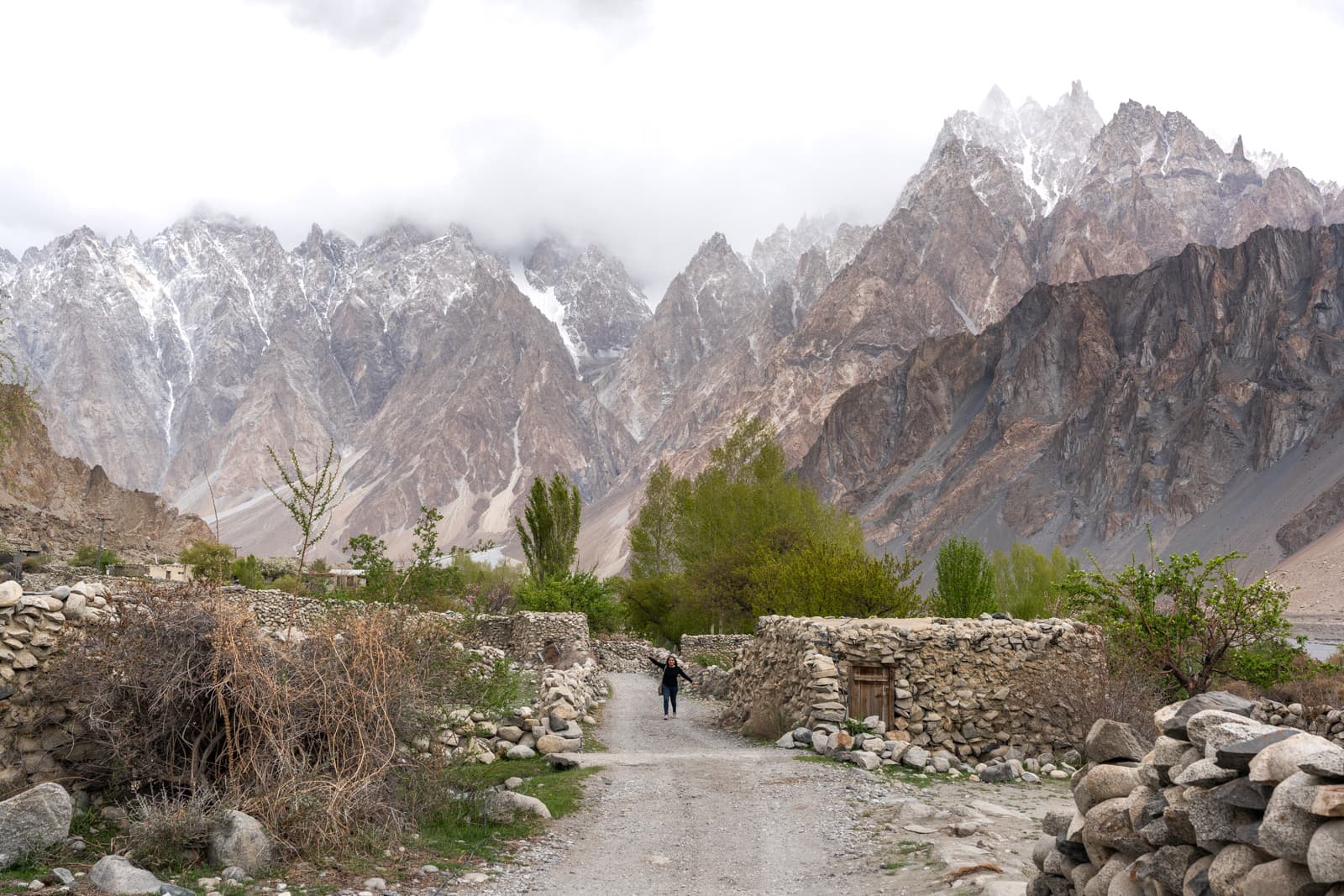 Passu
Situated riverside near the feet of the famous Passu Cones, the village is a collection of cute stone houses, farm fields, and fruit trees. From Passu, you get to see stunning views of Passu Sar mountain (7470 metres) as well as the photogenic Tupopdan (6106 metres), also known as Passu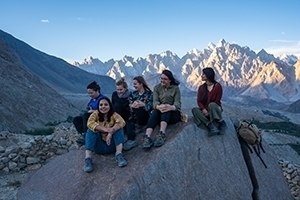 Sost
This is the last town of Hunza Valley on the Karakoram Highway before the border crossing with China and also has a dry port.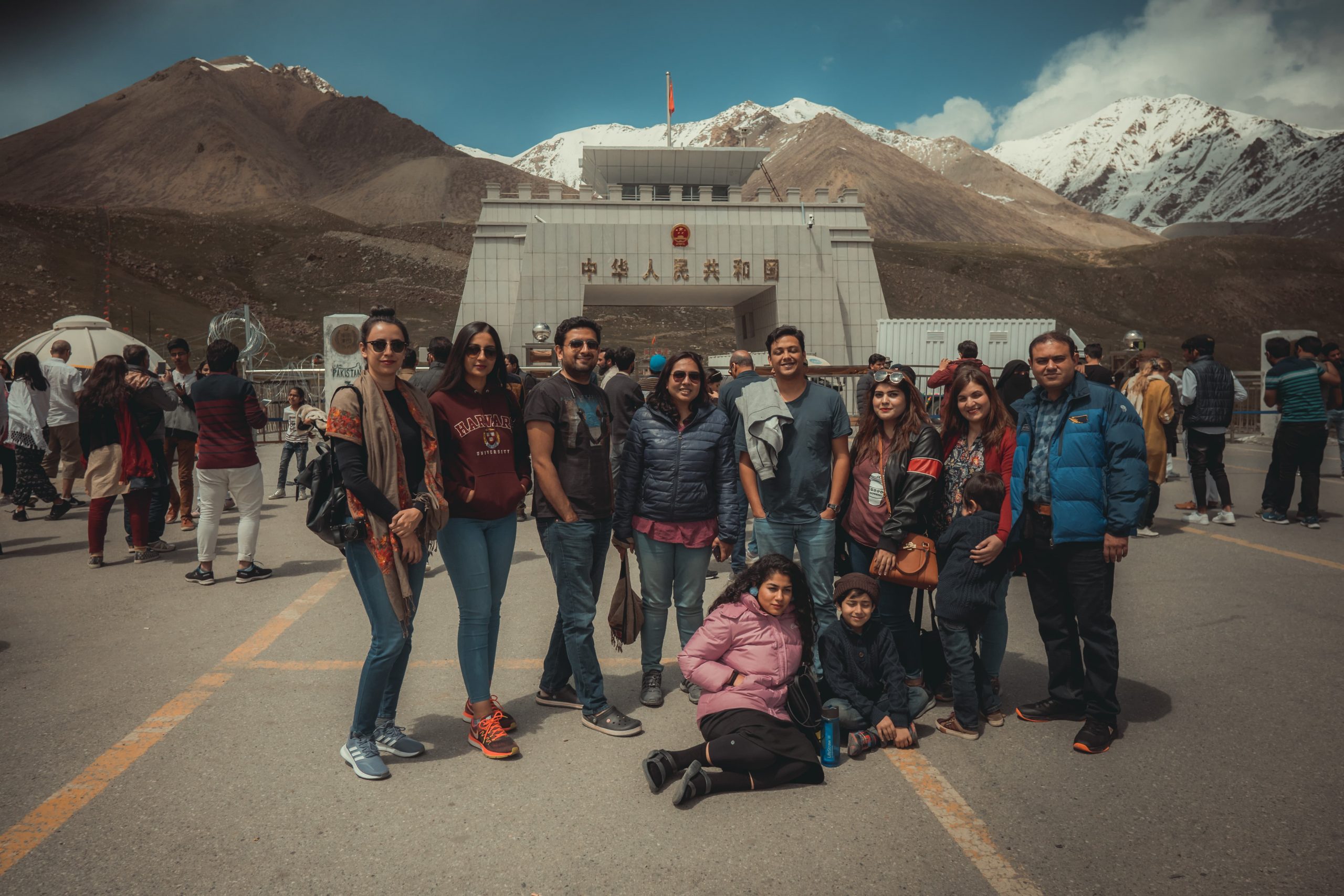 Khunjerab National Park
The park, established in 1975, is the natural habitat of the endangered Marco Polo Sheep, Himalayan ibex and Snow leopard. The park sits at an altitude of approximately 5200 metres and is close to the Khunjerab Pass 4703 – the border crossing from Pakistan to China. It is the highest border crossing on a paved road in the world.
Interesting Facts about Hunza
Hunza valley is divided into three main sections; Upper, Lower, and Central Hunza

Mountain Ranges: Himalayas and Karakoram 

Languages:

Lower Hunza – Shina, Central Hunza – Burushaski, Upper Hunza – Wakhi

Lakes: Attabad Lake, Borith Lake

Forts: Baltit Fort, Altit Fort

Ethnicity: Burusho

Population: 243, 324 (1998)

Area: 10,000 km

2

(4,000 sq mi)

Food: Diram Fiti, Harissa, Go-Lee, Chaapshuro, Moleeda, Chaamus, Graal, Mamtu, Shopan, Gittey, Hoi Lo Garma, Buttering Daudo, Dawdo noodle soup, Tumoro Tea, Fenugreek Soup