Pakistan isn't usually a name associated with pristine lakes, but there are over sixty documented lakes in the country, and the number keeps changing due to yearly topographical shifts. Take, for example, Attabad lake, which only came into existence in January 2010. Today we will explore a few favorite lake destinations for community travel to Pakistan. It is almost impossible to compile an exhaustive list of the lakes in Pakistan due to the everchanging topography and weather, but here we will aim to give you a taste of what Pakistan has to offer.
Rush Lake
In a list of the 40 highest lakes in the world, Pakistan is home to three. The highest among these is Rush Lake at 15,400 feet (4,694m). It is located in the Nagar region of Hoper Valley, Gilgit-Baltistan. Traveling to Rush Lake also offers an opportunity for camping to glacier-trekking (Hoper glacier and Barpu glacier). The trek offers excellent vantage points to look out over the Karakoram range. Needless to say, this is a precarious trek suitable for experienced trekkers only. The trek requires traversing huge crevasses and streams which makes this a very technical trek requiring the assistance of guides and porters who are familiar with the terrain.
Many trekkers summit the Rush Pari Peak (5,098m) as it offers a chance to witness the magnificent K2. Witnessing K2, the second highest peak in the world is an experience very few can lay claim to, making it a most memorable experience.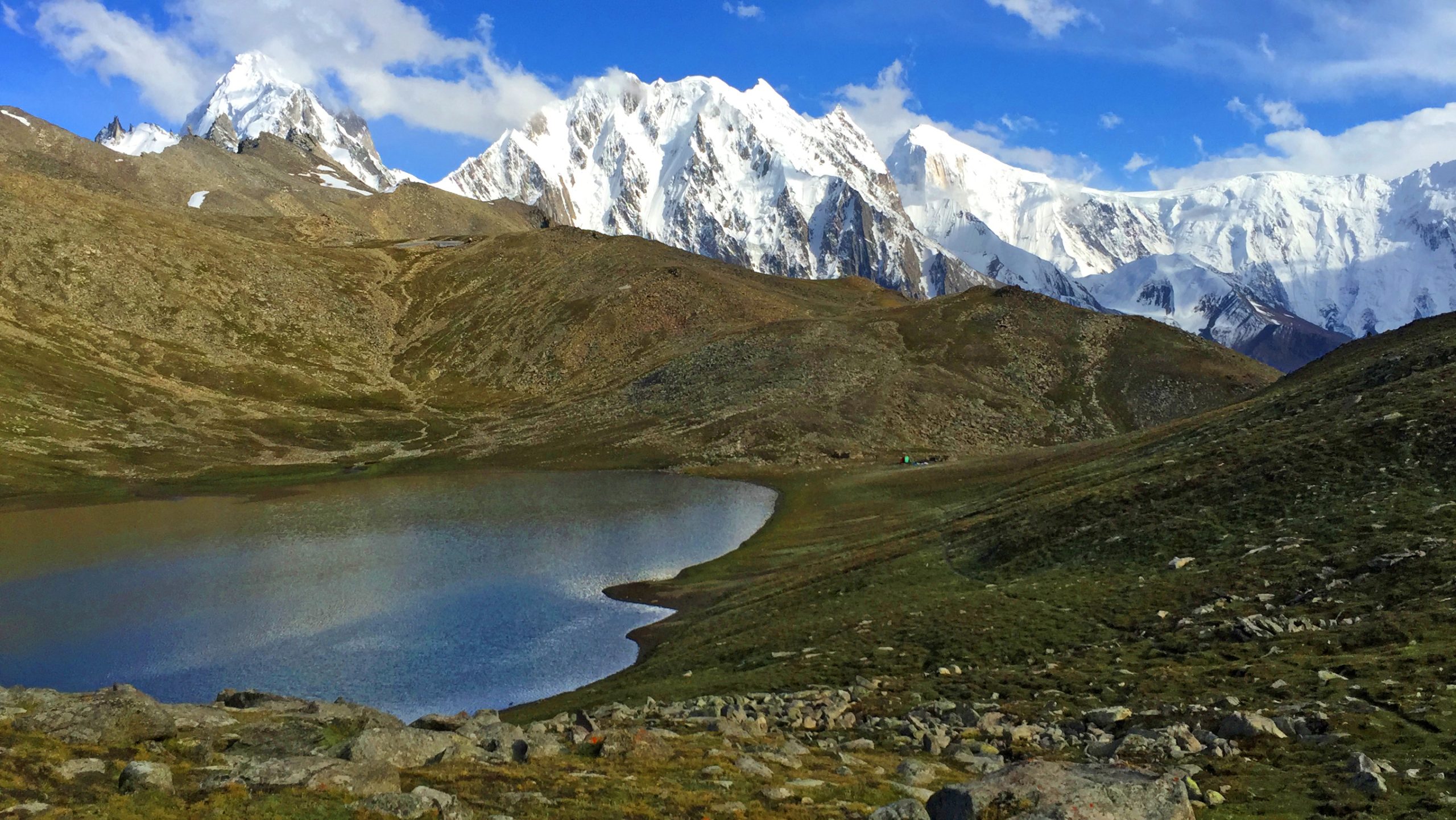 Attabad Lake
Attabad Lake is located half an hour east of Karimabad. Like many sights in Gilgit Baltistan, Attabad Lake is magical. The panoramic views look like a scene pulled straight from a movie. Blue milky waters ripple invitingly with a backdrop of imposing grey mountains standing guard all around. Attabad Lake has a tragic backstory that stands in stark juxtaposition to its beauty. Witnessing the lake now and its activity and development, one would never guess how it came to be.
Attabad Lake was formed in 2010 due to an earthquake that triggered a disastrous landslide, endangering the lives of locals in the Gojal region. Now, this tranquil turquoise lake is one of the main sights to see in Northern Pakistan, making it a source of income for people. It remains a sober reminder of the effects of climate change on our geography and its impact on people's lives, especially those who are socioeconomically disadvantaged.
The lake stands 358 ft. deep and covers a sizeable area of 13.5 sq km. It is one of the largest recreation areas in Hunza as the calm waters serve as an excellent site for water sporting. The traditional wooden boat rides are a great way to witness the surroundings. A paved dock extends towards the water and is lined by restaurants and cafes, serving fast food palatable to most tourists. At the end of the dock, you'll see a dizzying array of painted wooden boats, jet skis, and speedboats ready to take you out on the water.
Lake Saif-ul-Malook
When you look up Lake Saif-ul-Malook online, the iconic image of the calm glacial waters reflecting the sky and mountains is sure to pop up. Most Pakistanis have childhood memories of visiting this lake, and the precarious journey one had to undertake. However, few are familiar with the mythology behind its name.
There was once a legendary prince called "Saif-ul-Malook" who chanced upon a fairy princess walking along the water's surface. Her name was "Badri-ul-Jamala". Curiosity brought the two of them close and eventually, they fell in love. Badri Jamala was captured by a demon giant who had also fallen in love with the fairy, but on finding that her heart belonged to another, he was crestfallen. It is said that the giant wept for days, and his tears formed a lake that was later named Ansoo (tr: teardrop) Lake. Lake Saif-ul-Malook was named in honor of the prince.
The best way to reach the lake is by jeep hire for the 14km journey from Naran. This route is not for the weakhearted as it offers plummeting views of the cliffside, and the drivers must often balance their jeeps on the sharp cliff edge. Many visitors fall prey to motion sickness, so an iron stomach is also required!
Saif-ul-Malook is an excellent site for camping, fishing, and boating. Its waters are populated by trout which can be caught and barbequed lakeside for an enriching meal. Camping allows scenic views of the lake and starry skies which is a once-in-a-lifetime experience.
Lake Saif-ul-Malook was formed in Kaghan Valley by melted glacial waters and moraines. A 7–9-hour trek from Lake Saif-ul-Malook will take you to Ansoo Lake. The first part of the trek will take you to Malika Parbat mountain's base camp from where you can continue to Ansoo Lake.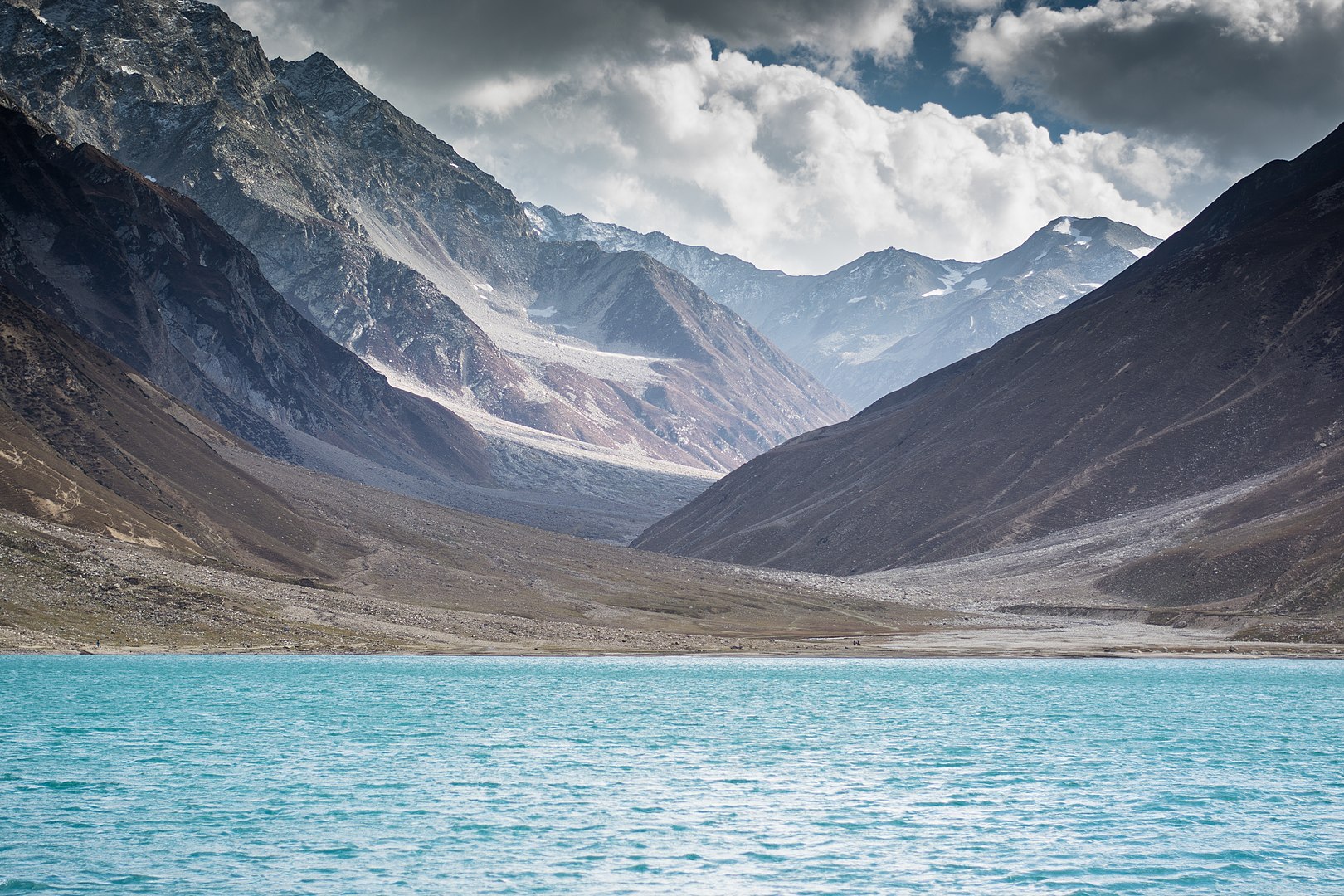 Ansoo Lake
A classic example of untouchable beauty, Ansoo Lake (named for its teardrop shape) is located in Kaghan Valley in the Mansehra District of Khyber Pakhtunkhwa. It is located at an altitude of 13,927 feet (4,245m), above sea level making it one of the highest lakes in the Himalayas. Most images of Ansoo Lake that you'll find have been captured at a distance and there are reasons for this. Firstly, Ansoo Lake is located on a steadily inclining path cut through Malika Parbat Mountain (tr: the Queen Mountain), which requires a substantial trek. Secondly, the area is subject to strong winds funneling through the mountains making it a tricky area to navigate. The hike can take 4-5 hours to reach the viewpoint (consider this a 6–7-hour journey if the pace is slow). Upon reaching the area, you will see that the lake is nestled in a depressed area surrounded by loose and jagged rocks that are treacherous to scale down. If one manages to descend to the lake and reach its edge, climbing back out would pose a challenge.
Ansoo Lake's form changes with the seasons. It was likely formed due to the gathering of water that melts from snowcapped mountains and traverses downhill. In seasons of rain, the lake fills up completely to create a full teardrop but when precipitation is low, the center becomes dry displaying only an outline of its shape. The sight of this unique lake and its location make it an adventurer's paradise. Locals say that only a lucky few are chosen to behold Ansoo Lake, as it is often shrouded in thick fog or snow and hikers are disappointed after their journey.
The best time to visit Ansoo Lake is between July and August, as it remains blanketed in fog or snow the rest of the year. Ansoo Lake can be reached either by a trek from Lake Saif-ul-Malook to Malika Parbat or from Mahandri village located south of Naran. The latter option requires jeep hire, as well as a 7-hour trek, from Mahandri to Dher meadows to reach the lake.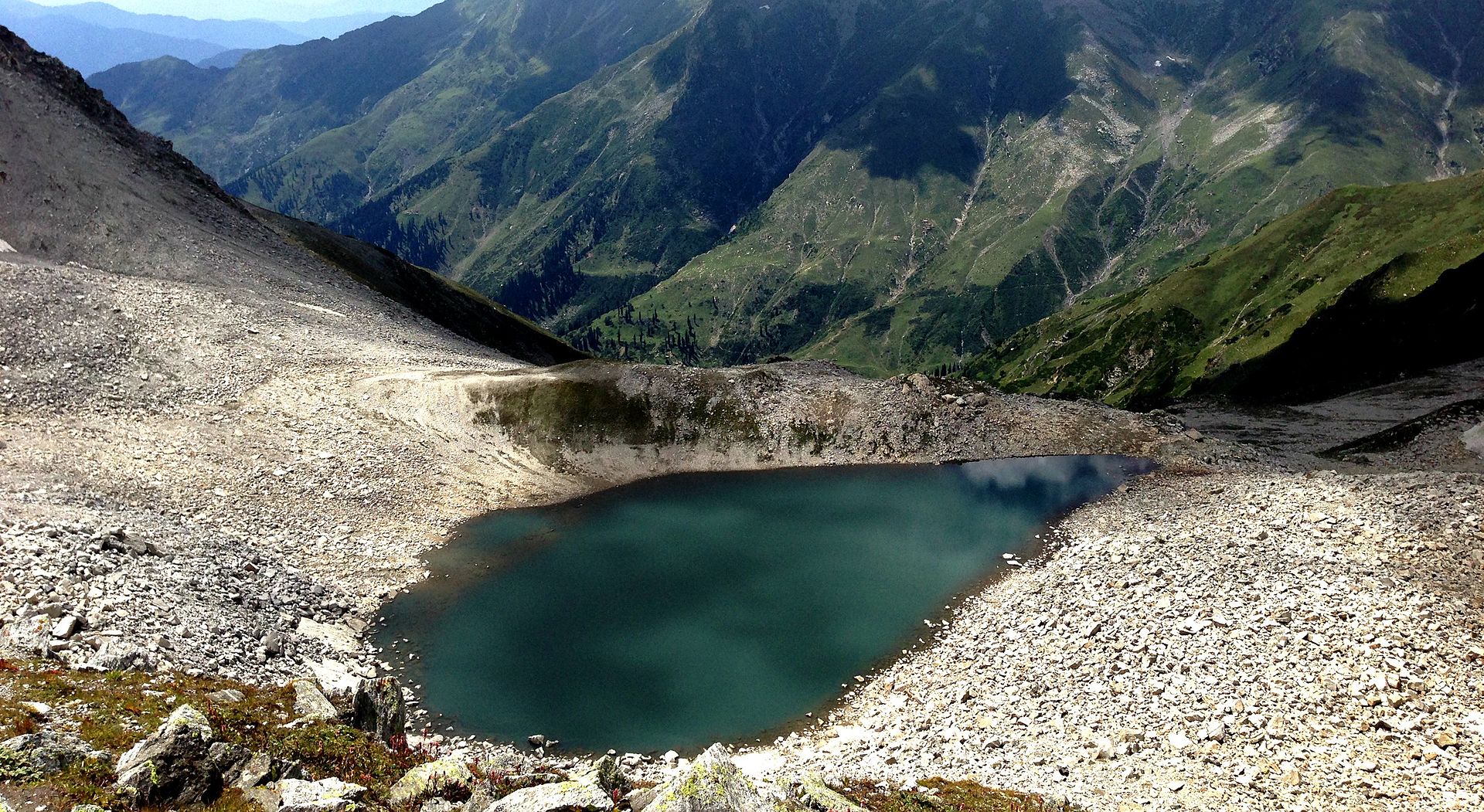 Lulusar Lake
Lulusar Lake is in Lulusar National Park in Kaghan. It is one of the largest lakes in the Kaghan Valley. The immense surface area and crystal waters are known to reflect its surrounding like a vast mirror, which affects the color of the usually green waters. On cloudy days, the water reflects the sky and appears darker and gloomier. The green is due to algae in the water, but when the sun beats down strongly, the water appears bright blue. Lulusar lake is constantly fed by melting snowcaps in the summer. The freezing water and windy surroundings make it a difficult spot to bathe or swim.
The lake is 48km away from Naran, surrounded by tall peaks around 11,000 feet high. The Kunhar and Jhelum rivers both connect to Lulusar Lake. In fact, Lulusar is the main source of the Kunhar river. It is approximately 3km in length and curves in an "L" shape.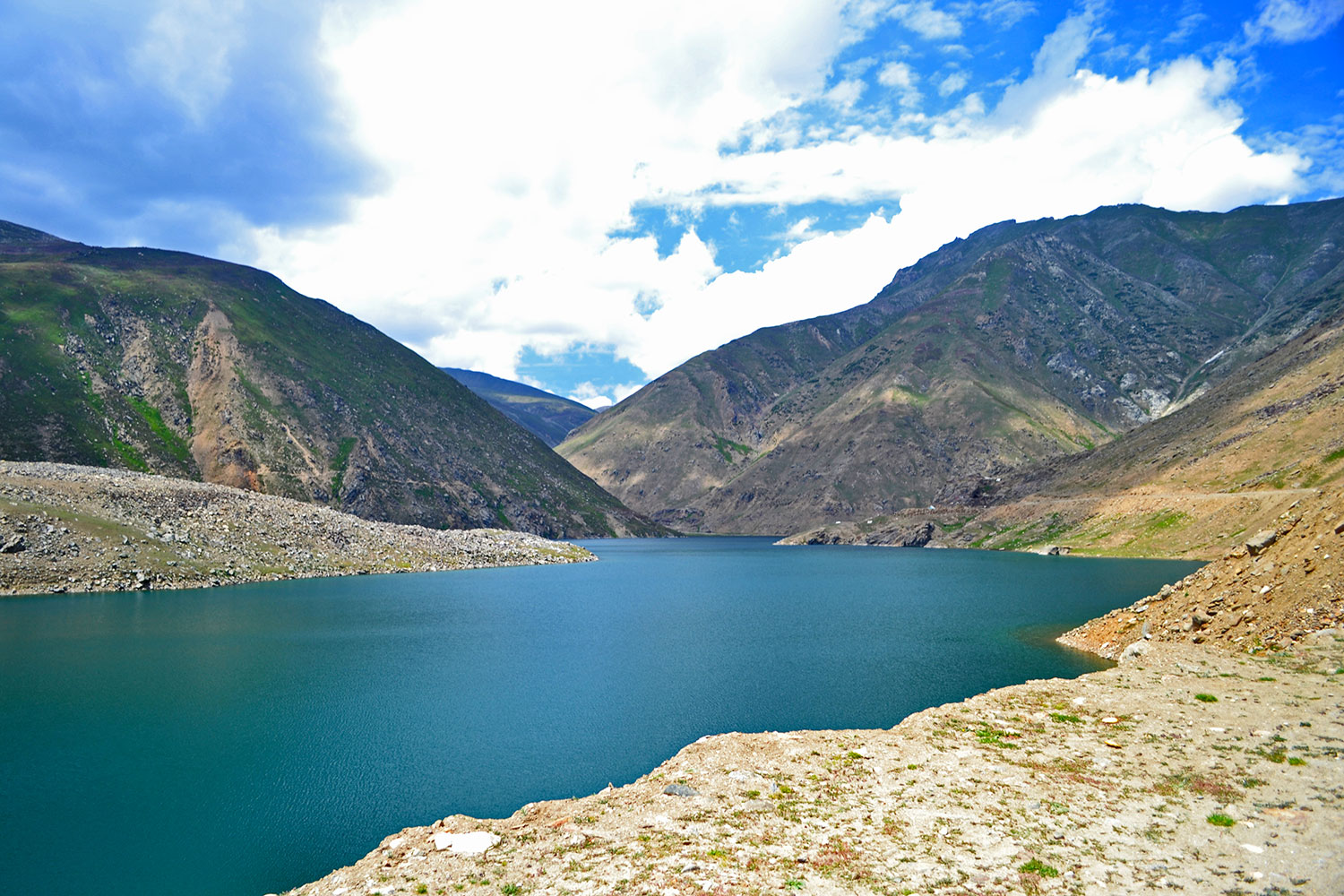 Satpara Lake
Satpara Lake in Skardu stands prominently against a rocky terrain and is a must-see attraction in Gilgit Baltistan. The lake is fed by streams of ice water melting from the Deosai plains. It stretches over 2.5 square kilometers and sits at an altitude of 2,636m above sea level. It is only a 20-minute ride from Skardu and the hike to Satpara is beginner-friendly and continues to an ancient Buddha carving on Manthal rock in the wayside mountains (attributed to the Gandhara civilization).
The 9th-century Buddha relief represents the late phase of the Gandhara civilization, which was the golden age of Buddhism in the Indus Valley Region. Manthal rock is a yellow rock with a meditating Buddha carved into it, surrounded by Bodhisattvas and Metreyias (future Buddhas).
There also exists a quaint island in the center of the lake which can be reached by rowboat. The locals like to tell tales of a gold mine at the bottom of the lake, and they say that the lake's beauty and sparkle can be attributed to the gold shining at the bottom of it. Arguably, Satpara lake is one of the most tranquil and idyllic sites on this list.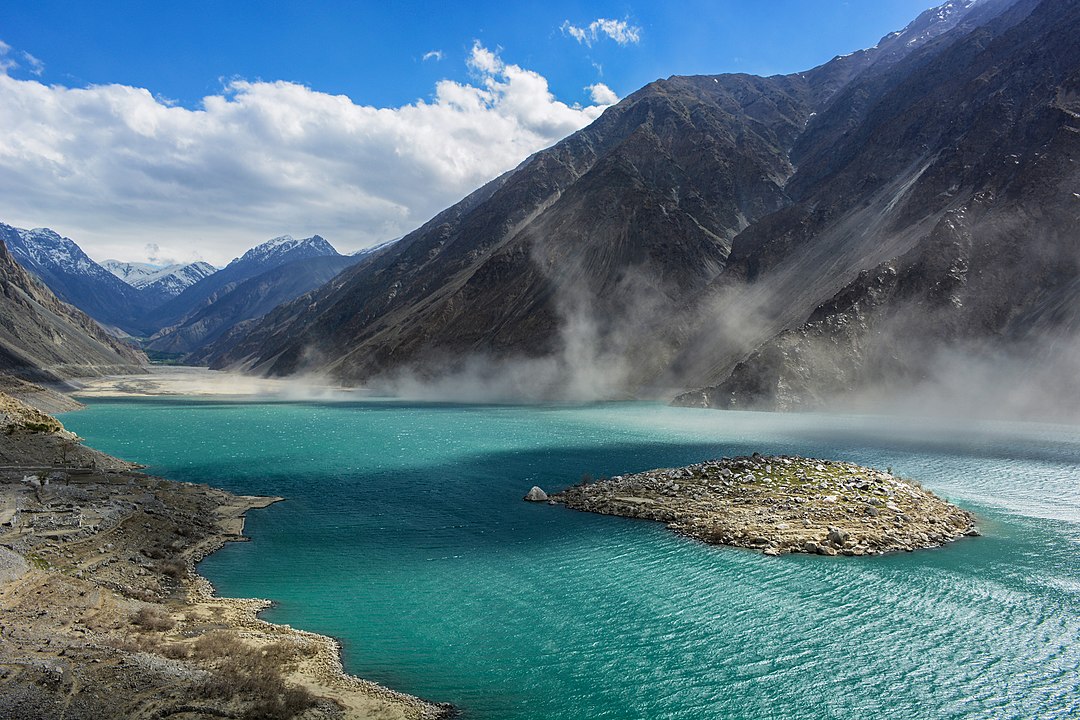 Kachura Lakes
There are three Kachura lakes situated at 2,500m above sea level, a 36-minute drive from Skardu. Lower Kachura Lake is a man-made lake home to the famous Shangri-La resort in Skardu, Gilgit Baltistan. In Tibetan, "Shangri-La" translates to heaven on earth, and Shangrila La (as it is also known) does not fall short of this definition. Upper Kachura lake is mostly untouched owing to the rough terrain and poor accessibility. It is surrounded by conifer forests as well as peach and apricot orchards. Fruit picking is an activity that visitors can partake in, with help from the locals. The lake is 70m deep and joins the Indus River basin.
The proximity to Shangri-La Resort and the availability of activities like trout fishing, trekking, boating, and Himalayan mountaineering make the Kachura Lakes an ideal summer getaway.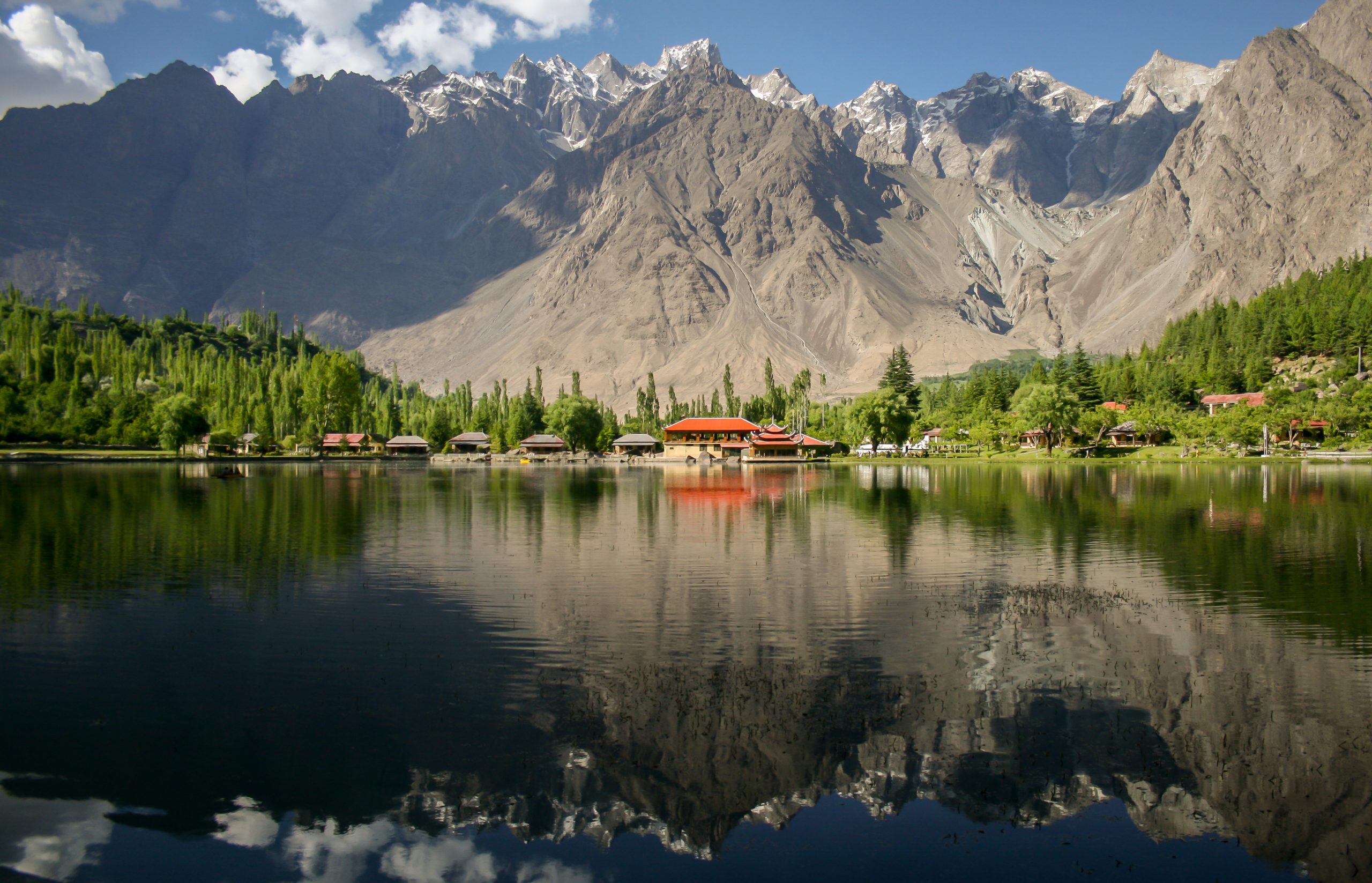 Naltar Lakes
There is an Urdu expression that translates to "the fruit borne of patience is sweet" and no description fits the journey to Naltar Valley better. The expedition to Naltar begins by veering off the Karakoram Highway to embark on a 3-hour jeep ride that is bumpy and arduous. But what lies beyond the journey makes the undertaking worth it. The adrenaline junkies among us would argue that the trip enhances the experience.
Naltar Valley is known for its towering mountains, lush forests, and beautiful lakes. The Naltar lakes are also known as the Bashkiri lakes. Like the Kachura Lakes, there are three Naltar lakes and each is distinct in its beauty. In Satrangi lake (tr: seven-colored lake) the water is yellow-green (due to algae, moss, and vegetation growing inside the lake) while Pari Lake (tr: Fairy Lake) has blue-colored water and the third Firoza lake, aptly named, has turquoise waters. It's a stunning experience to view three lakes in the same vicinity (about a 10-minute jeep ride apart from one another) reflecting a myriad of colors. The last, Firoza lake, is inaccessible by jeep directly and requires a moderate 45-minute trek up to a plain that is home to this jewel.
The routes to the lakes remain inaccessible in the winter due to being snowed in. Naltar Valley is an underrated site for skiing in the winter and a Pakistan Air Force-run ski resort with a ski slope is ideal for snow sporting. Naltar can pack up to 15 feet of snow and experiences some of the heaviest snowfall in the region.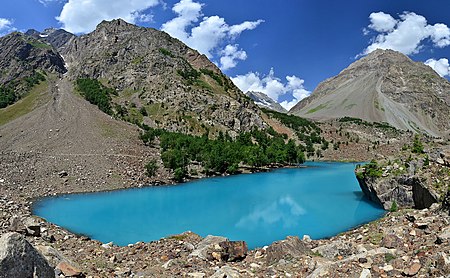 Sheosar Lake
Sheosar Lake is an alpine lake located in Deosai National Park. Deosai consists of vast grassy plains with sprinklings of wildflowers (in the winter you will find this area snowbound). Deosai is accessible both from Astore and Skardu.
Sheosar is classified as a "High Altitude Wetland" which means it's an important ecosystem supporting biodiversity. The wetlands are supplied by melting water running off as streams down the snowy mountains. Eventually, they drain into the various rapids and rivers supplying the area. Sheosar Lake is reported to host 114 plant species, many of which are flowers so one can imagine the enchanting scene presenting like a painting – a calm and settled blue lake reflecting the clear, unpolluted skies while being surrounded by greenery and flowers as far as the eye can see. The weather stays nippy, but it would make an ideal picnic site.
Written by: Hira Sami