Overview - Female Tour Guide
We've timed the tour to align with trees changing colors in the mountains. Peak travel season will be over, but many foreign groups come to see fall in the mountains. Fall is also the end of harvest season, so you'll get to taste local apples, walnuts, etc. It'll be getting cold, especially toward the end of the trip, and we may see some snow at higher altitudes.
Is Pakistan safe to travel as a woman? Yes it is. We specialize in solo female travel and women only tours. Considering joining our Pakistan women's tour? Book a Spot Now! 
Elevation
4693-m. Sleeping at maximum elevation of 2,900-m
Weather
Lahore and Islamabad can be warm (up to 20-30°C), while mountains will be cold (sometimes 10-15°C during the day and below freezing at night). Pack warm layers.
Locations
Islamabad, Astore, Hunza, Ghizer, Lahore
Activities
Cultural activities, Community engagement, Sightseeing, Beginner level day treks (optional)
Trip Level
Adventure (3/5), Culture (4/5), Comfort (2/5), Fitness (3/5)
Accommodation
We will be staying at hotels, guesthouses, and traditional homestays. You'll have to share double rooms in hotels and guesthouses. In homestays we sometimes have to share one common sleeping space (how local people sleep).
Transport
We will be traveling in a private van and use private jeeps to reach some locations.
Meals
We will be eating local cuisines from all the areas that we visit. Breakfast, lunch, and dinner is included in the package.​
A warm smile as someone invites you in for chai. Kebabs sizzling while the call to prayer sings from mosque minarets. Sunrises blanketing snowy mountains in gold. Swapping stories from the comfort of pillows 'round a warm stove in the evening.
These are moments that made us fall in love with Pakistan. We want to share them with you.
This won't be your typical tour de Pakistan. We're not squeezing in as much as humanly possible, rushing you from spot to spot, nor showing you a polished version. You'll be fully immersed in Pakistan: traditional homes, offbeat locations, local food and guides, treks with nary a soul in sight.
Rich and poor, urban and rural, liberal and conservative: our solo and female travel groups' tours will show you the diversity that makes Pakistan what it is. And then some.
"This trip truly and honestly changed my life."

Turfah, Canada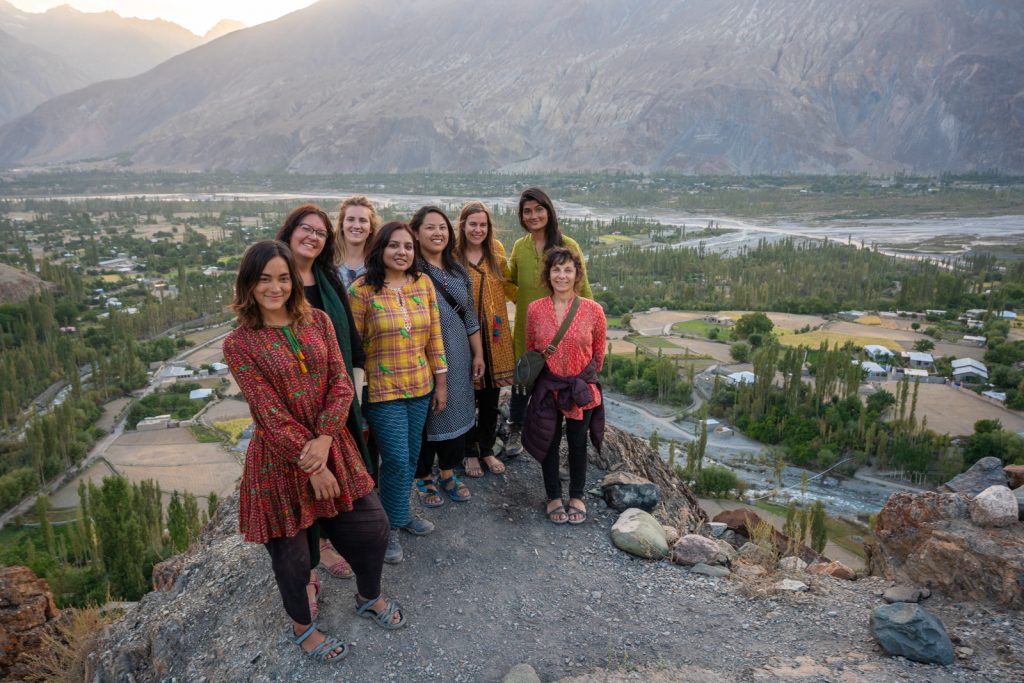 We'll be heading to both famous sights and off the beaten track locales, including but not limited to: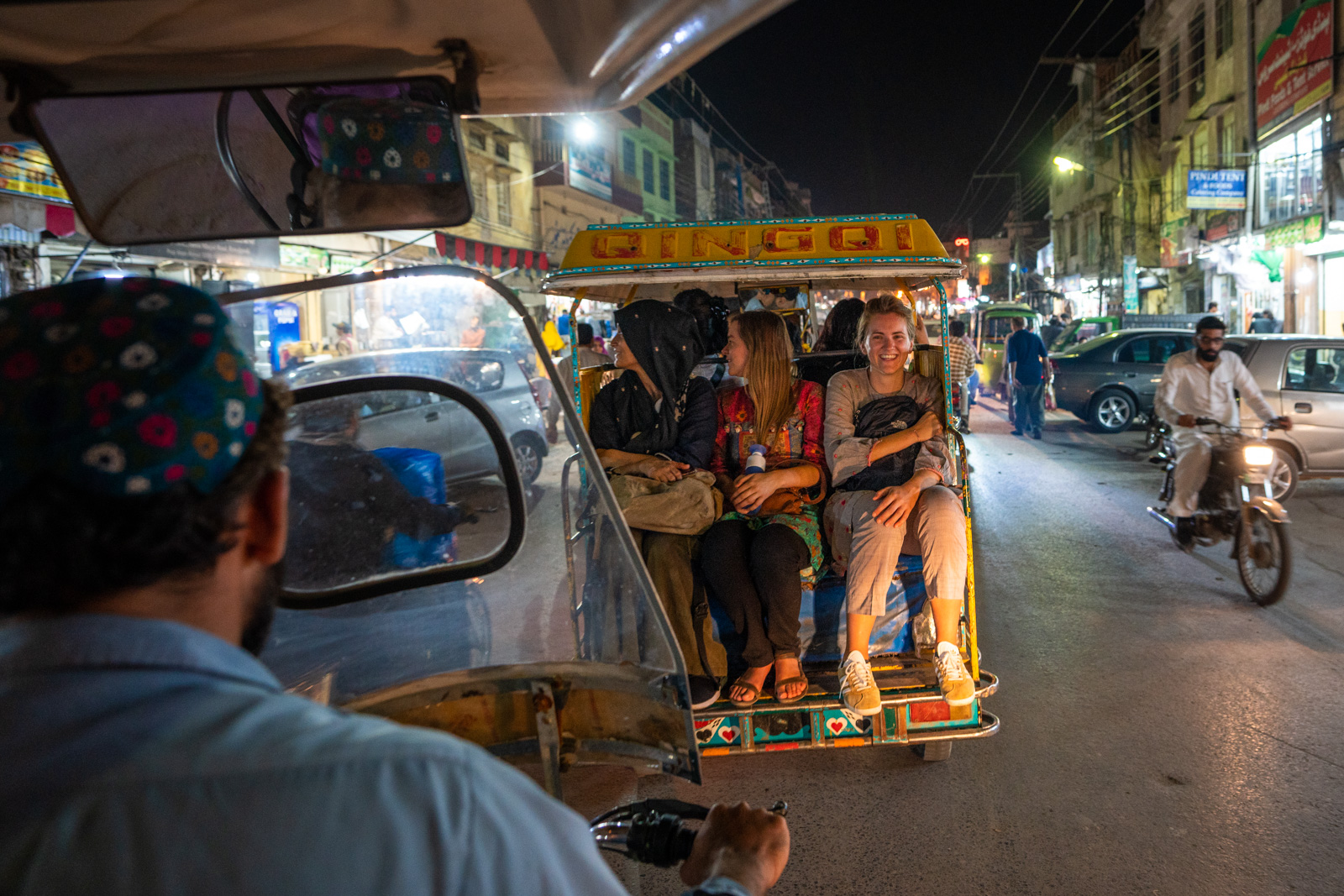 Islamabad, Rawalpindi
Our tour begins in Pakistan's peaceful capital, with a visit to its far older and slightly more chaotic neighboring city, Rawalpindi.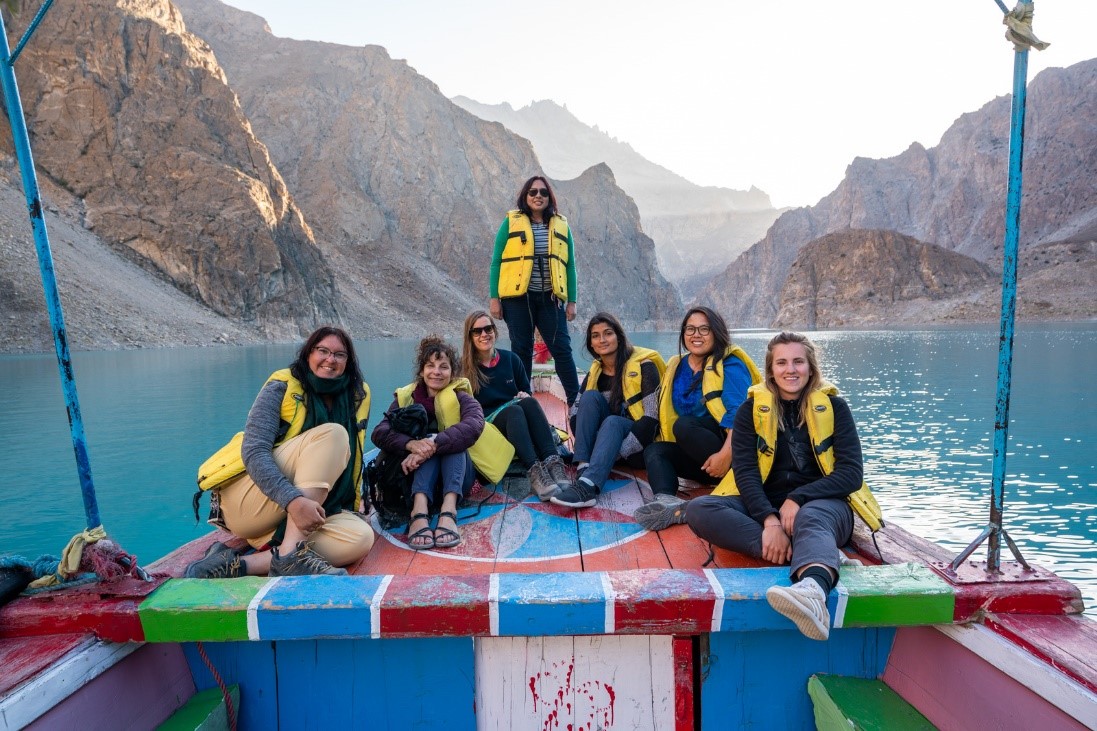 Hunza – Gulmit, Passu, Karimabad, Altit
Pakistan's most famous valley, embraced by the Karakoram Mountains and filled with crackling glaciers, forested foothills, and ancient fortresses. We'll travel along the famous Karakoram Highway to visit multiple locations in Hunza, and stay in a traditional homestay.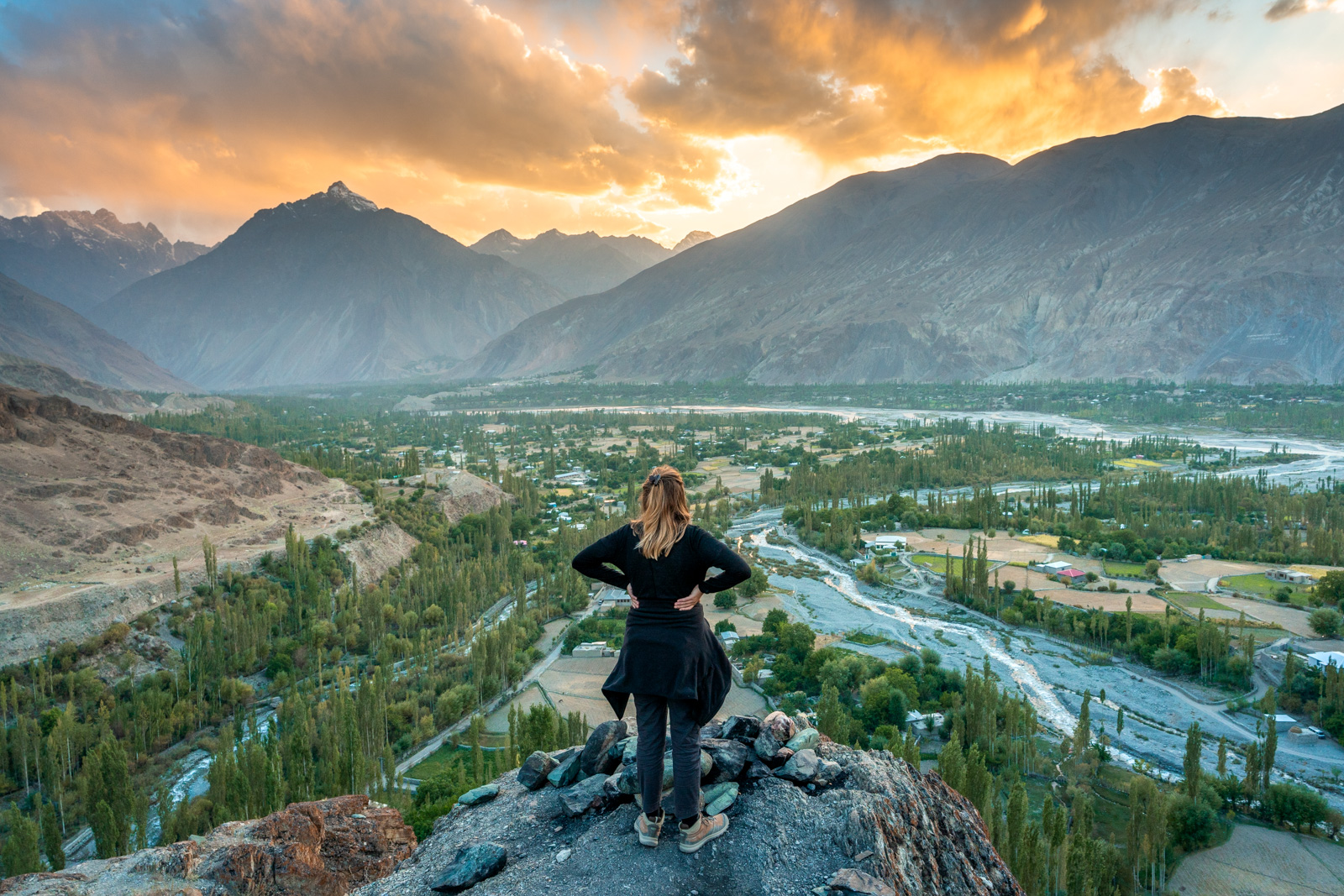 Ghizer – Taus
A quiet and little-visited region in western Gilgit Baltistan, where we'll find intimate mountain valleys and some of the most hospitable people in the north. Idyllic Yasin Valley will be our focus, and we'll stay at two different homestays while there.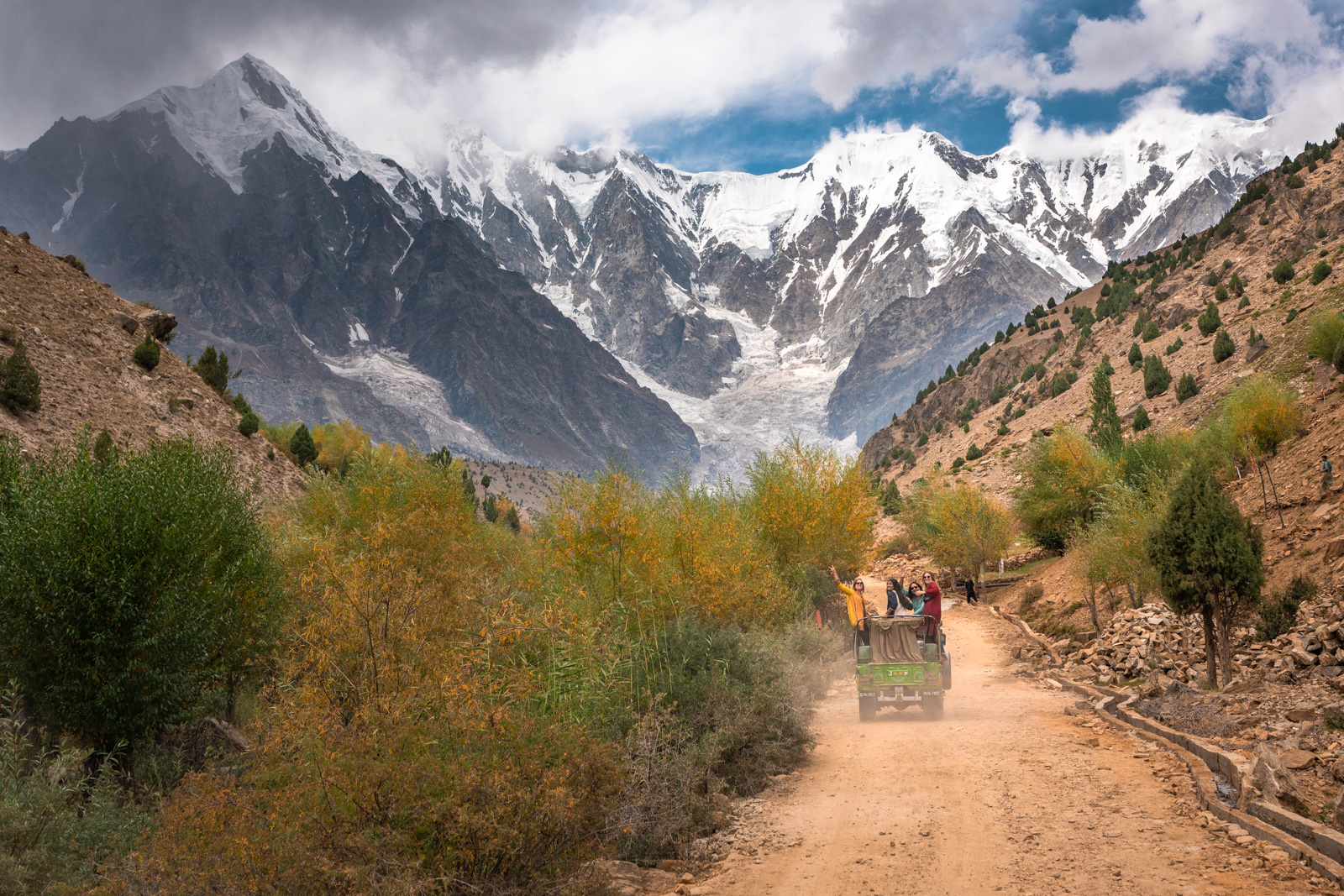 Astore – Tarishing, Rama
Out with the dry mountains, in with the green meadows! Pastoral postcard views, aquamarine lakes, and the ninth highest mountain in the world await us in this region east of the Karakoram Highway.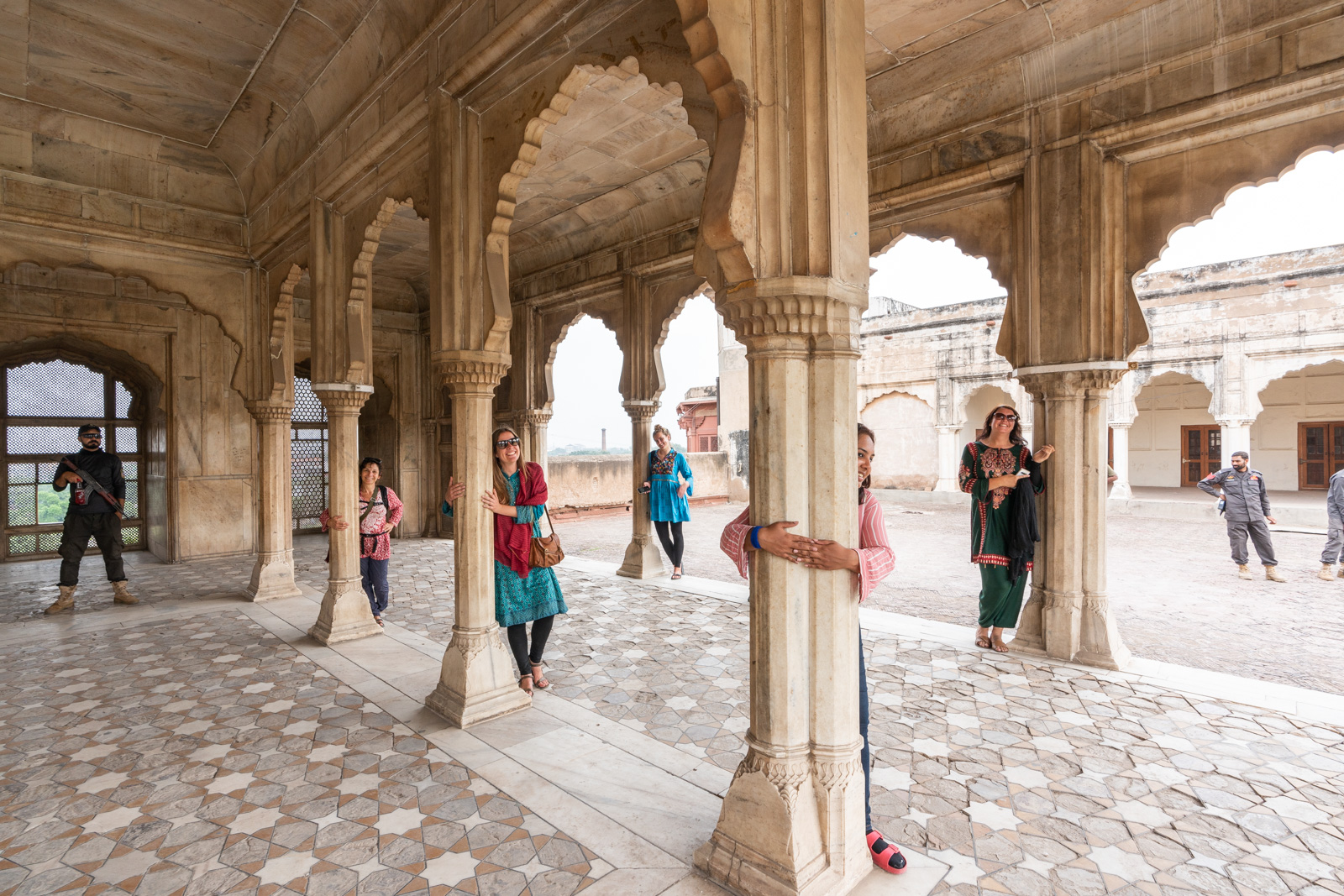 Lahore
Pakistan's cultural capital is our grand finale! Mughal-era monuments, religious shrines still very much alive, a passionate food scene and more await in this historic city, our favorite in Pakistan.
Considering joining our Pakistan women only tour? Here's our full Pakistan women's tour itinerary to help you decide. 
Anything is possible in Pakistan. This is our planned itinerary… but things don't always go according to plan! From chai invites to landslides, delays can happen anywhere; flexibility is key.
Think of this itinerary as a guideline rather than an exact schedule. If we have to make changes on the fly, we'll still try to do everything mentioned.
Included
Transportation with experienced driver: Private van and jeeps within Pakistan

Accommodation for the duration of the tour (Double Occupancy at hotels / shared accommodation in homestays)

Accommodation around tour dates can be arranged for an extra cost

Meals (Breakfast, lunch and dinner)

Guided tours

Cultural activities

Entrance fees

Tolls and taxes

Basic first aid

Letter of Invitation (LOI) for visa

Airport transfers within Pakistan
Not Included
Flight tickets

Visa fees

Porters for carrying personal equipment

Personal trekking equipment

Tips for guides/workers (optional)

Snacks while trekking and traveling

Extra meals/laundry services availed at hotels or otherwise

Charges of sports activities

Souvenirs

Shopping or any other expenses of personal nature

Insurance liability, medical aid, and helicopter rescue coverage

Any other services not mentioned in the plan
Tour add-ons
Standard package includes accommodation on double occupancy. Additional charges for:
Single Occupancy: USD 700 per head
Note: Arrangement of room on single occupancy at homestays is subject to availability.
Why you should travel to Pakistan ASAP?​
There's no better time to travel to Pakistan. The security situation has improved immensely. Foreign tourists are returning. The government is relaxing travel restrictions.

In a few years, Pakistan is going to be on far more travelers' maps. Now is the time to come and experience it for yourself… before everyone else figures out how amazing it is.
"I can't think of anyone better to have shown us around Pakistan than you two." Ingrid, USA
This is a tour made for female travelers by female travelers. Both Aneeqa and Alex have traveled all over Pakistan independently and otherwise; you won't find many women working in Pakistan's travelsphere with more experience than us. To quote one of our tour guests: we're "badass motherfuckers".
Though rich, our experiences have proven Pakistan isn't an easy place to travel as a woman. Nevertheless, we love the country, and want more women to travel Pakistan. This Pakistan women's tour is meant to help more female travelers come and experience a positive side of the country, and normalize the idea of women traveling without men there (it's still unusual!).
We also designed this tour with responsible tourism in mind. On this tour, we will…
Stay in local homestays and guesthouses instead of international chains.
Eat local, seasonal food as often as possible.
Travel to more offbeat locations to distribute our tourist money.
Use locals instead of outsiders as guides, and hire female guides where possible.
Visit women-run initiatives and shop at women-run businesses.
Reduce our waste by filtering water instead of buying single-use bottles, carrying reusable shopping bags, and using reusable boxes and eating utensils for packed lunches.
Pay all drivers, guides, and hosts a fair wage for their time.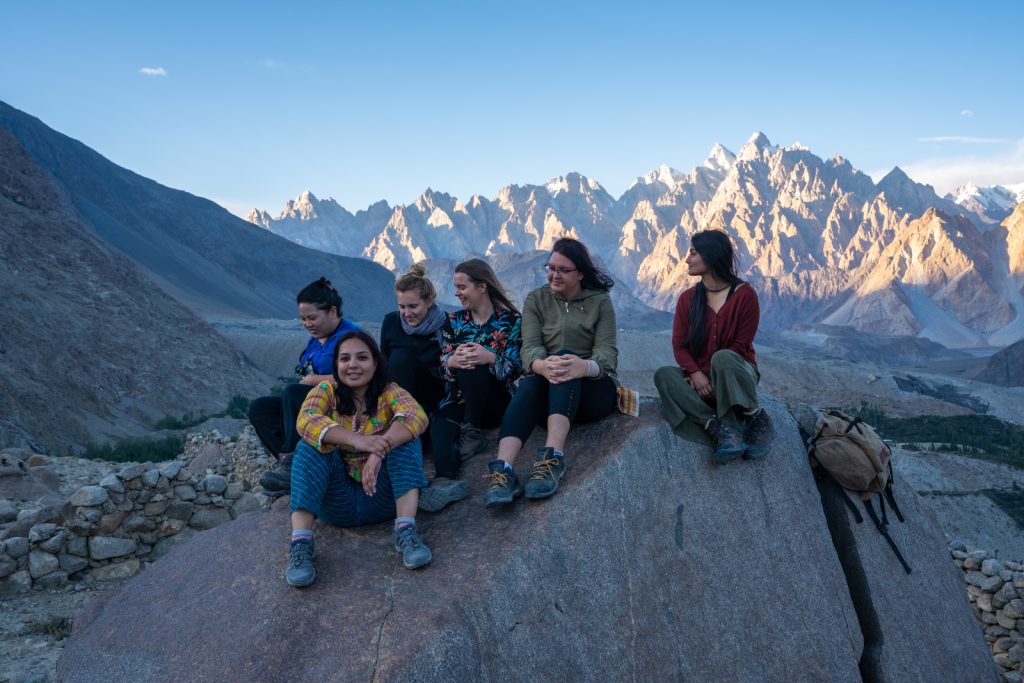 Frequently asked questions about our Women Tour
Traveling to Pakistan? Aneeqa and The Mad Hatters are your best resource! I traveled with Aneeqa and Alex of Lost With Purpose on their first Women's Only Tour in September. From beginning to end, Aneeqa and Alex were very communicative and addressed any concerns I had, quickly and efficiently. We got to experience the real Pakistan. I love how we ventured to places that few tourists went to, plus we had many opportunities to interact with locals. Not only did Aneeqa and Alex take care of us, but they were fun people to travel with. It was like traveling with good friends. Most importantly, they loved and appreciated food as much as I did. When I return to Pakistan I'm definitely contacting The Mad Hatters!
I got the opportunity to travel Pakistan this year with Aneeqa from The Mad Hatters. What an unforgettable experience it was. The tour was designed for female only travellers, taking all of our needs into consideration and allowing us to feel as comfortable as possible while travelling. I imagine it is quite difficult to organise such a detailed tour, so if you are thinking of seeking the beauty of Pakistan, I highly recommend using this local, friendly and professional tour company. Not only do you get to experience the beautiful scenes of Pakistan, you are invited to see the beauty of the culture. The hospitality is something I haven't found anywhere else. There's nothing like Pakistan, so thanks to Aneeqa and The Mad Hatters for creating such a wonderful tour.
I LOVED our tour! I really liked the variety of experiences that we had. I would recommend it in a heartbeat. It was an honor and privilege to travel with you both Aneeqa and Alex. I usually solo travel but could never have had the experience I did without them.❤
Incredibly knowledgeable and well connected team. Were able to provide an excellent experience travelling across northern Pakistan.
Still have more questions about this trip?