Hunza is one of the most culturally rich and diverse places in Pakistan, as it shares one of its borders with Afghanistan and another with China. Hunza has a distinctive culture unique to the region that is an amalgamation of many influences, both internal and external. The culture of Hunza can be explored through its music, songs, dance, its wide variety of handicrafts, the deliciousness of its food, and many other cultural activities. Join us on this trip to experience the beauty and culture of Hunza.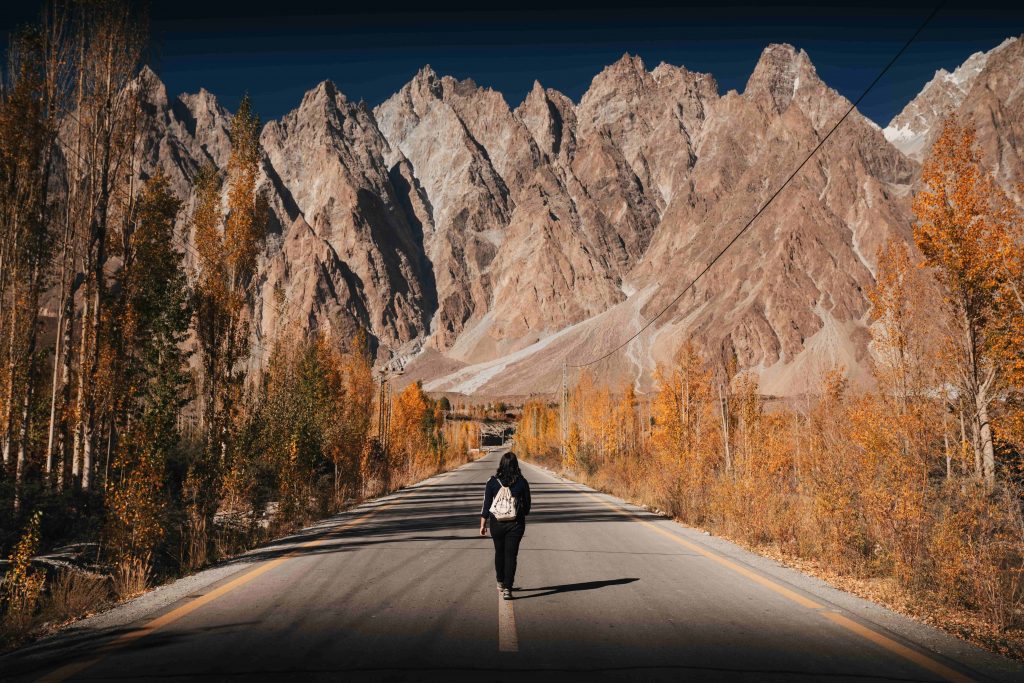 Elevation
Gulmit: 2,465 metres
Weather
Summers: Between 20-30°C during day. Pleasant at night.
Winters: Under 10°C during day. Below freezing at night.
Locations
Altit fort

Baltit fort

Duiker

Hopar

Attabad lake

Karimabad

Gulmit

Borith

Hussaini

Passu

Khunjerab pass
Activities
Cultural activities
Sightseeing
Trip Rating
Adventure: 2/5
Culture: 3/5
Comfort: 3/5
Fitness: 2/5
Upcoming Tours
N/A
Accommodation
Will be arranged according to preferences of the group.
Transport
Will be arranged according to the preferences of the group.
Meals
Will be arranged according to the preferences of the group.
Hunza valley provides views of several tall mountains as many high peaks rise above 6,000 metres (20,000 ft) in the area. The literacy rate of Hunza is more than 90%, and crime rate almost 0%. The lifestyle of the people of Hunza is very simple and they are extremely very warm and welcoming. Sign up for this trip to explore this beautiful valley with us.
Included
Standard package includes the following, but alterations can be made according to requirements.
Transportation with experienced driver

Accommodation 

Meals 

Guided tours

Cultural activities

Entrance fees

Tolls and taxes

Basic first aid

Letter of Invitation (LOI) for visa
Not Included
Standard package does not include the following, but alterations can be made according to requirements.
Flight tickets

Visa fees

Porters for carrying personal equipment

Personal trekking equipment

Tips for guides/workers (optional)

Snacks while trekking and traveling

Extra meals/laundry services availed at hotels or otherwise

Charges of sports activities

Souvenirs

Shopping or any other expenses of personal nature

Insurance liability, medical aid, and helicopter rescue coverage

Any other services not mentioned in the plan
Tour Add-ons
Can be arranged according to requirements.
What to Bring
It is recommended to bring one large bag and a small daypack. Kindly pack light.
Essentials to carry:
CNIC (for Pakistanis) and passport + valid Pakistani visa (for foreigners)

Backpack to carry phone, wallet and other important things

Warm clothes – jacket, socks, gloves, cap, thermal

Raincoat

Sun protection – sunscreen, sunglasses, hat

Shoes – joggers, sandals

Re-usable water bottle
Optional items to carry:
Trekking essentials – shoes, socks, stick 

Torch

Power bank 
More Details
Consider this itinerary as a guideline. Actual plan can be modified according to your requirements. In customized trips you have the flexibility to choose the accommodation, transport, meals, guide and other details according to your preferences.
Charges of the trip depend on the kind of services availed and group size.
Note: The itinerary can vary in different seasons due to weather and road accessibility. The flights between Islamabad often get delayed/cancelled due to weather conditions.
Pakistan had been on my list of countries to visit for many years. I don't usually use a travel agent when I travel (116 countries to date) but after hearing about a friend's experience with The Mad Hatters in 2019 I decided to reach out and request a literary. I knew it would be challenging because I wanted a very specific type of travel, wanted to be off the beaten path and things were just opening back up after the 2020 COVID closure. Aneeqa Ali and The Mad Hatter team did a FABULOUS job meeting all my requests and at a VERY reasonable price. I just completed the 32-day tour and I couldn't be happier about my experience. Having an experienced/knowledgeable person on the ground that can take your calls and texts 24/7 and respond to requests or solve issues is invaluable in a country like Pakistan. Aneeqa responded quickly when we requested a change in itinerary or wanted to add something. She even took calls late at night to help sort out issues at checkpoints as we traversed the mountains. As a foreigner who doesn't speak any of many local languages of the mountain regions it was reassuring to know I could call someone and have them bridge the language barrier. Her "can do", customer-first approach was so refreshing and easy it made the trip carefree which is no small feat in the remote mountains of Pakistan. Her partners and selected local guides were incredible.  My friends and I enjoyed our custom schedule that made our visit to Pakistan a bucket list trip that none of us will ever forget. I HIGHLY recommend Mat Hatters whether you are solo, couple, adventure, nomad, or grouper traveler, Aneeqa can ensure you experience Pakistan in a way you will never forget. 
The Mad Hatters is the perfect tour company to use when travelling Pakistan whether you are a foreign visitor or local. I booked a private tour and the price was incredibly reasonable considering it was nearly 3 weeks long. Our itinerary was arranged to suit our interests and we got plenty of help arranging documents for the Visa application back in the UK. We had a brilliant guide and driver and the whole trip went smoothly. Would definitely use them again!
Me and my husband were looking forward to go to hunza +Fairy meadows and deciding to go with Aneeqa /"The mad hatters "was the best thing we did the trip was very well organised . I must mention people in our group were so live friendly and helpful in every way one of the most amazing trip of my life. I'm looking forward to plan another trip soon. Thanks Aneeqa for being here is with mad hatters Lve you you're like a present on earth for beautiful Valley's of Pakistan
Made a last min decision to travel with Mad Hatters... was very very unsure but trust me I can say that was my BESTTT decision and didn't regret at all... Aneeqa is a thorough professional and very accommodating. All the arrangements including vehicle, hotels, food were absolutely spot on. Definitely recommend to travel with her specially if you are a solo girl traveler and cant find any friend or sibling to travel with ... best ever experience. Will surely do more trips with her in future.
probably one of the best trips of my life so far! Aneeqa is an amazing and fun tour guide and Mad Hatters made sure everything was accommodated for and all of us in the group are enjoying together. Will definitely recommend!
Still have more questions about this trip?