Transport yourself to one of the most ancient civilisations in the world, their way of life, and the spring of Buddhism in South Asia.
Taxila remains accessible year-round and road closures are not a common occurrence unless the surrounding area experiences heavier than usual rainfall. Temperatures peak in June at around 40°C followed by the monsoon in July and August.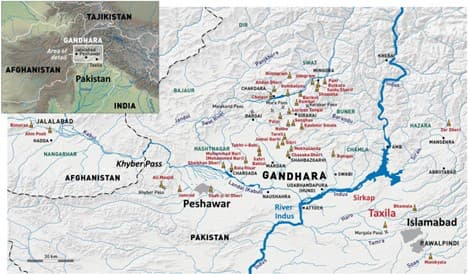 Overview - Taxila Travel Guide
The most prominent remnants of the ancient civilization that sprouted in the Gandhara region can be found along the Indus River in Punjab. The layout of these settlements outlines the pattern of urban growth and anthropological evolution in the Indian subcontinent. Taxila served as an economic, political, and cultural capital through many dynasties due to its strategic location and proximity to the Silk Route.
This region holds spiritual and religious importance for followers of Vedic & Buddhist philosophies even today. Taxila is an aggregation of ancient universities, stupas, monasteries, and a cave. Some parts of the ruins have been touched up or repaired with a motive to preserve them. These have been delineated by a border separating the original stonework with the more recent restoration effort.
Visiting Taxila is a transportive experience, making one wonder about the way these people (our likely ancestors) lived, how they passed down what they learned from generation to generation, and accomplished architectural feats. Owing to the seclusion and calm of the surrounding area, envisioning life in this ancient civilization feels tangible, aided by the wealth of relics preserved in the area and the feel of hand-cut bricks under your fingers.
Plan your next Buddhist religious tour to Pakistan with The Mad Hatters, a premier Buddhist religious tours organizer in Pakistan.
"Gandhara was a binding force between Pakistan and the Buddhist world." - Ven. Nabirittankadawara Gnanaratana Chair Professor, Dept. of Pali & Buddhist Studies - University of Kelaniya, Sri Lanka
Taxila Tours - Buddhist Religious Tourism
Check out our Upcoming and Signature Tours!
Popular Taxila Tour Plans
Day Tour of Taxila and Khanpur
2-Day Tour of Taxila and Khanpur
3-Day Tour of Taxila and Khanpur
Plan your own tour according to your preferences!
Taxila remains accessible year-round and road closures are not a common occurrence unless the surrounding area experiences heavier than usual rainfall. Temperatures peak in June at around 40°C followed by the monsoon in July and August. The area remains fairly warm, and visitors are recommended to take appropriate precautions to protect against the heat. Light, airy clothing is optimal, however, due to the religious and spiritual significance of the area, modest clothing is recommended with long trousers for both men and women. Additionally, most of the ruins and caves are accessible with short vertically inclined hikes or staircases so appropriate footwear such as sandals or trainers are ideal. The winter begins in November when temperatures can drop to lows of 5°C in the evening. A light jacket should be sufficient to protect against the cold in the daytime.
On the way to Taxila, many dhabas (roadside restaurant and "hotels") can be found serving the classic "daal roti" – a mild lentil stew often cooked in butter or ghee served with assorted pickles, which is a reliable and appealing choice for most palates. If you're lucky, you might find vendors offering freshly squeezed sugarcane juice (our tip is to ask for a squeeze of lemon on top!) as an accompaniment to your meal. And rain or shine, we Pakistanis like to wash down any meal with a piping cup of chai in all seasons!
It is a matter of preference, but we recommend visiting the ruins before the Taxila Museum, which is a highly recommended stop. The museum aids in providing another layer of historical context and meaning to the ancient sites you will have witnessed. It contains some of the most significant original stone and stucco pieces removed for safekeeping, that have been salvaged in remarkable condition. Most notably, the collection includes relics of Buddha, original full-sized stupas, ancient Gandharan household and clothing items, currency, and complete plinths and sculptures. Taxila Museum boasts a collection of 7000 artifacts with 30,000 in reserve. Visitors may consider hiring a guide who can expertly guide you through the highlights and importance of significant pieces. While we suggest visiting the ruins before visiting the museum, do bear in mind that Taxila Museum closes at 4 pm during Winters and 5 pm during Summers, hence an early start to the day is recommended so that the sites may be explored at leisure with enough time to spare for exploration of the museum. More information can be found on their website.
Mohra Moradu & Jaulian Monasteries​
Mohra Moradu is a Buddhist complex comprised of a lofty stupa and an adjacent monastery. The monastery housed bhikku (monk) teachers and students. The stupa was laboriously decorated with detailed stucco figures of Buddha, Boddhisattvas, and Devas. Many of these figures have been removed to the Taxila Museum for preservation. 
Jaulian complex sits at some altitude, around 300 feet above ground level, so visitors can expect to climb 3-4 flights of stairs to reach the complex. The complexes were usually located away from the hustle and bustle of the city to aid deep and thoughtful meditation while still being within reach for alms-seeking. One of the great finds from Jaulian Monastery was a Buddhist Manuscript written in Sanskrit and Brahmi characters dating to the 5th Century and copper coins from the late Kushana and Indo Sassanian rulers. Jaulian is also the site of the revered "Healing Buddha" that many religious tourists flock to today for its believed healing powers. Supplicants make offerings to the Healing Buddha, as the mere sight or touch of the statue is believed to cure illness. 
The monasteries also served as ancient universities and centers for learning. They did not function in the modern way we are familiar with – with lecture halls or classrooms. Rather, a preceptor would house and teach his pupils in exchange for a fee or services rendered to the family. These teaching sites and homes can be found at Mohra Moradu and Jaulian. The typical monastery comprised an open square courtyard flanked by study cells and a bathroom in the corner. Constituent rooms such as the kitchen, dining hall, and a well can also be seen.
Dharmarajika Stupa holds special sanctity as a small gold casket was found in one of its chapels containing bone relics of the Buddha. This was detailed in a silver scroll accompanying the casket, inscribed in Kharoshti (an Indo-Iranian script used in Central Asia by Indo-Europeans of the times), referring to the enshrinement in 136 BCE for the bestowal of health on "the great King, Supreme King of Kings, the Son of Heaven, the Kushana".
When Alexander the Great invaded India in 326 BCE, the ruler of Taxila (Ambhi) surrendered his city and placed his resources at Alexander's disposal. The Greeks marveled at Taxila's wealth, prosperity, and governance. It became a great fortifier of the empire, as the region would continue to be, for many invading legions in centuries to come. Bhir Mound marked Alexander's victorious entry into Taxila.
A trip to Taxila can easily be managed as a day trip from Islamabad/Rawalpindi. The surrounding area is rife with entertainment opportunities. Khanpur Dam is about 50km away from Islamabad and a site for many ground and water-based activities for the adventurous among us. These include ziplining, boat rides, parasailing, jet skiing, kayaking, and wake-tubing. The calm and crisp turquoise water would entice even the most rigid aquaphobes on a Pakistani summer's day. Khanpur Dam and the surroundings offer respite and a great change of pace from the hustle and bustle of the city.​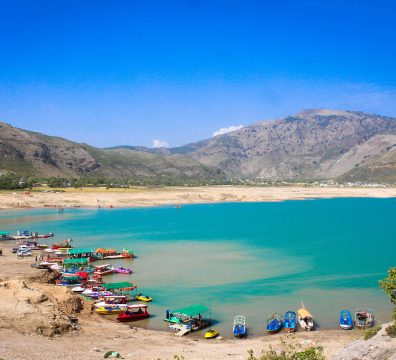 The stone in Khanpur Cave was a source of microlithic tools in the Mesolithic period. Microlithic tools are a category of small primitive tools (measuring as little as one centimeter) such as flint or chert knives etc. Samples of such items may be found at Taxila Museum. The cave itself is part of the wider UNESCO World Heritage Site. The cave systems can be accessed and explored after a more substantial hike than the other sites, as a path has not been cleared and paved.
We specialize in organizing Buddhist religious tours to Pakistan. To plan a custom historic or religious tour of Taxila, head over to our custom tours page at The Mad Hatters. 
We offer the most comprehensive Buddhist religious tours to Pakistan. So contact us for your next Buddhist religious tour in Pakistan!