Kalash Valley – Home of the Kalashas
The Kalash Valley sees the most tourist traffic during its traditional seasonal festivals that are popular worldwide, namely; Chillum Joshi, Uchal, and Choimus.
Overview - Kalash Valley Travel Guide
The Kalash Valley is one of the most popular, yet remote tourist locations in Pakistan. The region, surrounded by the majestic and unique Hindukush range in the Chitral District of northwestern Pakistan, offers the perfect indulgence in a culturally rich and wholesome experience for all travelers.
Consisting of three main towns, namely Bumburat, Rumbur, and Birir, the Kalash Valley is home to the indigenous Kalasha tribe, known for its well-preserved culture, religion, traditions, and physical features. The Kalashas, once a large minority of more than 200,000 individuals, now are limited to a population of barely 3,000 – 4,000. What makes them unique is their culture, often reflected by the long, dark, and flowy dresses embellished with colorful embroidery and beads adorned by their women. The Kalashas are listed by UNESCO as an Intangible Cultural Heritage and are safeguarded by this UN organization.
Bumburat receives the most tourist population, while Rumbur offers a more localized, genuine, and less developed experience to travelers. Birir, in comparison, is the least developed and more difficult to reach.
Read on to know more about the Kalasha tribe, the valleys, places to visit, and festivals to look out for. If you'd like to know more about the upcoming Kalash Valley tours, check out our upcoming tours.
Check out our Upcoming and Signature Tours!
Popular Kalash Valley Tour Plans
5-Day Tour of Kalash and Chitral
7-Day Tour of Kalash and Chitral
10-Day Tour of Kalash and Chitral
Plan your own tour according to your preferences!
The Kalash Valley is a part of the Chitral District close to the northwestern border between Pakistan and Afghanistan. The route to Kalash begins via Ayun, a small village about 12 kilometers south of the main Chitral city.
For a Kalash Valley tour, getting to Chitral city is fairly easy. There is a well-maintained airport in the main city and flights are easily available as well. The flight from Islamabad to Chitral is a little over an hour long and would cost between US $100-$250, depending on the season. However, since these flights have to navigate around the Hindukush Range, a lot of them are prone to cancellations due to turbulent weather.
The alternate route to Chitral is by road – a 394 kilometer long journey originating from Islamabad. The 8-9 hour long route passes through the M1 motorway to reach Upper Dir and crosses the hairpin turns of the Lowari Pass at an elevation of 3,118 meters, before descending towards Chitral.
Various bus services, including Daewoo and the Hindukush Express, operate on this route and can be booked online. Your local tour operator can also be contacted to provide you with transport services to this city. Send us a message here if you would like to set up a customized tour of Kalash.
From Ayun, the road to Bumburat is approximately 19 kilometers. The distance is not a lot, however, this patch will take an hour or two to cross. The road between Kalash and Ayun is dangerous, narrow, and not properly made, and requires a jeep to cross it. It is not advisable to attempt taking your own vehicle across this, unless it is of a 4×4 transmission. The route is bumpy and full of large rocks that will damage your vehicle and might leave you stranded midway.
Jeeps, along with experienced drivers, can be booked from Ayun. Each jeep can cost between PKR 5,000 – 10,000 for the to-and-fro commute and can accommodate 4-5 people.

Origin and Religion
The Kalashas are a non-Muslim minority and follow a unique polytheist religion that is similar to ancient Hinduism. They worship a pantheon of 12 gods, including Daezoo, the creator, or Jastak, the goddess of family, love, marriage, and birth, Balumain, Dezalik, Indr, Munjem, and others.
They speak the Kalasha language, which is a Dardic Indo-Aryan language with no proper script. Their distinctly fair-skinned and colored-eyed features have in the past sparked curiosity amongst many scholars and historians on their origin in Pakistan. It is believed by many that their roots can be traced back to Alexander the Great or his Greek soldiers, who accompanied him on his journey to India. Many of the Kalasha deities are found to be similar to original Greek gods and goddesses as well, and the light skin color of the Kalashas bears testament to their possible European origin. However, this theory has not yet been proven.
Other theories link this tribe to a region in South Asia called 'Tsiyam' and Nuristan in Afghanistan.
The Kalasha tribe has made consistent efforts, despite their dwindling population numbers, to preserve their unique culture, and that is what makes a Kalash Valley tour truly enlightening.
Kalasha Culture and Living
Dressing is what makes the Kalashas the most distinct amongst the rest of the people living in Chitral. While the men dress mostly in a traditional Pakistani shalwar kameez with a woolen hat adorned by a feather, the Kalasha women are always seen in uniquely elaborate, dark, and colorful flowy dresses, called 'cou', adorned with multiple layers of beaded jewelry, and embroidered headgear (known as 'kupas') often decorated with white, shiny rows of cowry shells and feathers. In some varieties, this headgear continues down to their shoulders in a colorfully decorated woolen cover.
For most travelers, this vibrant display of colorful garb brings first-hand experience of this indigenous tribe's way of life.
Their homes are mostly wooden shacks with minimalistic and humble interiors. Within their homes, they prefer their privacy and are quite serious about limited access to outsiders. While their hospitality is exceptional, if you get a chance to stay with a local family, it will be best to stick to communal areas of their homes or your designated rooms and not venture about to other rooms.
Similarly, the Kalasha lifestyle is also a balanced fusion of conservative traditions and open-minded notions. For instance, on one hand, the women in the Kalash Valley are free to dance, sing, consume local wine, and marry whomever they wish to, while on the other hand, they often prevented from attaining proper higher education and resort to the olden ways of life in this remote village.
Many everyday facilities that are enjoyed in big cities are considered a luxury here, like WiFi and 3G/4G access, fully functional hospitals, or electricity.
Arts & Crafts
The Kalasha women are often experts at sewing and embroidery, which can be seen in their colorfully elaborate dresses. Hundreds of local artisans still practice their old-age craft of backstrap weaving. Sheep shearing is done to produce fibers that are then used to create local handicrafts and textiles.
Other than that, glass-beaded jewelry in multiple layers of necklaces, bracelets using locally found precious stones, beaded earrings, wall-hangings, and purses are made and sold here. Weaving also often includes baskets and bags of twigs, while carved wooden decoration pieces and ornaments can be found here as well.
The Kalashas do lack access to the mainstream markets due to difficult commutes to outside cities. They are unable to properly benefit from their unique crafts and so are dependent on local tourism for selling these handicrafts. If given access to international markets, their traditional crafts have the potential to bring in exponential revenues and economic upliftment.
Food & Local Cuisines
The way of living in the Kalash Valley is simple and humble, given its remote location and limited access to food varieties. Rice, beans, vegetables, maize, walnuts, walnut bread with soup stock, yogurt, and cheese are mostly the staples here.
Famous in their humble cuisines are the stuffed walnut bread baked on coal, known as 'jau'; round balls of cottage cheese, known as 'gulak'; 'Mosau', a kind of meat bread made with small pieces of meat, walnuts, pomegranate juice, and coriander, and 'Rondijhzu', a local delicacy comprising of roasted mutton seasoned with salt. Soups are also an integral part of their local cuisines, and their various kinds include the Chitrali noodle soup, Kawirogh, Lajhaik, and Leganu.
Much of the breads, cheeses and locally-produced honey are sold in the markets to attain household income instead of everyday usage by the local families. Grapes, apricots, mulberries, walnuts, and wheat are grown in abundance here as well, while maize is sifted and stored in large quantities for the winter season when fresh produce for consumption is not available.
A majority of grapes' harvest is used to make the local grape wine used during the festivals and celebrations by the Kalasha community.
Kalash through the Seasons
Seasons in the Kalash Valley are highly prominent and bring out some of the best views of the Hindukush range surrounding the valleys. You will be able to witness the best of all four seasons here and nature in its finest version. On clear nights, you'd be able to gaze at millions of stars and their clusters that are visible from this remote valley.
Winter – Winters in Kalash are harsh and cold. The valley is blanketed in white snow between December and February, and the routes to it are often blocked with snow as well.​
Spring – The region sees the most stunning cherry blossoms in the landscape between March and April, which is the Spring season. The Kalashas celebrate this colorful season with singing and dancing to drumbeats. The weather in this season is mild and perfect for a visit.
Summer – Summer brings with it low, dense, monsoon-riddled clouds and a burst of greenery. This is the peak tourist season in this valley when thousands from all over Pakistan and abroad visit it for the Uchal Festival and to see the lush greenery all around. Summer days do get warm under the bright sun, but the nights remain chill throughout. If you would like to avoid crowds, it's best to avoid visiting during the summer season.
Autumn – All kinds of fall colors, ranging from shades of reds, pinks, and oranges, to yellows and greens can be seen during October and November, and weather remains chilly, but bearable. This is also a good season to visit the valley with minimal tourist crowds and the last of the Kalash hustle and bustle before the harsh winters arrive.
Kalash Festivals – the most immersive cultural experience
The Kalash Valley sees the most tourist traffic during its traditional seasonal festivals that are popular worldwide. These include:
Uchal Festival – celebrates the summer harvest with gratitude towards their gods, and is held around August with the preparation of cheese and buttermilk
Choimus Festival – held for two weeks around the winter solstice and is celebrated to manifest prosperity in the upcoming year
Chillum Joshi – marks the arrival of the spring season with festive dances and drum beats
The Kalash Valley festivals bring the perfect chance to truly submerse oneself into the Kalasha celebrations, sing, dance, dine, and drink with them during their festivities and receive first-hand local experiences from this indigenous tribe.
Contact us to know more about upcoming Kalash Valley festivals and adventure tours.
Bamburat being the most visited part of the valley has several guest houses with reasonable amenities available for tourists. These can be booked for under PKR 10,000 per night, depending on the on and off-peak season. Not as many accommodation options are available in Rumbur or Birir.
While Bamburat does offer basic facilities to tourists, there are no 3, 4, or 5-star luxury hotels here and expectations from local guest houses should remain minimal and humble keeping in mind their remote location and limited resources. Do expect power and gas outages on occasion.
Kalash is not a destination where sites need to be ticked off of a list of popular spots to see. A visit to Kalash is an experience to engulf in – you just exist there, walk around, watch and witness, and ponder over the everyday lives of these people that would be in stark contrast to yours.
The Kalashas are very welcoming and warm to tourists visiting the valley since that is where they get to have the most revenue and economic betterment.
A couple of places that you can visit in Bamburat include.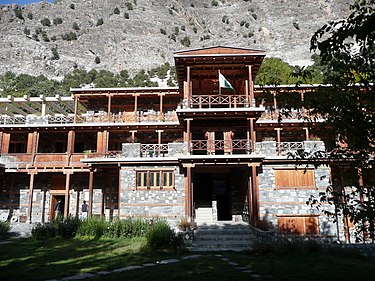 Kalash Dur Museum
This stunning building with its immaculate grey stonework and wooden beams looks like a structure straight out of a Game of Thrones episode. Surprisingly well-maintained, the Kalash Museum displays multiple facets of their culture and customs, origins, and lifestyle. The building also converts into a school on the second floor and at times temporarily serves as a local hospital as well.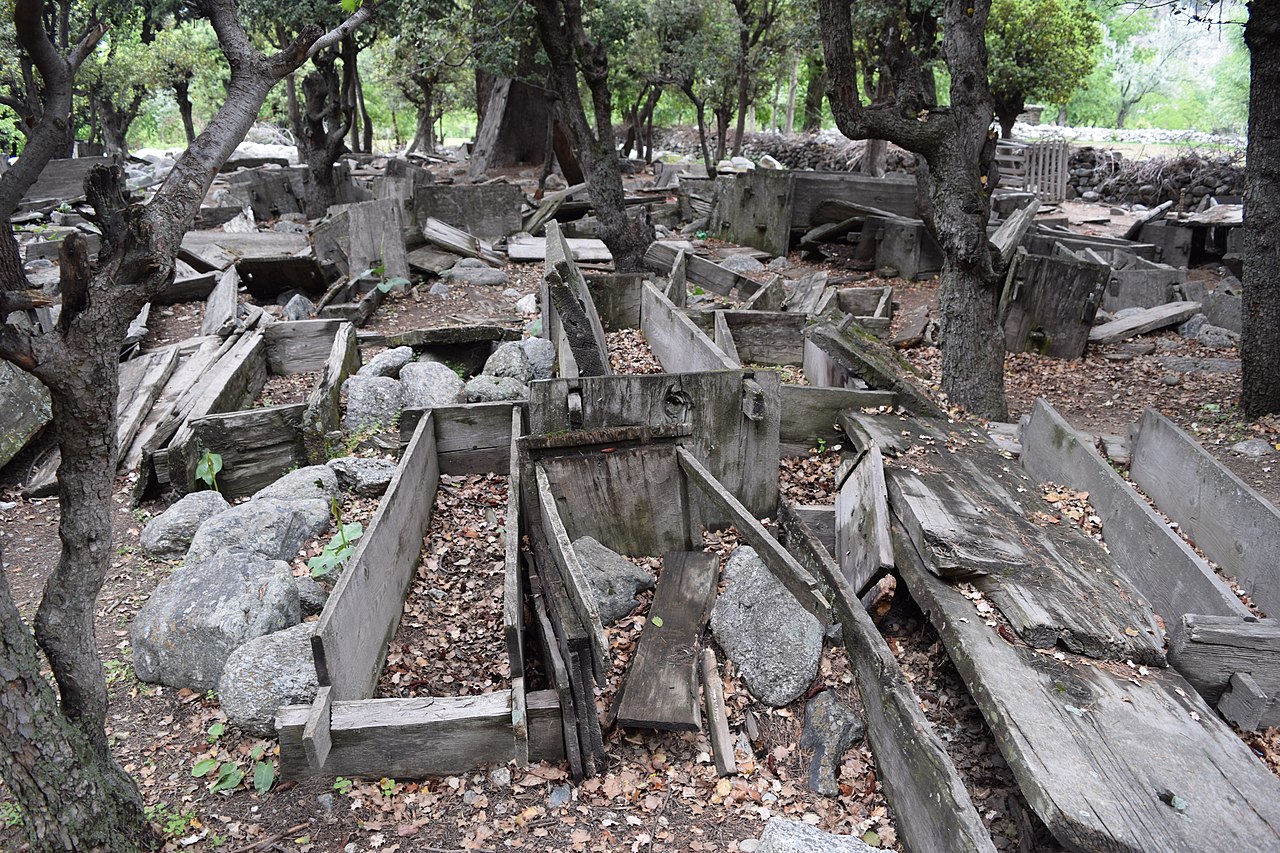 Kalash Graveyard
One of the most interesting, yet sinister locations to visit in Kalash is their graveyard. The Kalashas originally did not believe in burying their dead. Instead, they would leave their bodies in open caskets, relying on nature to take its course to begin the process of decomposition. Those caskets remain in the graveyard to this date and some human bones can still be seen scattered across the land. This practice has now been discontinued. Their beloveds are now buried under the ground which is then covered by a charpoi (a netted bed) that belonged to the deceased. Other objects that were cherished by the deceased during their lifetime are also often placed on their graves.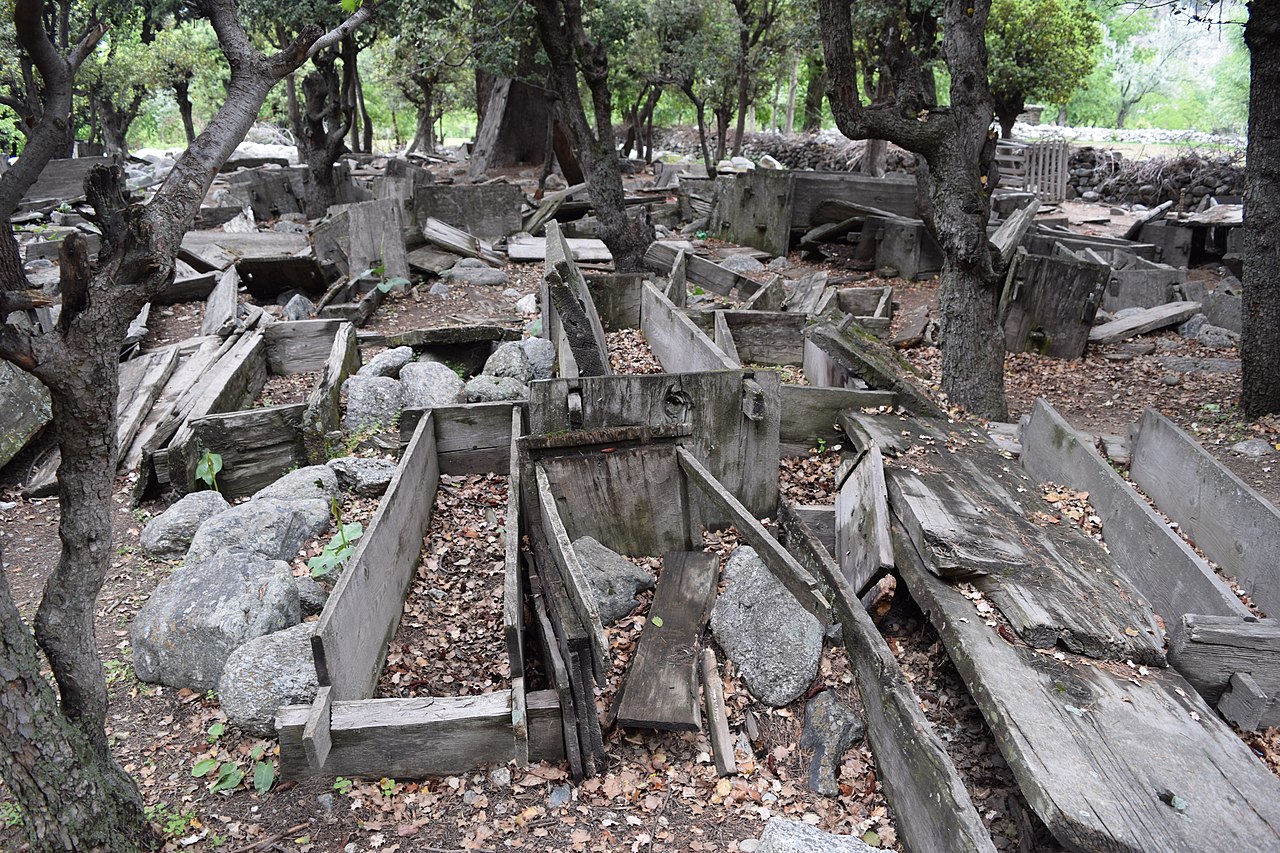 Marketplace
You will come across many small shops in Bamburat with women selling beaded jewelry, embroidered headdresses, handicrafts, and colorful clothes unique to their culture. It is advised to make some purchases from the shops to help support the local rural families economically. The Kalashas are very welcoming and warm to tourists visiting the valley since that is where they get to have the most revenue and economic betterment.
Interesting Facts about Kalash
The Kalasha women are sent off to an isolated location, called 'Bashali', during their monthly menstruation cycles and childbirth, as they are considered impure at that time. Men and outsiders are strictly not allowed to touch the walls of the Bashali.
Cowrie shells worn by the women in their dresses are believed to carry within them prayers for fertility.
Being non-Muslim, the Kalashas do not observe the traditional 'purdah' (act of covering up), however, promiscuity is frowned upon by locals, and decency in behaviors and respect is anticipated by all visiting this valley.
They have a strict code of customs and are proud of the religious and cultural practices that are followed to this date by them, even if they may seem archaic to travelers.
There is no concept of arranged marriages in the Kalasha culture – women are free to choose whomever they wish to marry, within or outside of their own tribes.
Other than the festivals, the best time to visit Kalash is when the pink and white colored cherry blossoms are in full bloom.
Graves in the Kalash Valley are not marked with identification symbols and there is no concept of visiting the graves of their loved ones either.
Interestingly, their culture celebrates death as a rite of passage to a better life, instead of mourning it. When a person in Kalash passes away, their family throws a large-scale feast that relatives and friends from the neighboring valleys are invited to. The crowd then gathers together and sings and dances in a bittersweet ceremony dense with a variety of emotions that include sad tears and happy laughs alike.
The Duke and Duchess of Cambridge, Prince William and Kate Middleton, in 2019 visited the Bumburat village in Kalash Valley via a helicopter, during their visit to Pakistan. They met the locals and sang and danced with them, while appreciating the Kalasha culture.
Be VERY mindful of taking pictures of the local Kalasha women without their consent. While this tribe is warm and welcoming to tourists, they are very strict about their women being photographed and documented without their permission first. It's always more respectful to strike up a conversation, make a purchase, ask questions, and get to know them before requesting to participate in photography.
Telenor is the only mobile network operator that works in the valley.
The Kalashas are a minority in Pakistan and follow a different religion from the rest of the country. It is necessary to be tactful and very respectful of their religious beliefs, practices, and spaces while you're visiting them. Do not, under any circumstance, criticize or ridicule their practices or hurt their religious sentiments.
If you plan to visit around one of the seasonal festivals in Kalash, please ensure to book your tours well in advance, since most of the limited accommodations get booked quickly close to the festival time.
Tourists are checked in and registered by the Chitral Levies (local police) at multiple check posts along the way to keep track of the visitors and their entry and exit.
Foreigners are charged a certain monetary amount (around PKR 600) to visit the Kalash Valley. This amount is used for infrastructure development and public welfare in the valley.
Most importantly – practice responsible tourism in Kalash. The valley is raw and remote and has very little access to the outside world. Try to bring your trash back to be able to properly discard it. Aim to buy local and fresh from their stores, instead of packaged brands. And if you choose to drink locally-made wine, limit your consumption enough to be responsible and respectful with your behavior.
Singing and dancing are important parts of the Kalasha culture – don't forget to join in on it and have a tonne of fun!
More than a place to just see, the Kalash Valley offers a one-of-a-kind lifetime cultural experience of an indigenous tribe that not many other popular destinations can boast of. You are bound to keep its memories in your heart forever.
So wait no further and book your next tour to the Kalash Valley in Pakistan here now!
Please note: All monetary amounts mentioned in the guide are approximate and are subject to change according to the peak tourism season, fluctuation in oil and fuel prices, and inflationary changes.
Elevation: 1,670 meters

Area Covered: 456.58 square kilometers

District: Chitral, Khyber Pakhtunkhwa

Mountain Range: Hindukush

Population: 3,000-4,000

Language: Dardic

Main Towns: Bumburat, Rumbur, Birir

Food: Bread, cheese, soup, and locally-made grape wine