Temperatures in the Galiyat region vary greatly year-round with the chance for precipitation remaining fairly high through most months. Humidity remains high which can make summers feel quite hot and there is a low chance to encounter snowfall in the winter months.
Overview - Galiyat Travel Guide
The Galiyat region comprises of some of the most popular hill stations in Pakistan established during the Colonial era. You will find these "galis" (streets) branching off the main 60km thoroughfare that connects Murree and Abbottabad. The influence of the period is also prominent throughout the architecture of the region – most notably in landmarks such as Murree's Grand Post Office, Nathia Gali's Governor House, and St. Matthew's Church, which has been an iconic fixture of the landscape for decades. Nathia Gali is the unofficial home of natural treks and hikes, as many hiking points begin within a day's reach from this location. The Galiyat area was also central for learning as many missionary and boarding schools were established here over the centuries. Pupils from all over the world convened here to receive an excellent education and perhaps this longstanding cultural exchange can be attributed to the locals' hospitality and friendliness. 
The Galiyat region is particularly suitable for new visitors to Pakistan, who want a taste of the northern countryside, as it is easily accessible from the capital Islamabad. Additionally, it has always been a hotspot for domestic tourism which is why it is one of the most developed and accessible regions in the northern parts of the country, throughout all seasons. Nowadays, accommodation options vary from rustic cottages for rent to luxury boutique hotels. Food options are also plentiful with many fast food chains and cafes expanding in the area.
The steep hills can be tiring if one is in the mood for lazy exploration, which is the perfect opportunity to hire one of the many trained horses available to be hired for horseback trekking. Traversing trails through the woods on horseback is an experience like no other where you're able to fully immerse yourself in nature. The sweet and refreshing smell of pine usually fills the air, mixed with wildflowers that are crushed underfoot. The wildflowers grow in abundance like weeds and dot every hillside in an array of colors that look like an illustration snatched from a fairytale and brought to life. At every turn, the beauty of the Galiyat region never ceases to awe and amaze. Let's look at some of what the Galiyat region has to offer, and you won't want to miss it.
Check out our Upcoming and Signature Tours!
Popular Galiyat Tour Plans
3-Day Tour of Nathia Gali
Plan your own tour according to your preferences!
The Galiyat region is home to the Karlal tribe, which can be traced back to Afghan roots. Their native dialect is Hindko, which is mutually intelligible with both Punjabi and Siraiki.
Temperatures in the Galiyat region vary greatly year-round with the chance for precipitation remaining fairly high through most months. Humidity remains high, which can make summers feel quite hot and there is a low chance to encounter snowfall in the winter months. The warmest season occurs during the months of June, July, and August when temperatures can peak around 32-35°C and drop to only ~18°C at night. UV exposure can also be quite high at such altitudes so UV protection is vital. Late July to early August also ushers in the monsoon season.
According to the Galiyat Development Authority (GDA), the average annual temperature of the region is 11.2°C and the average annual rainfall is 1,448mm. In the winter months, temperatures can fall below 0°C. The best time depends on what sort of weather one is seeking, but March to early June tends to be a pleasant window where rainfall and temperatures are relatively low and the spring season is blooming.
One of the popular dishes in the Galiyat region is the enticing and aptly named "Patakha Chicken" which means "firecracker chicken". If you're up for the challenge, order yourself a plate at one of the many restaurants serving up this specialty. Patakha chicken is a whole chicken basted in garlic juice then coated in a mix of crushed red chilies and fried. It is served with another heaping serving of the same chilli mix that it is marinated in before being cooked. A must-try for spice lovers and gastronomical adventurers alike!
The Pipeline Trek is one of the most scenic treks in the area, stretching about 4 kilometers from Dunga Gali to Ayubia. The trek itself is long but not very taxing. The paths have all been paved, clearly marked, and are also frequently patrolled by security personnel. There are small tuck shops set up intermittently along the trek allowing patrons to rest and refresh themselves before continuing their way. Due to the length of the trek, we recommend checking weather forecasts before undertaking the journey as these hilly areas always pose a risk of rain. It is an extremely family-friendly and beginner-friendly trek to attempt. Dunga Gali hill station was a popular sanatorium during colonial rule and the scenic trek might have been a popular destination for patients to get some fresh air and enjoy beautiful views without overexerting themselves. In fact, along the trek, many landmarks can be found signifying different regiments of Her Majesty's army that were responsible for constructing the pipeline trek.
The views along the Pipeline Trek are unparalleled. You find yourself wholly surrounded by trees, vegetation as far as the eye can see, and evidence of ancient trees struck down by lightning. Keen birdwatchers might also use this as an opportunity to spy on some of the beautiful birds native to these woodlands – red blood finches, yellow body finches, white cheek, or crested greys among others. The area is often shrouded in a light mist or fog adding to its charm and making you feel as if you are walking among the clouds. The preservation of the ecosystem and wildlife is an ongoing effort and the trek itself is dotted with many informational posters about the ecology of the surrounding woodlands.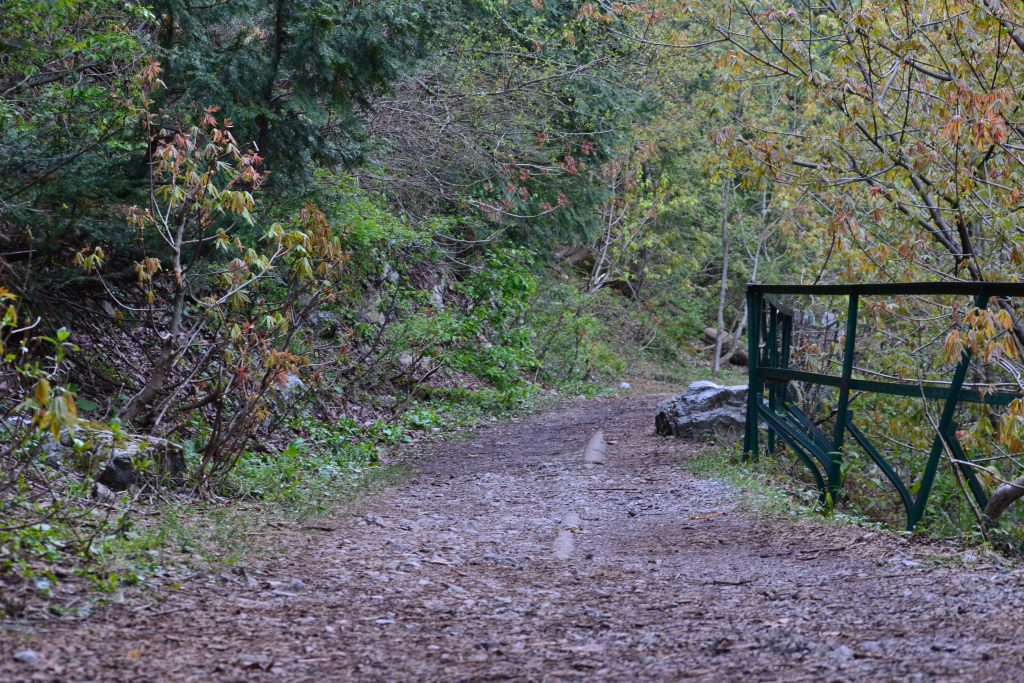 Moto Tunnel – A Walk Through History
The Ayubia Moto Tunnel was excavated and renovated in 2021 – a landmark of British rule that was originally built in 1891 to grant free access between Ayubia and Murree. The enhanced connectivity between the two hill stations offered British officers a quick reprieve from the summer heat of the lower altitude around Abbottabad and Rawalpindi. A water pipe runs through it which is thought to have been built to improve the water shortage problem in Murree. The Moto tunnel is part of the longer Pipeline Trek. Over the decades, the tunnel had fallen into a state of neglect and disrepair and was inaccessible let alone safe to use. At present, the short five-minute walk is a cool, well-lit stretch that is a marvel of architecture. The tunnel is carved out of stones and clay which have been smoothed out due to small streams of water that flow down through crevices in the walls, leaving behind uncharacteristically rounded geological forms.
Mushkpuri (also known as Mukhespuri Top) is a mountain that sits in the Nathia Gali Hills at an altitude of 2,800m above sea level. The trek to Mushkpuri Top winds through lush pine forests with views of the Mushkpuri Meadows that are seasonally blanketed with wildflowers. At the summit, trekkers are provided a mountaintop view of the beautiful Kashmir valley. There is also a small water spring at the top to relax and dip your feet in. The total trek is estimated to be about 3-4km long and is generally an easy trek. The main trek ascends from Nathia Gali but there is an alternative that descends from the top to Dunga Gali which is known to be slightly harder and more inclined. This trek allows hikers a view of Ayubia National Park but is not suitable for those who might fear heights.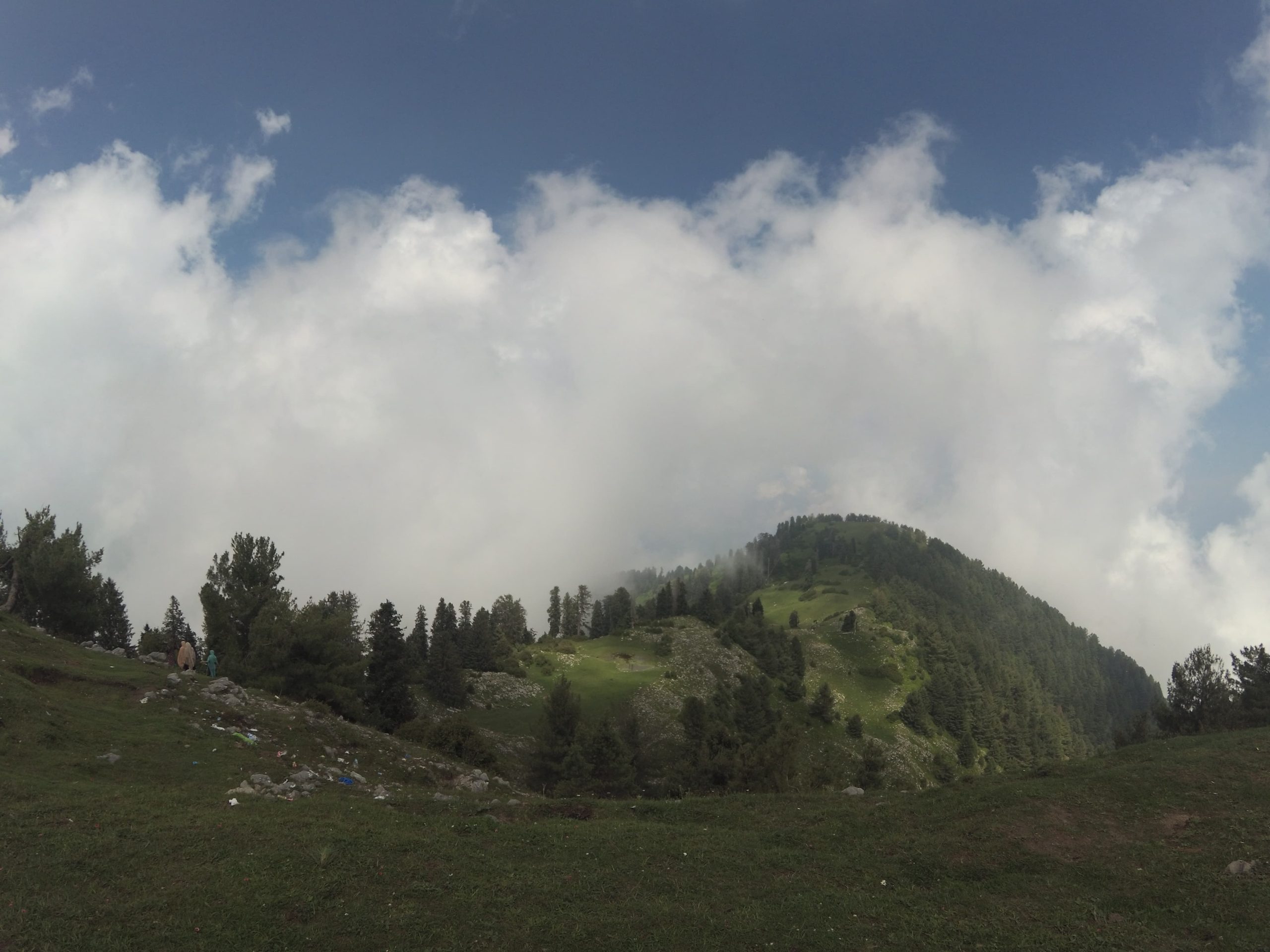 Thandiani and Dagri Forest Trek
Thandiani means "cold" in the local language, as one would expect as it lies 2,700 meters above sea level on a small plateau surrounded by pine forests. This beautiful spot can easily be approached from Abbottabad and is 31km from the main Abbottabad City and 25km from the Thandiani-Nathiagali crossing. The drive takes 80 minutes from Abbottabad with lovely views on both sides of the road. The road rises more than 1,219 meters above Abbottabad. Thandiani offers lush green lovely views. At night, the lights of Abbottabad District and Azad Kashmir are clearly visible. To the East beyond the Kunhar River, the snowcapped mountain ranges of Kashmir can be seen. To the North and North-East, the mountains of Kohistan and Kaghan are sighted and to the North-West are the snowy ranges of Swat and Chitral.
Dagri is located between Thandiani and Nathia Gali. If one is staying in Nathia Gali, this forms a great first part of a two-part trek to Thandiani. It is the longest trek in the Galiyat region hence a break is recommended at Dagri Bungalow (also known as Dagri Rest House). Dagri Bungalow was constructed for British officers somewhere in 1890, on a route intended as an alternative supply from Rawalpindi in case the Garrison town of Abbottabad was besieged. It is situated in the middle of the trek between Thandiani, Abbottabad, and Nathia Gali. Miranjani and Beran Gali are popular POIs found on this trek.
The forest trek begins at Governor House in Nathia Gali and stretches for 13km ending at Dagri bungalow, so it is a full-day trek. Dagri Bungalow is a safe zone for camping, however "Dagri" itself means "abode of the leopards" in the local tongue so venturing out far alone is not safe. If you plan to continue to Thandiani Top, enjoy the amenities at Dagri Bungalow while you can because they are not many facilities available once you depart.
Miranjani is the highest peak in the Galiyat region (2,992 metres above sea level), a snowcapped mountain nestled in the lower Himalayas which is an excellent destination for a one-day trekking excursion. The trek is estimated to be 5km long and fairly challenging in some areas, particularly the final ascent, which is why it is not recommended for beginners. Even experienced trekkers are not recommended to embark on the trek solo and without appropriate preparations due to the unpredictability of weather conditions. Experienced trekkers can easily summit in 3-3.5 hours but frequent breaks will prolong this to 5-6 hours, hence a trip should be planned accordingly.
Trekkers are recommended to pack a 40-60L rucksack (ideally waterproof), waterproof shoes and jacket or raincoat, warm clothes, a hiking stick, and a water bottle. There are no rest stops along the way. Make sure to keep sunblock handy as there is greater UV exposure at higher altitudes.
The ideal time to venture to Miranjani is September when weather conditions are optimal and the natural flora and fauna are in full bloom to enjoy. Leopards are known to inhabit this area which is why camping is not recommended and hikers are advised to descend the same day. Be sure to pack enough water and snacks to sustain yourself on this excursion and bring all your waste back with you so others may enjoy the pristine beauty of Miranjani for generations to come.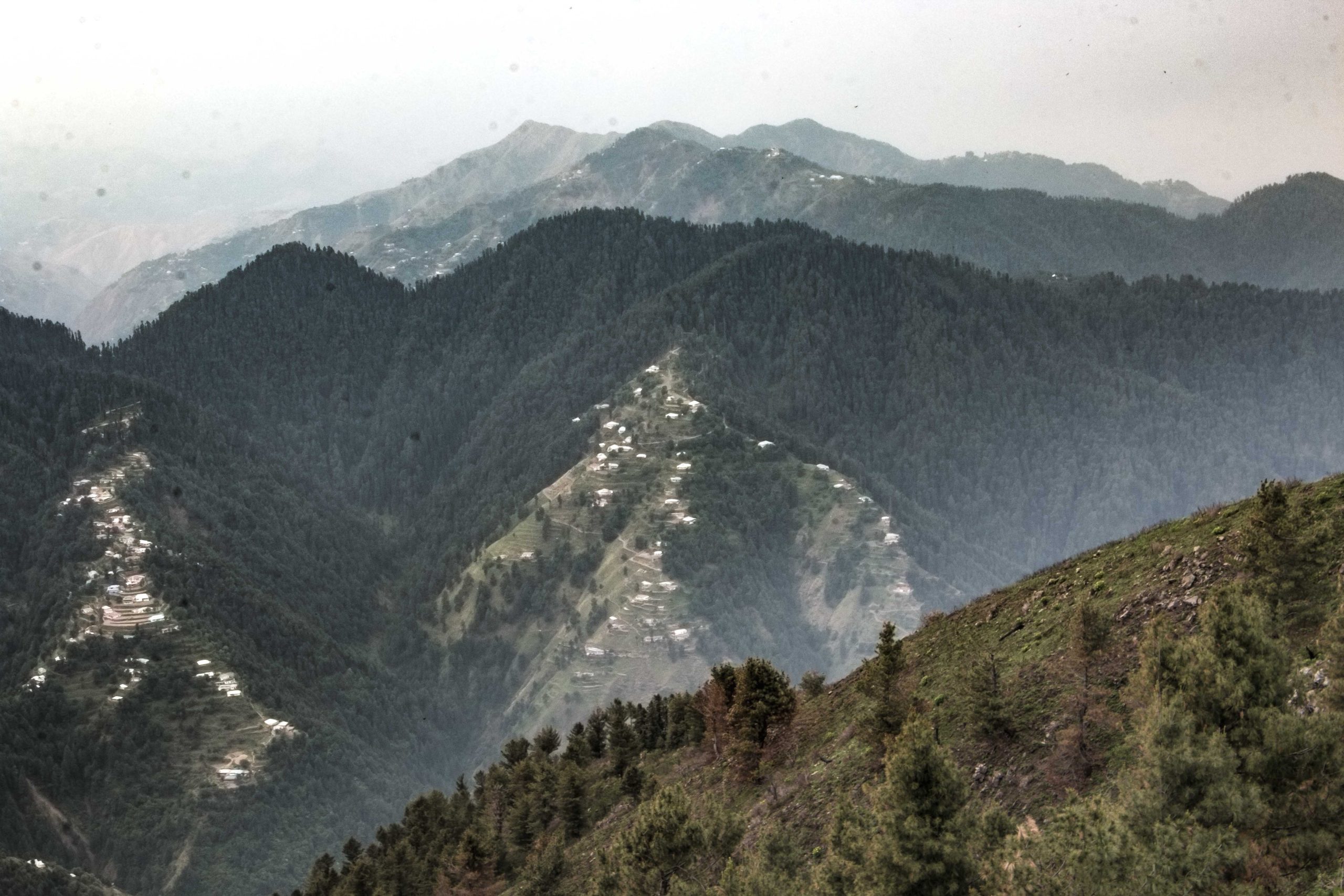 A cluster of four small hill stations of Khanaspur, Khaira Gali, Changla Gali, and Ghora Dhaka is called Ayubia and was named after former President Ayub Khan. The complex is spread over an area of 26 km. Trekking and hiking might not be suitable for everyone, but who doesn't enjoy a good old-fashioned picnic? Ayubia National Park is the perfect location for a simple and manageable day out with the family with a little bit for everyone to enjoy. One of the main attractions for tourists in the central Ghora Dhaka area is the chairlift that allows a panoramic bird's eye view of the national forest and wildlife on the way to Muskpuri Top. The 3,312 hectares of moist Himalayan temperate forest gained national park status in 1894. Ayubia National Park is accessible throughout the year, and a good chance to safely enjoy some snowfall in the winter months. Hikes and trails are also accessible from the park. It is also an excellent location for birdwatching so pack your binoculars with you at a chance to spot a golden eagle or a peregrine falcon or the various breeds of pheasants native to the region. Civets, black bears, and leopards are also common in the area but are rarely spotted as they shy away from human interaction.
Lodgings are available in Ayubia National Park for those who would like to prolong their stay to benefit from all the activities that it has to offer.